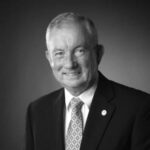 Peter Cimbolic, Ph.D.
Peter Cimbolic has spent his entire career in higher education in both the private and public sector.  He has held key administrative positions in each of the institutions in which he has served.  He has served for the past seven years as the president of Ohio Dominican University having retired in 2017.  Prior to his term of office at ODU, he served as provost at Bellarmine University, and then provost at Marywood University.  He also served as the vice provost and dean of graduate studies at the Catholic University of America.  In each of these positions, he simultaneously held the rank as a professor of psychology.
As a psychologist, Dr.Cimbolic has had an active career as both a clinician, professor, and scholar primarily in doctoral clinical psychology training programs.   He is an internationally recognized scholar, who has published extensively and received a number of awards in recognition for his contributions to his field.  He primarily taught in doctoral clinical psychology training programs while pursuing his scholarly interests.   He was recognized as a master teacher with special interests in psychopathology, psychopharmacology, and assessment.
Earlier in his career, he directed university counseling centers concurrent with his academic appointments at the University of New Hampshire, North Texas University, and the Catholic University of America.
Having been trained as a psychologist, he recognizes the importance of person/environment interaction.  This includes the recognition of skills/attributes/challenges within the individual, while simultaneously using environmental mapping to identify environmental factors/forces that may be influenced by one's actions.  As part of the coaching experience, he finds that the individual engages in thorough self-examination and reflection by reviewing their assets and liabilities. Through this process, the individual identifies traits/characteristics to be enhanced whether within one's self or through others.