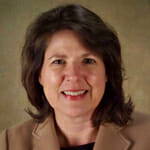 Dr. Robyn Parker
Dean of the Tapia College of Business, St. Leo University
Robyn has extensive administrative and instructional experience in higher education and is currently the Dean of the Donald R. Tapia College of Business at Saint Leo University in Tampa Bay Florida.
A systems thinker, Robyn has facilitated the design and implementation of restructuring strategies that have saved money, streamlined processes, and created innovative programs and learning environments. Her research centers on the relational effects of technology use in both remote work and online education contexts.
Robyn was a fellow with the Academy for Innovative Higher Education Leadership, a partnership between Arizona State University & Georgetown University in 2017-2018.