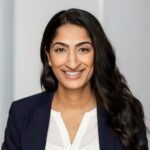 Sabine K. Dhir
Manager of the Brain Repair and Integrative Neuroscience (BRaIN) Program, The Research Institute of the McGill University Health Centre
The BRaIN Program is composed of over 120 scientists and 350 graduate students and postdocs across six research sites. In her role, Sabine coordinates multiple neuroscience initiatives and facilitates all aspects of the program including financial, scientific, training, and administrative.
In her previous role at McGill University, she served as the Interdisciplinary Programs and Academic Affairs Officer, overseeing and facilitating the development of innovative multi-faculty, multi-disciplinary research and academic programs. As a subject matter expert for interdisciplinary and collaborative initiatives, her broad portfolio includes the review and development of policy and university-wide guidelines, as well as international partnerships.
Sabine has served on a wide variety of academic and professional organizations, often in a leadership capacity, and is the recipient of several prestigious awards including prizes from organizations such as the New York Academy of Sciences, The Endocrine Society, TD Canada Trust Scholarships for Outstanding Community Leadership, and the Canadian Institutes of Health Research. She holds a Ph.D. in Neuroscience from McGill University and a Bachelor of Science Honours from the University of Toronto (Victoria College) in Biology, Physiology and English Literature.