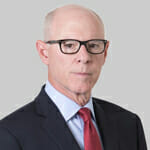 Hon. Sanford M. Brook (Ret.)
Mediator and Arbiter, Judicial Arbiter Group
Sandy has served as a mediator in over 1,000 cases. He's the former Chief Judge of the Indiana Court of Appeals who joined the Judicial Arbiter Group in 2004, after 16 years on the bench in Indiana. Twelve of these years were spent on the trial bench where he also served three years as Chief Judge. While a judge, he promoted alternative dispute resolution in the Indiana court system by serving as a judicial mediator.
Sandy has taught extensively in the areas of Trial Advocacy, Evidence, and Alternative Dispute Resolution. He has been an Adjunct Professor at both the Notre Dame Law School and the Indiana University Law School in Bloomington and has taught internationally in Canada, England, Scotland, Northern Ireland, Thailand, and China His teaching abroad included serving as an Adjunct Faculty member at Nottingham Law School in England.