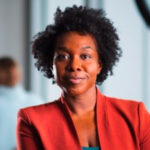 Stephanie Akunvabey
Vice President for Equity and Inclusion, Chief Diversity Officer, Roger Williams University
Stephanie joined Roger Williams University in 2021 following a long career in diversity and equity work in higher education. As Vice President for Equity and Inclusion and Chief Diversity Officer, she provides strategic leadership and champions programs, policies and practices that support an anti-racist, diverse and equitable community across the university's Bristol and Providence campuses.
As an equity and institutional change leader, Stephanie previously worked in various leadership roles at Kingsborough Community College in Brooklyn, New York since 2009. As interim Assistant Dean of Academic Affairs, she helped to develop the college's equity plan and classroom equity efforts, enabling Kingsborough to participate in Achieving the Dream and USC Race and Equity Center's Racial Equity Leadership Academy, where she led campus dialogues and workshops to address social justice, civic engagement, and equity issues. Since joining RWU, she spearheaded the "Racism Stops With Me" campaign, a data-driven institutional effort that centers racial equity, and aims to improve the experiences of BIPOC students, staff, and faculty.
Stephanie has an Ed.D. in Higher and Postsecondary Education, an M.A. in Higher Education and Student Personnel Administration from New York University, and a B.A. in Sociology/Anthropology and Africana Studies from Agnes Scott College in Decatur, Georgia. She is a highly sought-after equity and learning consultant and has conducted research on college access for Black and Latino youth in America, on access and inclusion issues in higher education in India and Israel, and on educational equity for young girls in South Africa.