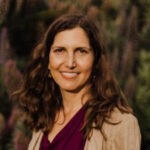 Suzanne Alonzo, Ph.D, CPCC, ACC
Helping academics align their professional and personal lives with their values, strengths, and passions so they thrive, rather than just strive and survive.
Suzanne is a full professor and ICF certified coach who helps academics thrive personally and professionally. She particularly loves supporting women in STEM, parents, and those working for greater diversity, equity and inclusion in their fields and institutions.
Suzanne first encountered coaching at a time of major transition in her life. Being coached helped her design a life she loves that is aligned with her values and passions. Having seen the power of coaching, she decided to train and certify as a coach because she wanted to help her fellow academics shift from surviving and striving to thriving. She finds that the skills and awareness gained from being coached and coaching others also increase her effectiveness as an educator, researcher, mentor, colleague, and leader.
Suzanne is currently a full professor in the Department of Ecology and Evolutionary Biology at the University of California Santa Cruz, before which she was an assistant and associate professor with tenure at Yale University. She has leadership experience in higher education, including as graduate program chair, departmental vice-chair and president of the largest international society in her field. She is currently developing an inclusive leadership program which aims to help individuals be successful academics and leaders of positive culture change in their fields and institutions.