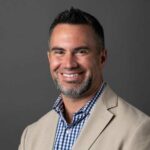 Tim Love, J.D.
Executive Director for Equity & Compliance, Title IX Coordinator, Loyola University Chicago
In 2019, Tim Love led Loyola University Chicago's efforts to restructure its compliance program related to Title IX and other equity/civil rights laws, creating the Office for Equity & Compliance to centralize the program and bring institutional policies into alignment across faculty, student, and staff domains. Previously, Love had held various student affairs roles over 11 years at Loyola, including serving as the associate dean of students, director of student conduct and conflict resolution, and within residence life. With over 15 years of experience working with students in crisis, Love is passionate about issues of equity and social justice and seeks to assist higher education institutions in implementing progressive, responsible practices that ensure the safety of their students and the integrity of their institution.
Love holds both a Juris Doctorate and Bachelors of Arts from Loyola University Chicago, and a Master of Science in Student Affairs in Higher Education from Colorado State University. He is also a trained and experienced mediator and circle facilitator, and he has conducted trainings nationally and internationally on topics including restorative justice, student conduct administration, behavioral intervention teams and threat assessment, and mission-driven leadership.