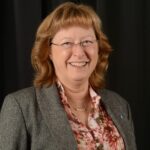 Vickie S. Cook, Ph.D.
Executive Director, Online, Professional, and Engaged Learning and Research Professor, University of Illinois Springfield
Dr. Vickie Cook holds a Ph.D. in Higher Education Administration and an M.S. in Adult Education. Previously, she held positions of VP of Technology & Innovation and twice served institutions in the role of Dean.
Dr. Cook has been actively engaged in providing consulting and faculty development with educational leaders across the U.S., Canada, and Mexico. She specializes in advising small universities, (public, private, and faith-based) in issues related to online leadership including using Distributed Leadership strategies. She has provided consultation to many institutions seeking to expand or evaluate their online learning programs and leadership. She has published journal articles and book chapters in a variety of national educational publications, and she serves as a peer reviewer for top journals in the field of Online Learning. She regularly presents for top online conferences nationally, as well as regional conferences for practitioners.
Dr. Cook's current research interests include the exploration of learning through a heutagogical lens and capacity building in higher education through Distributed Leadership. She serves on several regional and national boards in leadership roles. She was named as a 2017 University of Illinois President's Executive Leadership Fellow and a 2017 Online Learning Consortium (OLC) Fellow.