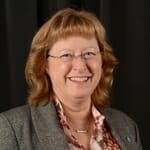 Vickie S. Cook, Ph.D.
Executive Director, Online, Professional, and Engaged Learning and Research Professor of Education University of Illinois Springfield
Dr. Vickie Cook holds a Ph.D. in Higher Education Administration and an M.S. in Adult Education and teaches in the Master of Arts in Education program at UIS. Previously, she held positions of VP of Technology & Innovation and twice served institutions in the role of Dean.
Dr. Cook has been actively engaged in providing consulting and faculty development with educational leaders across the U.S., Canada, and Mexico. She specializes in advising small universities, (public, private, and faith-based) in issues related to online leadership. She has provided consultation to over 50 institutions seeking to expand or evaluate their online learning programs and leadership. She has published 35 journal articles and book chapters in a variety of national educational publications, and she serves as a peer reviewer for six of the top journals in the field of Online Learning. She is one of the co-authors of the UPCEA Hallmarks of Excellence in Alternative Credentials; the Hallmarks of Excellence in Online Leadership; and was the lead author of the Hallmarks of Excellence in Online Leadership Growth Maturity Assessment. She has provided over 150 presentations for top online conferences nationally, as well as regional conferences for practitioners.
Dr. Cook's current research interests include the exploration of learning for Generation Z students through a heutagogical lens and capacity building in higher education through leadership. She has served on several regional and national boards in leadership roles, including: University Professionals & Continuing Education Association (UPCEA), Illinois Council on Continuing and Higher Education, and the Illinois Literacy Advisory Board. She was named as a 2017 University of Illinois President's Executive Leadership Fellow; 2017 Online Learning Consortium (OLC) Fellow; and 2020 UPCEA Central Region Outstanding Leader.