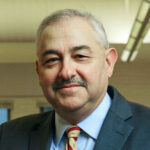 William Clements, Ph.D.
Vice President and Dean of the College of Graduate and Continuing Studies and Professor of Criminal Justice, Norwich University 
William has been involved in bringing Norwich's curriculum to the online environment and in developing new continuing and distributed education programs serving students in several fields, particularly for the military. He currently leads 24 degree programs and six certificate programs for over 1,600 students in the university's online programs. Norwich University also serves a significant proportion of military students as one of the U.S. Senior Military Colleges, and birthplace of ROTC.
William has been involved in online education for over 20 years and helped build the current College of Graduate and Continuing Studies from a few master's programs into a more comprehensive set of offerings at the undergraduate and master's level since assuming his current leadership duties in 2005. He is presently leading the implementation of several new degree programs, a continuing and professional education unit, geographic expansion, and incorporation of best practices in online education and program structure for residential programs post-pandemic. In addition, William serves on accreditation teams for the New England Association of Schools and Colleges and on the New England Board of Higher Education, State Authorization and Reciprocity Agreement Regional Steering Committee, and as a founding member of the Board of Trustees for The Holy Spirit University of Kaslik (USEK) in Lebanon.