Don't shy away from complexity – learn to lead through it.
Overview
The pandemic has accelerated a shift that was already underway – a shift in which change is happening faster and in more unpredictable ways. This dynamic environment is here to stay, and it requires that we grow and extend our leadership toolkit. We cannot simply respond to the complexities of change, we need to lead through it. But this can be difficult to do because you may experience persistent and competing tensions such as:
You have to move with speed through a new initiative and also bring your team along through that journey.
You have to lead your team through change and crisis while also seizing opportunities to do things differently.
You have to support your team while also supporting yourself.
Join us online for a six-week bootcamp that will explore how to thoughtfully approach the most complex tensions that exist in your environment so that you can harness them in a way such that they contribute productively to your leadership practice. You'll be introduced to a four-step framework that will help you recognize when and how various tensions show up in your everyday practice, how they work together, and how you can adjust your mindset so that you lead through them effectively. Through a combination of self-assessments, peer-based learning, and group discussion, you'll identify how to focus your limited time on the things that matter the most to you and your team.
A Highly Personalized Experience
Your registration for this bootcamp includes a 15-minute individual consultation with an instructor before the program begins. This time will be used to better understand your leadership challenges and context, so that the bootcamp experience can be tailored to your needs. To preserve the intimate and interactive nature of this training, the bootcamp is limited to 30 participants. Register early to reserve your spot!
What You Will Get
Six 2-hour live sessions with interactive discussions and activities with your instructors and peers.
A 1:1 consultative session with an instructor before the bootcamp begins to learn more about you, so that the bootcamp can be customized to your needs.
Session-specific takeaway activities so that you can extend your learning and practice the framework after the bootcamp.
A comprehensive resource workbook.
A written action and accountability plan that you will work on throughout the program to help you identify new ways to thrive through the tensions.
The opportunity to extend your network and connect with colleagues who are experiencing the same challenges.
Who Should Attend
This bootcamp is designed for anyone who is wanting to become a more effective leader as the higher ed landscape continues to evolve and become more complex. Perhaps you are a(n):
Dean or Department Chair who is managing the tension between working through others and making tough decisions.
AVP who is constantly "putting out fires" and responding to urgent requests from stakeholders across campus while also wanting to carve out time for strategic planning for the future.
Director who is trying to support the professional development of your team while also advancing your own career.
Vice President or Dean who is completing a change process while also trying to seize new growth opportunities for the university/unit.
The success of this bootcamp depends on participants who will be engaged in sharing their stories and experiences of leading through complexity. Come prepared to share your story.
Follow Through With Success Coaching
Have you ever gone to a training only to find that you came back with great ideas but don't have the time, support, or skills needed to make the changes?
Academic Impressions has produced thousands of trainings and we have learned that utilizing a coach after attending a conference helps provide accountability and bridges the training with the on-the-ground work of getting the job done.
As a result, we are now offering success coaching on select conferences.
Purchase this training + 3 one hour follow up success coaching calls
Work with an assigned coach who has extensive experience in higher ed.
Get individualized support to help you follow through on what you've learned.
Workshop your plans, run your ideas by someone and get additional help/practice.
To get success coaching, simply purchase the Bootcamp + Success Coaching product below.
Hear About the Bootcamp Experience
October 12 – November 16, 2021 | Individual Dates: Oct 12, 19, 26, Nov 2, 9 and 16
This bootcamp is designed to help you reframe your mindset around complex tensions, so that you experience them as productive and supportive of your leadership instead of things that are hard and overwhelming. To do this, you will:
Explore how to identify and navigate through five of the most common leadership tensions.
Work through a four-step framework and apply it to your own unique context.
---
Session 1: An Introduction to the Four-Step Framework
October 12, 2021 | 1:00 – 3:00 p.m. ET
In this opening session, you'll be introduced to the framework and discuss how it can unlock the productive potential of complexity.
You'll also explore Tension #1: Survive vs Thrive. Specifically, you'll discuss ways you can recognize when you are experiencing your work in a state of survival and how you can shift to thriving. You'll also discuss how you and your team can access the benefits of both mindsets over time, especially considering that people move through change at different paces.
---
Session 2: Step 1: Identify the Tension
October 19, 2021 | 1:00 – 3:00 p.m. ET
In this session, you'll dig deeper into Step 1 of the framework, which will allow you to explore tactics for how to recognize what tensions you are navigating and under what circumstances you experience them, so that you can become more aware of your leadership context and style.
You'll also explore Tension #2: Expediency vs Empowerment. You will discuss how you can get your team re-engaged and shift focus to authentic participation and empowered decision-making, especially when everything on your "to-do" list is urgent.
---
Session 3: Step 2: Inventory Each Side of the Tension
October 26, 2021 | 1:00 – 3:00 p.m. ET
Step 2 continues your exploration of the tensions by having you identify the pros and cons of each side of the tension. Alongside your peers, you'll discuss the following:
What is the best-case outcome for the particular situation you're facing?
When and how can you create flexibility?
What risks are present?
What additional information do you need to move you forward?
You'll also explore Tension #3: Responder vs Convenor. You'll discuss how you can leverage your unique perspectives and add value to the organization by moving in the direction of convenor and influencer, not just responder. You'll also assess how you can walk the line between these two important roles effectively.
---
Session 4: Step 3: Choose a Balance and Look for Feedback Cues
November 2, 2021 | 1:00 – 3:00 p.m. ET
You'll come to discover that living in the grey area – the space between both sides of the tension – will often provide you the most productivity. In Step 3, you'll explore how to make an informed decision regarding how you respond to the tension in a way that will serve you and your team best. You'll also discuss how to watch for feedback cues to see if your approach is resonating with others so that you can adjust as necessary.
You'll also explore Tension #4: High Expectations vs High Support. You'll discuss how to establish and set high expectations that also foster buy-in and support with your team.
---
Session 5: Step 4: Experiment and Reflect
November 9, 2021 | 1:00 – 3:00 p.m. ET
The tensions you must navigate are not simple or binary issues to solve. They require you to manage and reflect on how things are working, so that you can adjust your approach along the way. In this session, you'll explore when and how to change your approach if the information you are receiving justifies a different direction.
You'll also explore Tension #5: Self-Reliance vs Amplification of Others. You'll discuss how you can serve as the builder and amplifier of others' work and words without losing sight of your individual goals and needs.
---
Session 6: Capstone: Bringing it All Together
November 16, 2021 | 1:00 – 3:00 p.m. ET
This capstone session will bring together all the sessions above and have you reflect on the work you've done throughout the bootcamp. Key questions you will explore:
What changes in yourself and your leadership have you noticed since beginning the bootcamp?
Have you discovered new ways you can leverage your strengths and the strengths of your team?
Have you identified any blind spots in your leadership, and how might you challenge them moving forward?
In what ways do you find you are better able to manage oppositional tensions?
What new ideas or approaches have you tried over the past six weeks that worked or didn't work, and how will that inform your leadership practice moving forward?
You will also work on creating an individual action and accountability plan to help you leverage the full potential of this framework in your everyday leadership practice, so that you can continue to grow your leadership capacity and confidence as you move forward.
Melissa Padfield
Vice Provost and University Registrar, University of Alberta
Melissa has 20 years of experience working in higher education having held various roles within student affairs and academic administration. She holds a Bachelor of Arts in Political Science with a certificate in Globalization and Governance from the University of Alberta and a Master of Arts in Political Science from the University of Victoria.
Norma Rodenburg
Interim Deputy Registrar, University of Alberta
Norma has 20 years of experience in a diverse range of student affairs positions. In her current role, she oversees a diverse portfolio of administrative and student services functions, recently having led the development of the strategic plan.
Questions About the Event?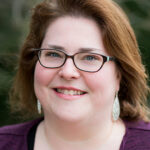 Lisa Lafflam
Learning & Development Manager, Academic Impressions