Explore useful strategies for developing and advancing micro-credentialing and badging initiatives and programs at your institution.
Overview
Micro-credentialing and badging are rapidly gaining momentum in higher education as more and more students, both traditional and non-traditional, question the value of a traditional degree. As alternative credentialing evolves to meet the emerging needs of both students and industry, institutions new to micro-credentialing and badging are eager to know how to best develop, operationalize, market, and monetize sustainable initiatives. Conversely, institutions with micro-credentialing and badging in place are seeking to refine their strategy, improve quality, expand their reach, and manage pivots.
Join us to learn strategies and processes that other institutions have successfully used to develop and advance micro-credentialing and badging initiatives and programs. Throughout this interactive virtual conference, you will explore what it takes to create a quality program that offers value to all stakeholders. You will learn strategies and considerations for:
Designing quality alternative credentials.
Making data-informed decisions for continuous improvement.
Intentionally integrating your initiative across your institution.
Building relationships with external partners.
Measuring and showing the return on your investment.
Operationalizing for long-term success.
Who Should Attend
This conference will appeal to higher-education professionals who are planning for, or are in the process of implementing a micro-credentialing and badging initiative at their institutions. If you're interested in making sure that your badging initiative is valuable and meeting the needs of all stakeholders, this program is for you.
The Academic Impressions Online Learning Experience
Intentionally Designed
Online Learning
Our virtual trainings go far beyond just replicating PowerPoint presentations online: these experiences are intentionally designed to give you the kind of robust and dynamic learning experience you've come to expect from Academic Impressions. These trainings provide you with an active learning environment and an online space where you can explore ideas, get inspired by what your peers are doing, and understand the range of possibilities around a certain topic. You will leave these sessions with practical solutions that you can take back to your team or task force.
What you will get:
A dynamic, interactive, and high-touch virtual learning experience designed to engage and set you up for growth
Seamless online face-time, networking, group work, and Q&A opportunities from the comfort of your own workspace
Practical takeaways and hands-on knowledge
Guidance from vetted subject matter experts
See What Our Attendees are Saying
"At first, I was skeptical that a virtual conference was capable of being both engaging and informational - but Academic Impressions has mastered it! The 3-day online event was structured in a creative way that all participants had multiple opportunities to interact with each other and the presenters. No one's questions went unheard or unanswered. Thank you for this great experience, it has changed my view of virtual conferences and I look forward to attending more in the future."
- Desiree Ford, Digital Communications Manager, Binghamton University
"The virtual conference has been amazing. The presenters have all been great and the information they've provided is going to help us better use our social media. Even though this conference had to be virtualized due to COVID-19, the online format has been set up in a way that we can all collaborate and share ideas. I'm very eager to take what I've learned back to campus and start implementing new ideas."
- Chris Forde, Coordinator of Marketing & Public Information, Lincoln Trail College
Day 1 — Wednesday, October 12, 2022 (All Times Eastern)
Introductions and Opening
11:00 a.m. – 11:15 a.m.
As we open our conference, we will set the stage for what you can expect across our two days together and how to maximize your experience.
---
The Current Micro-credentialing & Badging Landscape
11:15 a.m. – 12:00 p.m.
Our experts will provide an overview of the current state of micro-credentialing and badging across the higher education landscape, and then establish a shared terminology for everyone.
---
Break
12:00 p.m. – 12:15 p.m.
---
Show & Tell: Roundtable Discussions
12:15 p.m. – 1:15 p.m.
For this session, our experts will showcase the approaches they have taken in the past, as well as those they are currently taking at their institutions. You will then break into small groups to discuss your purposes for pursuing a badging initiative and where your institution currently stands.
---
CONCURRENT SESSION A: Designing Quality Alternative Credentials
1:15 p.m. – 2:15 p.m.
Designed for those who are newer to micro-credentialing and badging, this session will explore the considerations you need to make when developing, designing, assessing, and maintaining quality micro-credentials. In this session, you will learn about:
Standardization and rigor in development.
Curriculum design and assessment.
Developing a governance process.
Continuous maintenance and improvement.
---
CONCURRENT SESSION B: Data-Informed (Re)Design
1:15 p.m. – 2:15 p.m.
Designed for participants who are currently running a micro-credentialing and badging program, our expert will overview how you can collect and analyze data to make data-informed decisions for the continuous maintenance and improvement of your micro-credentialing and badging initiative.
---
Break
2:15 p.m. – 2:30 p.m.
---
Integrating Across the Institution
2:30 p.m. – 3:30 p.m.
Integration is key to the success of a micro-credentialing and badging initiative. During this session, our experts will share best practices on making your initiative an intentional part of the institution, and one that ensures consistent services and support for a quality student experience. Technology considerations, as well as marketing and branding, will also be addressed.
---
Day 1 Q&A & Reflection
3:30 p.m. – 4:00 p.m.
We will conclude our first day together with any remaining questions you may have for our speakers and share reflections and insights for moving forward to Day 2.
---
Day 2 — Thursday, October 13, 2022 (All Times Eastern)
Our Institutions' Evolving Role With Industry & External Partners
11:00 a.m. – 12:00 p.m.
A key component of micro-credentialing and badging is engaging with industry, yet this often proves to be one of the most challenging aspects of this type of initiative. During this session, you will explore strategies for using data to collaborate with industry, align badges with employer expectations, and use badging as a catalyst for partnerships with industry.
---
Break
12:00 – 12:15 p.m.
---
Value Propositions and Return on Investment
12:15 p.m. – 1:15 p.m.
During this hour, we will examine multiple value propositions that micro-credentials offer, as well as ways to measure and show their return on your institution's investment. You will learn strategies for securing funding and evaluating return on investment. We will also look at various fee-based and tuition-based funding models to financially operationalize micro-credentialing.
---
Considerations for Sustainability
1:15 p.m. – 2:00 p.m.
How do you go from piloting a micro-credentialing and badging initiative to a sustainable, scaled program? During this panel discussion, our experts will share their insights into how they operationalized and scaled their initiatives for long-term success. Participants will be invited to share their experiences on scaling programs, as well.
---
Break
2:00 p.m. – 2:15 p.m.
---
Current Issues Impacting Badges
2:15 p.m. – 3:30 p.m.
In our closing session, we'll address the challenges and opportunities arising in the badging landscape, such as:
Emerging research
Resources for practitioners and Communities of Practice
Advancements in technology
Market changes and trends
The ongoing pandemic
Declining enrollment and changing perceptions around the purpose of higher education
Michael P. Macklin
Associate Vice Chancellor Academic Affairs and Workforce Development, Colorado Community College System
Mike understands that digital badges are key in sustaining and expanding workforce skillsets with community and business partners as this allows for unprecedented access to affordable reskilling and upskilling opportunities.
Sherri Braxton
Senior Director for Digital Innovation
Sherri Braxton is the inaugural Senior Director for Digital Innovation at Bowdoin College. By way of partnerships across the college, she leads efforts to identify, prioritize, and pursue opportunities for digital innovation in both curricular and co-curricular learning spaces while building on lessons learned from the COVID-19 impacted academic terms.
Anne Reed
Director of Micro-Credentials and Digital Badges, University of Buffalo
Anne Reed is the founding Director of the Office Micro-credentials at the University at Buffalo (UB). She developed a process to propose, review, develop, and implement new micro-credentials at the university.
Questions About the Event?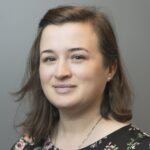 Jenna Ledford
Learning & Development Manager, Academic Impressions