Badging programs are rapidly gaining momentum in higher education - join us to learn how to get your badging efforts off the ground.
Digital badges are a valuable way for learners to showcase their skills, knowledge, and achievements and are rapidly gaining momentum in higher education. But because badges are rapidly evolving, institutions are full of questions regarding how best to develop, operationalize, and market them.
Join us for an event that will expose you to strategies and processes that other institutions have used to develop digital badge initiatives and programs. Throughout the course of the event, you will learn all the different ways badges can add value to the learner experience, key considerations for developing badges, and how to connect learners with industry, including:
How competencies are assessed when it comes to badges

Cost and business model considerations

Different types of badging platforms and technology

How to partner with industry to deliver in-demand competencies for learners
Who Should Attend
This conference will appeal to higher education professionals who are planning for or in the process of implementing a badging initiative at their institutions.
If you have questions about this program, the content, or its fit for you and your team, please reach out to Ashley Brand.
What are digital badges?
A digital badge is an innovative way for a learner to display specific skill sets and knowledge that are acquired outside of a traditional classroom. The badge itself contains information such as the issuing institution, the date earned, the criteria required to earn the badge, and evidence of competency. What is most attractive about badging for learners is that learners have actual ownership of their badges and can decide when and where to use them, including on LinkedIn or other social media, on a resume, or in e-portfolios.

Agenda
Your registration for this event includes access to all conference sessions below and materials, the networking reception on Tuesday, breakfast and lunch on Wednesday, and breakfast on Thursday, as well as refreshments and snacks throughout the conference.
Day 1: November 27, 2018
12:00 to 5:30 p.m.
Registration, Welcome, and Introductions
---
Badges in Context
We'll use this opening session to explore initial questions and curiosities related to badging, including establishing a shared terminology. We will also discuss the various benefits of badges and how they can fulfill the needs of various students.
---
Badging Tour
In this session, you will learn more about how institutions have successfully implemented a badging initiative. You will learn specifics about their processes, pitfalls, and successes as well as hear real stories from students who have benefited from badge offerings.
---
Wrap Up Day 1 and Q&A
DAY TWO
8:30 a.m. to 4:30 p.m.
Key Considerations: Assessment of Competencies
We'll use this time to explore the connections between badges, assessment, and more traditional degree programs.
---
Key Technology Considerations
This session will allow for greater understanding of Open Badges, the variety of technology software and platforms, and the portability of badges.
---
Key Financial Considerations
During this hour, we will take a closer look at answering key financial questions surrounding badges:
What does the business model look like behind existing institutional badging initiatives?

Are these money-makers for an institution? Is there revenue potential?

Where does funding for these efforts come from?
---
Partnering with Industry
Badging can be a catalyst for partnerships between higher education and industry. In this session, you will have the opportunity to learn more about strategies for collaborating with industry in the development of badges and how badges align with employer expectations.
---
Wrap Up Day 2 and Q&A
DAY THREE
8:30 a.m. to 12:30 p.m.
Branding and Marketing Badges
Now that we have a better idea of the "why" and "what" of badges, how do we market their value to external and internal stakeholders? You'll see examples of how other institutions are designing and marketing their badges.
---
Consultation Time
Alongside your peers and our expert instructors, you will have the opportunity to brainstorm ideas, get feedback, ask questions, and get answers.
---
Next Steps and the Road Ahead: Where Badging in Higher Ed is Going
Most institutions are getting into the badging game, and we'll talk about the far-reaching considerations in the world of badging. We'll use this time to engage in forward-thinking and discuss the future of badging and what future trends in badging might be.
---
Wrap-Up Day 3 and Q&A

Speakers
Jeff Bohrer
Technical PM
IMS Global Learning
Jeff currently serves as a program manager for digital credentials initiatives at IMS Global Learning Consortium, a nonprofit member organization whose mission is to enable the adoption and impact of innovative learning technology. Jeff leads projects and programs related to digital badges, comprehensive learner records, and the interoperability of learning technologies. Jeff is also co-chair of the EDUCAUSE Microcredentials and Badges Constituent Group.
Dan Hickey
Program Coordinator, Learning Sciences Program
Indiana University Bloomington
Daniel T. Hickey is Professor with the Learning Sciences Program at Indiana University and a Research Scientist at the IU Center for Research on Learning and Technology. He studies new approaches to assessing, motivating, and recognizing learning, mostly using cutting-edge technology. He has been deeply involved in research of Open Badges and other forms of web-enabled credentials since 2011.
Mike Macklin
Associate Provost, Workforce Partnerships/Development
Colorado Community College System
Mike understands that digital badges are key in sustaining and expanding workforce skillsets with community and business partners as this allows for unprecedented access to affordable reskilling and upskilling opportunities.
Anne Reed
Director of Micro-Credentials and Digital Badges at the University of Buffalo
Anne has developed a process to propose, review, develop, and implement new micro-credential programs at the university and her research interests include gamification in higher ed and the use of digital badges as alternative credentials.
David Schejbal
Vice President and Chief of Digital Learning
Marquette University
He works with faculty and senior leaders across the University to expand Marquette online programs throughout the nation and the world. Prior to Marquette, David was dean of Continuing Education, Outreach and E-Learning at the University of Wisconsin-Extension.
$1,495 through Nov 9
$1,595.00
Join us and learn how to move your badging initiative forward.
Team Discounts Available
1-2 registrations: full price
3-4 registrations: 15% off each conference registration
5-7 registrations: 20% off each conference registration
8 + registrations: 25% off each conference registration
$295
Purchase the conference binder, which includes all presentation slides, worksheets, action plans, and additional resources.
Note: Conference attendees do not need to purchase materials separately.
Questions About the Event?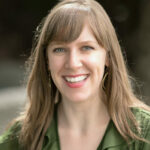 Ashley Brand
Program Manager, Academic Impressions