Learn how to create an aspirational resilience program for students with mental health concerns.
In today's higher education landscape, a growing number of students are struggling with decreasing resilience, which frequently harms their academic performance and collegiate experience. As this trend continues to prevail, there is a growing realization that student resilience must be discussed holistically, with special focus on mental health. Well-being and resilience should be considered as critical components of a student's academic and vocational success.
In response to this issue, a handful of institutions are leading the way in creating and implementing innovative programs that address the relationship between mental health and resilience—by helping students improve skills related to emotional fortitude, grit, and social support.
Join us for this webcast to learn how UMass Amherst has developed a new evidence and strengths-based healthcare program to enhance students' resilience skills and help them flourish even in the face of mental illness. Participants will learn both short and long-term ways to implement a similar program on their respective campuses.
Who Should Attend
Leaders who are looking to bring a resilience building program to their campus to support students with mental health concerns will benefit from this online training.
Faculty

Academic Deans

Deans of Students

Wellness Center Staff

Directors of Counseling Centers

Case Managers

Counselors

Athletic Coaches
Agenda
This webcast will be hosted by Dr. Genevieve Chandler from UMass Amherst who will explain the key components of constructing and launching a successful resilience building program on campus:
Why Focus on Resilience Building?
What research tells us

Student participant testimonials

Applicable data from student participants
Outcomes of Course Syllabus – "ABCS" of Resilience
A

ctive coping

B

uilding strength

C

ognitive awareness

S

ocial support
Short-Term vs. Long-Term Action Plans
One month from now

Six months from now

One year from now

Tips from the expert
Instructor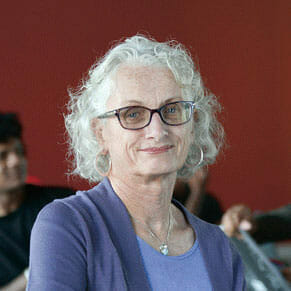 Genevieve "Ginny" Chandler
Associate Professor, University of Massachusetts, Amherst
Dr. Chandler's passion is understanding how to build resilience to interrupt the effect Adverse Childhood Experiences (ACE) have on health risk behaviors, hard-to-treat symptoms, and chronic disease conditions. Her resilience model is the framework for strength-based interventions to develop the capacity to bounce back from stress to promote young adult health and wellbeing. She is a leader in promoting trauma informed care to eliminate seclusion and restraints and create a safe environment for patients and staff on inpatient mental health units. Mentoring as strategy to empower students, nurses and faculty, is the focus of Dr. Chandler's educational research which has resulted in two books, the award winning Ultimate Guide to Getting Into Nursing School and the New Nurse's Survival Guide as well as two Robert Wood Johnson New Careers In Nursing awards.
Questions About the Event? Email this event's Program Manager, Rabia Khan Harvey.
Product Information
What's included in your purchase?
Webcast recording – a recording of our live session that you can access anywhere, anytime.
For more details about this product, please visit our Product FAQs.