Learn tactics and strategies to convey your institution's powerful stories in the most compelling ways.
Humans are wired for narrative, so stories can act as powerful motivators to those who are touched by them. Institutions are more likely to build connection, engagement, affinity, and inspiration with a story than with more traditional "sales-oriented" forms of marketing. While storytelling is often discussed in the world of higher ed marketing, few schools are doing it in a way that is intentional, strategic, and sustainable. To differentiate yourself in the competitive landscape of higher ed, it is critical to align your messaging with the unique needs of your audiences as demographics shift and generations change.
It takes creativity to know a great story and how to share it in a compelling and authentic way, but there is also a science behind effective storytelling. No matter the medium (written or visual), one must have insight and data about target audiences and a strong brand strategy to provide the roots for growing narratives. During this highly interactive workshop, you will explore storytelling through both artistic and scientific lenses and work with your peers and our expert instructors to hone the skills you need to create high-impact stories for your campus.
Who Should Attend
This program has been designed for higher ed marketing and communications professionals who are looking to enhance storytelling strategies. You will learn how to identify the right stories and match them to the most compelling medium in order to most effectively convey your narrative. You'll leave this event able to build a high-impact strategy across multiple digital channels and platforms.
We encourage you to get everyone on the same page and attend with your team! Tiered pricing is available for teams - see the registration row below for details.

Agenda
Day 1
8:30 a.m. - 5:30 p.m.
Your registration for the event includes full access to all conference sessions and materials, breakfast, lunch, and the networking reception on Monday, and breakfast on Tuesday, as well as refreshments and snacks throughout the conference.
Registration & Introductions
---
Building Your Storytelling Philosophy
A sustainable storytelling strategy must be rooted in a philosophy that is shared across the team, and it should be tied to the greater mission and vision of the institution. What is your current institutional approach to storytelling? During this session, you will see examples of great storytelling, reflect on how storytelling is currently handled at your institution, and begin to think about how you would like to approach it moving forward.
---
The Science of Storytelling: Leveraging Data to Understand your Audience (Includes activity)
Before writing a story, you must understand your target audience. What sort of data will help with storytelling? Our expert instructor will discuss how to gather insights on your target audience to help you craft high-impact stories for them. Gathering the right data is also a key piece of gaining buy-in from institutional leadership.
---
Finding the Right Stories and Choosing Your Platform (Includes activity)
Once you understand your audience and their preferences, it is time to unearth the stories you want to share and use data to identify and utilize the best medium. Our instructors will provide an overview of best practices for finding and soliciting powerful stories on your campus and how to convey your message on the right platform to effectively reach your targeted audience.
---
Practice: The Art of a Compelling Story
During this interactive session, you will learn the core principles of compelling storytelling and hone your own practice through small group activities.
---
Networking Reception
---
Day 2
8:30 a.m. - 12:00 p.m.
Building Storytelling Strategy and Prioritizing Channels for Generation Z
It is critical to have a brand strategy to serve as the beacon for your storytelling efforts. You will learn about brand strategies at various institutions and the stories that were crafted within these frameworks. You will also explore Generation Z, a growing and important cohort to understand. Armed with these examples, you will begin prioritizing the types of communication channels (e.g., social media, print, film, etc.) you want to focus on and start crafting a storytelling strategy for yourself and your area.
---
Bringing It Home: Next Steps when You Return to Campus
Your ability to directly impact brand strategy at your institution can vary greatly depending upon your role. This presentation will provide you with steps you can take back to campus to help enhance storytelling practices from both the bottom-up and top-down.
---
Conference Wrap-Up and Evaluations

Speakers
Mike Barzacchini
Director, Marketing Services
Harper College
From community journalism to health care and higher ed, Mike's 27-year career has been powered by a passion to discover, create and share stories that connect people and advance strategic priorities.
Elizabeth Scarborough Johnson
Chief Executive Officer
SimpsonScarborough
With over 25 years of experience conducting market research studies, she's an industry leader in providing strategic marketing solutions to colleges and universities.
David Peck, Ph.D.
Vice President for University Relations
Azusa Pacific University
Boasting a background in Hollywood, David's expertise lies in branding, marketing, public relations, social media, and visual storytelling. He's been responsible for promoting and protecting the brand at APU for 21 years.
$295
Purchase the conference binder, which includes all presentation slides, worksheets, action plans, and additional resources.
Note: Conference attendees do not need to purchase materials separately.
Questions About the Event?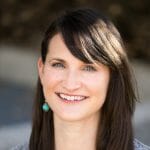 Kate Poisson
Program Manager, Academic Impressions