Create a plan to align stakeholders and drive progress towards the implementation of your experiential learning initiatives.
Overview
Demonstrating institutional value and enhancing student learning is even more important in the face of the COVID-19 pandemic. Continuing to pursue your experiential learning initiatives will help you highlight your distinctiveness by teaching the skills employers most want—and students most need.
But implementing experiential learning—whether at the institutional, college, or department level—can raise concerns from stakeholders about challenges like faculty workload and assessment. The impact of the COVID-19 pandemic only adds to the complexity as you consider whether you can take experiential learning online.
Join us online in this interactive virtual conference to learn how to align your stakeholders around the goals of your experiential learning initiatives and drive progress in your implementation. With our instructors' help, you will craft goals, communication plans, and training plans for stakeholders—including faculty. You will leave with practical advice on how to handle key technology, policy, and assessment pieces.
Who Should Attend
This program is designed to support any individual or team leading a strategic initiative to integrate experiential learning across the curriculum.
We encourage both individuals and teams of experiential learning as well as academic leaders to attend this training. The following professionals may find this program especially beneficial:
Directors of Experiential Learning
Academic leaders such as Provosts, Deans, Associate Deans, and Chairs
Career services staff focused on experiential learning
Limited Attendance
In order to ensure a high-quality learning experience, we have intentionally designed this Virtual Training to have a limited number of total attendees. To ensure access from both paying participants and also from those who have an All-Inclusive membership, when the membership cap is reached, only paying participants can register after that point (while spaces are still available). If you have questions about whether this program is right for you, please contact us.
The Academic Impressions Online Learning Experience
Intentionally Designed
Online Learning
Our virtual trainings go far beyond just replicating PowerPoint presentations online: these experiences are intentionally designed to give you the kind of robust and dynamic learning experience you've come to expect from Academic Impressions. These trainings provide you with an active learning environment and an online space where you can explore ideas, get inspired by what your peers are doing, and understand the range of possibilities around a certain topic. You will leave these sessions with practical solutions that you can take back to your team or task force.
What you will get:
A dynamic, interactive, and high-touch virtual learning experience designed to engage and set you up for growth
Seamless online face-time, networking, group work, and Q&A opportunities from the comfort of your own workspace
Practical takeaways and hands-on knowledge
Guidance from vetted subject matter experts
Unlimited access to all recorded online sessions
See What Our Attendees are Saying
"The virtual design of this conference coupled with the amazing work of our program manager promoted a high level of engagement and sense of community among attendees. The speakers were knowledgeable and enthusiastic to share their experiences. It was a refreshing shift from long days of traditional meetings on Zoom!"
"This is the first time I've ever attended a virtual conference, and to be honest, I had low expectations. Well, I was wrong. I am very impressed with the platform used and the quality of the content shared. Oftentimes, these conferences only talk about ideas and what could work, but at this event, actual pathways and practical next steps were shared. Academic Impressions did a great job featuring quality speakers who were willing to share what they know."
"Although the workshop was online, it felt as if the presenters were right there with us. All presenters were knowledgeable and really related the content to real work experiences. They were so willing to answer questions and offer assistance—I learned so much that I can apply."
"Many conferences leave you with learning but not always sure how to turn that into action for your organization. There were actionable tips shared throughout the two days and tools provided to help move the learning into action. I am always impressed with Academic Impressions conferences and this virtual one did not disappoint."
"At first, I was skeptical that a virtual conference was capable of being both engaging and informational - but Academic Impressions has mastered it! The 3-day online event was structured in a creative way that all participants had multiple opportunities to interact with each other and the presenters. No one's questions went unheard or unanswered. Thank you for this great experience, it has changed my view of virtual conferences and I look forward to attending more in the future."
- Desiree Ford, Digital Communications Manager, Binghamton University
"The virtual conference has been amazing. The presenters have all been great and the information they've provided is going to help us better use our social media. Even though this conference had to be virtualized due to COVID-19, the online format has been set up in a way that we can all collaborate and share ideas. I'm very eager to take what I've learned back to campus and start implementing new ideas."
- Chris Forde, Coordinator of Marketing & Public Information, Lincoln Trail College
Day 1 (Eastern Time)
Optional Meet and Greet
11:30 a.m. – 12:00 p.m.
---
Welcome and Introductions
12:00 – 12:30 p.m.
---
Defining the Experiential Learning Continuum
12:30 – 1:15 p.m.
Our expert speakers will introduce the experiential learning continuum and share examples of successful academic internships, service learning, active learning, and community-based research that elevates student learning.
---
Break
1:15 – 1:30 p.m.
---
Planning Your Approach
1:30 – 2:15 p.m.
Through two case studies you will learn how two different institutions structure their experiential learning efforts. Whether you have the opportunity to collaborate through a centralized experiential learning office or are working to enhance experiential learning opportunities within your department, you will be able to identify lessons learned and creative ideas to help shape your efforts.
---
Auditing Your Current Experiential Learning Initiatives
2:15 – 3:15 p.m.
You will start answering questions such as:
Where does experiential learning live at my institution?
What evidence do I have that change is needed?
What policies, guidelines for classroom management, and technology are needed to build a sustainable infrastructure?
---
Break
3:15 – 3:45 p.m.
---
Working Session
3:45 – 4:15 p.m.
---
Day 1 Wrap-Up
4:15 – 4:30 p.m.
---
Day 2 (Eastern Time)
Day 2 Opening Remarks
12:00 – 12:15 p.m.
---
Emerging Trends and Challenges
12:15 – 12:45 p.m.
During this interactive session, you will exchange ideas around current topics such as taking experiential learning initiatives online and adapting your work in the context of the COVID-19 pandemic.
---
Cultivating and Collaborating with Stakeholders
12:45 – 1:30 p.m.
You will learn successful practices and skills that foster cultural change with key stakeholders including:
Leadership
Faculty
Employers and community partners
---
Break
1:30 – 2:00 p.m.
---
Designing and Planning a Training Program
2:00 – 2:45 p.m.
You will design a training plan for faculty to help them create consistency and build their skills and creativity. Our speakers will share tips on how to implement this training in-person or virtually.
---
Break
2:45 – 3:00 p.m.
---
Assessing Experiential Learning
3:00 – 3:30 p.m.
You will begin to outline an assessment plan for your experiential learning integration as well as identify best practices for assessment of individual experiential learning interventions.
---
Moving Forward: Identifying Next Steps
3:30 – 4:15 p.m.
This session will give you the opportunity to identify the next steps you will take to implement what you have learned. The conference instructors will be available for individual help and guidance as needed.
---
Conference Wrap-Up: Final Remarks, Questions, Evaluations
4:15 – 4:30 p.m.
Susan Haarman
Associate Director, Center for Experiential Learning, Loyola University Chicago
Susan Haarman hails from Louisville, KY, but has lived in Milwaukee, Texas, Berkeley, West Virginia, Pennsylvania, and the fine city of Chicago. She serves as the Associate Director of the Center for Experiential Learning at Loyola University Chicago, where she runs their service-learning program and faculty development programs.
Kathryn Klose
Alive Learning
Kathryn Klose holds an PhD in Higher Education Policy from the University of Maryland College Park. She has over 18 years of experience in higher education as a faculty and administrator responsible for designing, implementing, and teaching hands-on real-world curriculum in varied and diverse learning environments. She augments her experience in the field of education with extensive management experience in the public and private sectors.
Questions About the Event?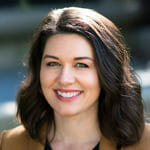 Jess Landis
Program Manager, Academic Impressions
*There are limited spots available for All-Inclusive Members to register for Virtual Conferences for free in 2020. Each virtual conference has a registration cap in order to ensure a high-quality learning experience, personalized attention, networking and interactivity. If the cap has been met, All-Inclusive Members can register with a $250 discount if space is available.
Academic Affairs, Advancement/Alumni Relations, Enrollment Management, and Student Affairs members will continue to receive $100 off conference registrations, if applicable. Upgrade your membership to qualify for a higher discount.
Please note the member discount is not applicable on conference binders or success coaching.