The landscape has changed on college campuses, with a critical need being the recruitment and retention of employees-- and the key is the role of the supervisor. Research has found as much as a 70% increase in team engagement thanks to effective supervision.
Effective supervision occurs at every level of the organization: from individuals supervising teams, to individuals supervising multiple departments, to vice presidents supervising divisions. No matter what your level within the organization, supervision requires the following:
Providing a foundation of purpose, values and vision that the team, department, and division utilizes in their day-to-day operations.
Establishing expectations and providing feedback to accomplish team, department, and division goals.
Understanding the importance of and challenges with conflict.
Building a connection with others grounded in trust, empathy, and the desire to help the employees grow.
Our goal is to assist higher education in creating the ultimate employee experience through enhanced supervision.
Our Supervision training and resources are designed to meet learners where they are.
Choose from cohort-based learning programs or self-paced options that target specific needs.
Supervision Certificate Program
Weekly learning delivered directly to you—in bite-sized lessons.
Great for Teams or Individuals
Time Commitment:
Average of 2.5 Hours a Week for 4 weeks
Earn a Certificate of Completion
Consume our supervisor curriculum over the course of 4 weeks. Each week you'll have an average of 2.5 hours of work that can be completed on-demand. The course will be capped off with a live session.
Get a weekly email with on-demand videos and activities that can be completed on your lunch break over the course of the week.
Attend two live sessions to apply your learning and engage in dialogue with peers from around the country. These sessions will be recorded and available on-demand for those who can't attend live.
Earn a certificate of completion.
Register now! Our next cohorts begin on June 5 and July 10.
Certificate Program Curriculum
Week #1: Setting up the Supervisory Relationship – The course begins with a session on how to better understand your supervisory style, articulate it to your direct reports as a means of setting up the relationship, and how you might adapt that style in line with your reports' needs and what the situation calls for.
Week #2: Performance Management | LIVE SESSION – This week's emphasis on performance management consists of two trainings: 1) diagnosing employee performance issues, and 2) offering and receiving meaningful feedback. You'll then have a chance to apply what you learned and dialogue with peers in an end-of-week live session.
Week #3: Managing Conflict – In this week's course, you'll learn about conflict styles, different types of conflict, how you can establish a team culture that views conflict as positive and productive, and how to continue pushing that culture shift ahead even when team conflicts arise.
Week #4: Growing, Motivating, and Retaining Your Staff | LIVE SESSION – In this final week, we'll touch on a variety of tools and techniques you can use to ensure your staff feel seen and valued and keep them growing and thriving.
Take the on-demand courses below anytime, anywhere. Check back regularly to view new trainings and resources.
Get These Trainings and More with Membership
Fiscal Year Promotion:
Save Up to $1,500 on Membership
What is Membership with Academic Impressions?
Membership with Academic Impressions is the most comprehensive online professional development subscription specifically designed for staff and faculty in higher education. Our resources support leaders, staff, and faculty at all levels with trainings on leadership development, personal development, and job-specific skills.
Join hundreds of member institutions and use this year to make professional development a regular occurrence instead of a once-a-year annual meeting.
What Does Membership Include?
Access to a continuously expanding library of live online trainings, designed to be practical, discussion-based, and highly experiential
Unlimited anytime, anywhere access to on-demand trainings and resources that you can engage with on your own time from the convenience of your workspace
New trainings every week, designed to respond to the latest needs of the higher ed community
$250 discount on multi-week cohort-based bootcamps and in-person conferences
Customize the Topics for Your Division or Institution
Maximize team learning and team cohesion by customizing our supervision development curriculum to meet your specific needs and objectives.
Great for Teams - Tailored to meet needs of campus
Can be in person, virtual, or blended
Training can stand alone or be used to supplement existing programs
Academic Impressions works with dozens of institutions to customize training based on the unique needs of each campus. We take a flexible approach in how we design each workshop.
We can provide one or two-day workshops to kick-off and capstone an annual cohort-based program, including providing multiple assessments and personalized coaching.
We can supplement existing programs or provide a full end-to-end solution for an institution's supervision program. In these cases, we assist with everything from identifying participants (criteria, process, etc.), managing all participant communication, designing and customizing every aspect of the program, bringing in assessments and coaching, assessing the program's effectiveness, and more.
Regardless of the option, we work closely with campus partners to customize the program based on the unique goals and context of the institution and the participants.
Additional supervision topics available that can be added to a custom workshop include:
The Essential Element of Trust
The Inevitability of Change
Effective Team Culture
Psychological Safety
Integrity: Character of Great Leadership
Strengths Based Teams
Kraybill Conflict Assessment
Fully Train Supervisors with our Comprehensive Bootcamp
Great for Individuals or Teams – Get a discount by sending 3+ people
Each week for 6 weeks you'll attend one live session and complete up to 1 hour of asynchronous activities
Includes our 5 paths assessment and debrief to help you better understand your leadership style
As a part of the bootcamp, you will have two one-on-one 30-minute coaching sessions with Dr. Therese Lask, the bootcamp facilitator
Discovering Self and Developing Essential Skills: A Bootcamp for New Supervisors
Join us online for a six-week intensive experience specifically designed for higher education supervisors who are new to their roles or looking to deepen their skills. The bootcamp includes both synchronous and asynchronous learning opportunities as well as two private coaching sessions. This blend of engagement opportunities will allow you time to reflect on and then share your learning in a communal group setting during the live online weekly sessions. The bootcamp is limited to 25 participants to ensure a personal, engaging, and action-oriented experience.
You will leave the bootcamp as a member of a network of new supervisors, with a deeper understanding of effective strategies for supervision, as well as with a host of practical tools you can apply right away to better support individual, team and organizational goals.
Upcoming sessions:
Coaching can help you gain clarity in your career, increase your level of self-awareness, hone your skill set, and reach your full potential within the context of the industry. Our team of coaches can help higher ed leaders at all levels excel and accelerate their career development.
Individual or group coaching can supplement any supervision program.
Through the thousands of leadership trainings we facilitate we have developed an in-depth understanding of the nuances of the industry, such as shared governance, consensus mentality, the slow pace of change, the unique role of faculty, and many others
To ensure the most productive relationship, you get to choose the coach who best fits your needs, knowing they have been carefully selected to offer insights into the key concerns of higher education today
You will be exposed to our network of carefully vetted coaches who each have extensive experience in a diverse range of universities and colleges
Learn how our executive coaching compares to other programs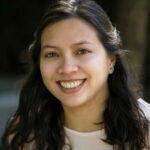 Meghan Paladino
Director of Institutional Partnerships,
Academic Impressions