Become your most powerful self. Join women from across higher education to gain confidence as a leader, prioritize your growth, and expand your network.
Overview
Are you looking to take the next step in leadership but aren't sure where to start? What strengths do you have that can help you lead with excellence? Would you like to connect with other women leaders in higher education for shared learning and support? Please join us for this powerful two-day leadership conference and experience.
With this event, you will have opportunities to build a valuable affinity network with your peers that can provide mentorship and guidance as you move forward with your goals afterward. In addition, you will be able to take our 5 Paths to Leadership Self-Assessment before the conference at no additional charge. This assessment will help you to understand ways of achieving greater balance among five forms of intelligence in order to improve your overall effectiveness as a leader. You will actively use the results of this assessment during the first session.
Who Should Attend
Mid- to upper-level women higher-education leaders who wish to:
Build upon your leadership skillset for success.
Learn from expert faculty and the shared experiences of your peers.
Connect with other women leaders in higher education.
If you are already leading at strategic levels in higher education (especially AVPs, VPs, and those leading at the Dean or Director level and above) or you have already participated in Women's Leadership Success in Higher Education and are looking to deepen your leadership skillset in community with other women leaders, you might consider joining us in-person for: Executive-Level Leadership: An Institute for Advanced Women Leaders in Higher Education
Bring your team and save!
Save over 15% when you register three or more colleagues.
Follow Through With Success Coaching
Have you ever gone to a training only to find that you came back with great ideas but don't have the time, support, or skills needed to make the changes?
Academic Impressions has produced thousands of trainings and we have learned that utilizing a coach after attending a conference helps provide accountability and bridges the training with the on-the-ground work of getting the job done.
As a result, we are now offering success coaching on select conferences.
Purchase this training + 3 one hour follow up success coaching calls
Work with an assigned coach who has extensive experience in higher ed.
Get individualized support to help you follow through on what you've learned.
Workshop your plans, run your ideas by someone and get additional help/practice.
To get success coaching, simply purchase the Conference and add Success Coaching during registration.
See What Our Attendees are Saying
"This conference happened at a difficult and challenging time in my career and the messages I've heard were what I needed to hear. Thank you also for allowing for incredible and empowering networking opportunities."
"I've been so inspired by the speakers and stories told by attendees, but I'm also empowered and ready to take the next step in my career. I'm also leaving with the support of a number of powerful women in my corner, which I find invaluable."
"This conference has been life-changing and transformational. I feel more confident in myself, in my abilities, and in my leadership. I have concrete action plans to move forward and was inspired by so many amazing women. I hope to attend this conference again in the future."
Day 1
11:30 a.m. - 4:30 p.m. | All Times Eastern
---
Optional Meet and Greet 
11:30 a.m. – 12:00 p.m. ET 
---
Welcome and Introductions 
12:00 p.m. – 12:15 p.m. ET  
---
Be the Leader You Would Want to Follow 
12:15 p.m. – 1:15 p.m. ET 
Leadership in higher education matters now more than ever. In this session, you will learn what constitutes outstanding leadership—including the qualities, characteristics, experiences, and expertise amazing leaders possess. In this session, you will use a self-assessment tool to help identify your leadership style. You will engage in discussions about how to manage and capitalize on your style while simultaneously mitigating the challenges of that particular style.
---
Break 
1:15 p.m. – 1:30 p.m. ET  
---
Leading Inclusively: Intersectionality Matters 
1:30 p.m. – 2:45 p.m. ET 
Highly inclusive leaders strive to respect and value people from diverse backgrounds based on categories like gender, race, class, sexual orientation, religion, ability, etc. This session will focus on intersectionality—on the ways that individuals can face multiple forms of oppression due to their membership in more than one non-dominant social identity. We will explore how leaders can cultivate inclusion by addressing the complex, cumulative effects of intersectionality.
---
Break 
2:45 p.m. – 3:15 p.m. ET 
---
Leadership as the Management of Meaning
3:15 p.m. – 4:15 p.m. ET
As women leaders in higher education, we face multiple and conflicting messages that we must navigate in order to advance our teams, our goals, and ourselves. In this session, we will cultivate resources to identify, reinforce, or challenge the meanings of leadership, including the concept of nostalgia-based thinking.
---
Day 1 Wrap-Up 
4:15 p.m. – 4:30 p.m. ET 
Day 2
12:00 p.m. - 4:30 p.m. | All Times Eastern
Recap and Review 
12:00 p.m. – 12:15 p.m. ET 
---
Leading Through Crisis 
12:15 p.m. –1:30 p.m. ET 
While some roles on campus are more likely than others to engage in crisis management, the last two years have shown that all leaders can be impacted by turbulent times. Our expert will unpack how women – and especially women of color—are often tapped to lead organizations when institutions are at critical junctures. From there, we'll dive into how responding to crisis can make or break successful leadership.
---
Break  
1:30 p.m. – 2:00 p.m. ET 
---
Focusing on Your Work  
2:00 p.m. – 3:00 p.m. ET 
In this session, you will have an opportunity to break into groups with the event's speakers in order to work further on the content. You will choose your breakout rooms based on your focus selection.
---
Break 
3:00 p.m. – 3:15 p.m. ET 
---
Envisioning Next Steps  
3:15 p.m. – 4:00 p.m. ET 
In this session, you will have an opportunity to connect with others in similar roles in order to help you consider your next career steps.
---
Conference Wrap-Up 
4:00 p.m. – 4:30 p.m. ET 
Kyra Lobbins
Chief of Staff, Adler University
An accomplished leader and emerging higher education scholar, Kyra Lobbins plays a key role in the overall leadership, direction, and national reputation of Adler University – a graduate institution uniquely dedicated to advancing social justice.
As Chief of Staff, Kyra provides support and counsel to the President and key leaders across Adler's three-campus system – with a focus on operations and administration, institutional advancement, and development of the Board of Trustees.
Dr. Sandra Miles
Head of Practice for Diversity/Equity/Inclusion, Academic Impressions
Sandra has spent most of the last two decades serving as a leader and administrator in higher education. Specifically, she has had extensive experience in managing crisis, strategic planning, developing leadership programs, working with persons with disabilities, mediating disputes, and serving as a Dean of Students, Chief Student Affairs Officer, Chief Diversity Officer, and Deputy Title IX Coordinator. In 2022, Sandra joined Academic Impressions full-time as the Head of Practice for Diversity, Equity, and Inclusion.
Dr. Paaige K. Turner
Dean, College of Communication, Information, and Media at Ball State University
"Our unique backgrounds, experiences and identities will reveal themselves in the divergent goals for which we advocate and in the behaviors we exhibit. Together, we can create a world each of us, alone, could never have imagined by putting in place structures that bring together diverse groups in productive, action-based collaboration and by retaining a sense of optimism, purpose, and belief in the ability of those around me that those differences will lead to creating programs, opportunities and a world each of us, alone, could never have imagined."
Dr. Karen M. Whitney
President Emerita, Clarion University
Throughout her 40 year career in higher education, Dr. Karen Whitney has held a variety of executive and leadership positions with increasing levels of responsibility, beginning as a Director to Associate Vice President, Vice Chancellor, President, and Chancellor. Karen is also a nationally recognized organizational and leadership development writer, speaker, consultant and advisor. She holds a doctorate from the University of Texas at Austin in Higher Education Administration and is a certified coach through the Center for Executive Coaching.
Questions About the Event?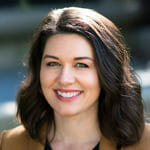 Jess Landis
Senior Learning & Development Manager,
Academic Impressions