Designed for institutions who want to better leverage academic leaders in the fundraising process. This workshop is a great fit if you want to bring both groups together for constructive dialogue and to create a road map for working together. You will:
Improve collaboration between academic leaders and gift officers
Create a shared process with clear roles and expectations
Build momentum in key areas like prospect and project identification
Build a toolkit that is practical and can be used immediately
Get More Information for Your Campus
Complete the form below and an Academic Impressions Program Manager will follow up with you to discuss the on-campus workshop and options for your campus.
Which Format Is Right for Me?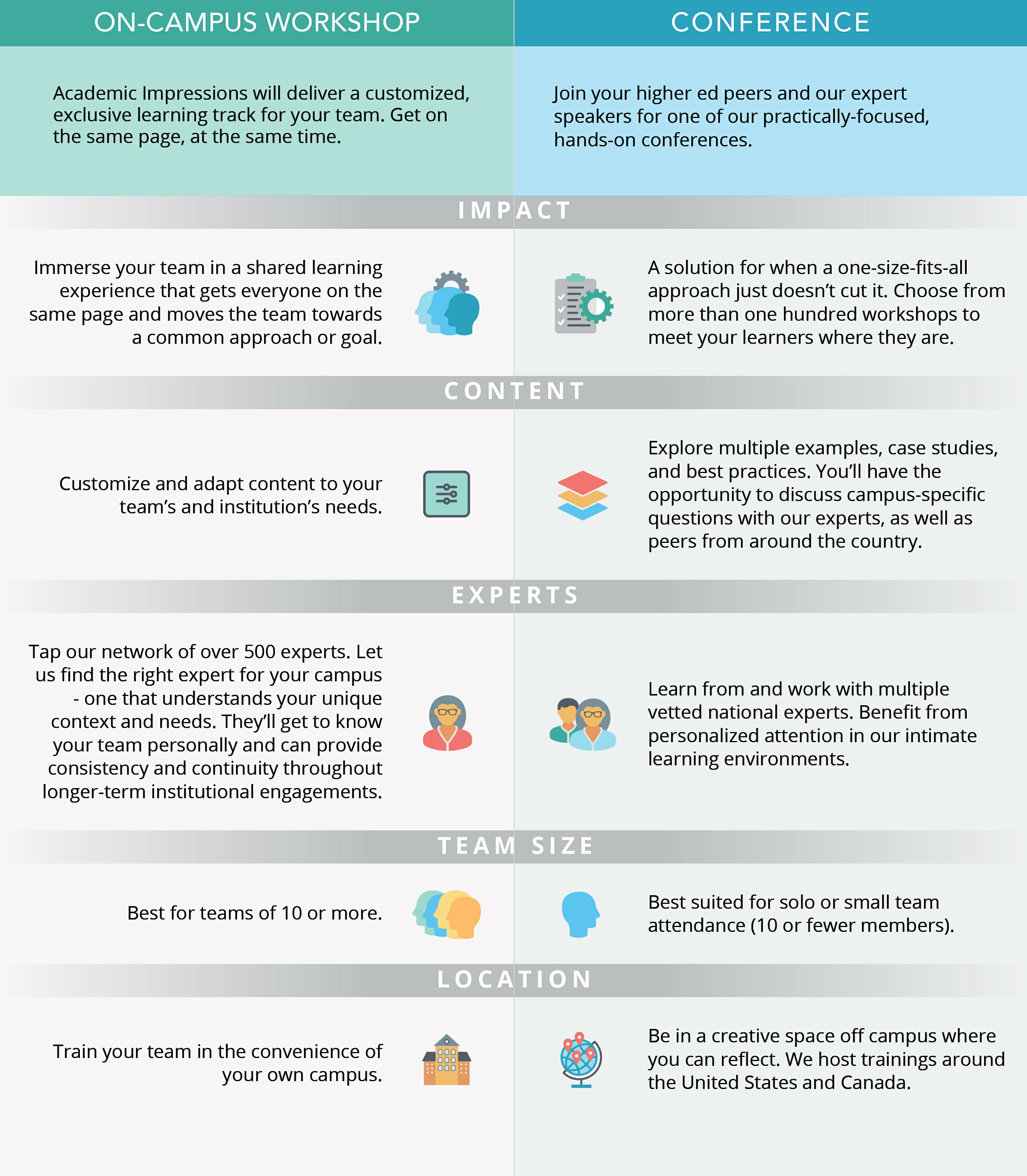 Don't take it from us - See it for yourself.
Trying to decide whether an On-Campus Workshop is right for your team before committing? Come to one of our conferences to see for yourself how we are different and gain insight into Academic Impressions' competitive edge. Browse our upcoming conferences.
Sample Workshop Sessions:
Differentiating philanthropy and charity, and understanding the current fundraising landscape
Crystallizing your vision into clear support planks and unifying your external message
How to work together to develop white papers that motivate prospects to give
Identifying and interacting with potential donors
Strengthen relationships between academic and fundraising counterparts
Improving advisory board performance with task force solutions
Additional Tools and Resources:
Sample discovery interview questions
Glossary of fundraising terms
Visioning and prioritization guides
Sample prospect whitepapers
A bibliography of suggested readings on the current fundraising landscape and suggested philosophical changes for your shop
Various tools to improve advisory board performance
Plan for developing a solid partnership between academic leaders and gift officers