Student activists are more passionate than ever. Learn how to empower yourself and your student activists to cultivate change.
Overview
Supporting student activism, regardless of the cause, has several significant benefits:
it can unite the campus community,
increase students' sense of belonging while improving their collegiate experience,
cultivate and enhance a decolonized notion of leadership development and
instill a sense of pride in the community.
The upsurge of the #BlackLivesMatter movement and its ensuing elevation into the national spotlight further cement that student causes must be adequately addressed and handled on campus. Students can't undo the racist history of higher education; however, they can fight injustices and discrimination occurring in their communities. Administrators have an opportunity to engage in deep reflection, review scenarios, and build practical skills on transforming institutional culture. As campus leaders and administrators, we have a duty to examine these issues ourselves and do right by our current and future students.
Join us for this virtual conference to learn how to apply six meaningful strategies designed to unite student activists with college leaders and administrators. Our expert speakers—who both have vast experience in assisting and managing student activists directly—will show you how to apply these strategies to present-day scenarios.
In this recent era in history, we must all unite and fight the injustices that have long stripped certain populations from experiencing an inclusive, just, and holistic collegiate experience. The recommendations and demands that our students have today are not new to any institution of higher education. Come to this conference to learn practical ways you can manage and support critical issues that have been long overlooked on higher education campuses.
Who Should Attend
The content of this virtual training will benefit:
Administrators such as leaders of multicultural centers, senior diversity officers, and other trusted student advisors
Campus leaders who are often called out by student activists to enact change, such as Presidents, Vice Presidents, Academic Deans, and Chief Police Officers
Other campus professionals wanting to help define how their institution should support student activism and break the historical chains that have limited how universities have responded to student activism
Follow Through With Success Coaching
Have you ever gone to a training only to find that you came back with great ideas but don't have the time, support, or skills needed to make the changes?
Academic Impressions has produced thousands of trainings and we have learned that utilizing a coach after attending a conference helps provide accountability and bridges the training with the on-the-ground work of getting the job done.
As a result, we are now offering success coaching on select conferences.
Purchase this training + 3 one hour follow up success coaching calls
Work with an assigned coach who has extensive experience in higher ed.
Get individualized support to help you follow through on what you've learned.
Workshop your plans, run your ideas by someone and get additional help/practice.
To get success coaching, simply purchase the Conference + Success Coaching product below.
The Academic Impressions Online Learning Experience
Intentionally Designed
Online Learning
Our virtual trainings go far beyond just replicating PowerPoint presentations online: these experiences are intentionally designed to give you the kind of robust and dynamic learning experience you've come to expect from Academic Impressions. These trainings provide you with an active learning environment and an online space where you can explore ideas, get inspired by what your peers are doing, and understand the range of possibilities around a certain topic. You will leave these sessions with practical solutions that you can take back to your team or task force.
What you will get:
A dynamic, interactive, and high-touch virtual learning experience designed to engage and set you up for growth
Seamless online face-time, networking, group work, and Q&A opportunities from the comfort of your own workspace
Practical takeaways and hands-on knowledge
Guidance from vetted subject matter experts
See What Our Attendees are Saying
"The virtual design of this conference coupled with the amazing work of our program manager promoted a high level of engagement and sense of community among attendees. The speakers were knowledgeable and enthusiastic to share their experiences. It was a refreshing shift from long days of traditional meetings on Zoom!"
"This is the first time I've ever attended a virtual conference, and to be honest, I had low expectations. Well, I was wrong. I am very impressed with the platform used and the quality of the content shared. Oftentimes, these conferences only talk about ideas and what could work, but at this event, actual pathways and practical next steps were shared. Academic Impressions did a great job featuring quality speakers who were willing to share what they know."
"Although the workshop was online, it felt as if the presenters were right there with us. All presenters were knowledgeable and really related the content to real work experiences. They were so willing to answer questions and offer assistance—I learned so much that I can apply."
"Many conferences leave you with learning but not always sure how to turn that into action for your organization. There were actionable tips shared throughout the two days and tools provided to help move the learning into action. I am always impressed with Academic Impressions conferences and this virtual one did not disappoint."
"At first, I was skeptical that a virtual conference was capable of being both engaging and informational - but Academic Impressions has mastered it! The 3-day online event was structured in a creative way that all participants had multiple opportunities to interact with each other and the presenters. No one's questions went unheard or unanswered. Thank you for this great experience, it has changed my view of virtual conferences and I look forward to attending more in the future."
- Desiree Ford, Digital Communications Manager, Binghamton University
"The virtual conference has been amazing. The presenters have all been great and the information they've provided is going to help us better use our social media. Even though this conference had to be virtualized due to COVID-19, the online format has been set up in a way that we can all collaborate and share ideas. I'm very eager to take what I've learned back to campus and start implementing new ideas."
- Chris Forde, Coordinator of Marketing & Public Information, Lincoln Trail College
Day One: September 9, 2021
On day one, you will learn how to assess student activism on your campus and your role within it. You will be introduced to the first three strategies, which will help you position yourself as someone who strives to empower students while also balancing your role as an Administrator/Educator on your college campus.
Welcome and Faculty Introductions
12:00 – 12:15 p.m. ET
---
National News and Your Campus
12:15 – 12:45 p.m. ET
In this opening session, you will briefly review stories of recent events that have unfolded in national news and how these stories ignited student activism on various campuses. You will share ways your students have organized in the past and what their needs were. You'll identify the readiness of your campus to respond to student activists and discuss what worked well and what did not.
---
15-minute Break
12:45 – 1:00 p.m. ET
---
Strategy #1: Understanding Your Identities and Challenging Your Biases and Assumptions
1:00 – 1:45 p.m. ET
A critical skill in earning students' trust is an increased understanding of situating yourself as an instrument for reflecting on how your own identities, whether dominant or marginalized, can play a role in how you perceive student activism and how you perceive yourself in the process. In this session, you will practice working through your own biases and assumptions and develop a strategy to earn the trust of your students.
---
30-minute Meal Break
1:45 – 2:15 p.m. ET
---
Strategy #2: Influencing Positive Change
2:15 – 3:15 p.m. ET
Situations brought about by student activism do not often fall squarely in your formal role, so how can you better define your role in supporting them? Our faculty will help you understand what role you can and should serve to help influence a culture of support for student activism, including what information you should obtain and who in your community can serve as collaborators to help your student activists.
---
15-minute Break
3:15 – 3:30 p.m. ET
---
Strategy #3: Combatting Resistance
3:30 – 4:30 p.m. ET
One of the most difficult and emotionally draining roles is combatting resistance from opposing student groups or individuals, including administrators. Resistance comes in many forms including staying silent, minimizing the cause, or acting in ways that demonstrate tangible or vocal opposition. You will discuss how to teach your students to be prepared and proactive when responding to opposition.
---
Day One Q&A and Wrap Up
4:30 – 5:00 p.m. ET
---
Day Two: September 10, 2021
On day two, you will begin to use your power of influence to narrow the gaps between your student activists and administration. The last three strategies focus on creating healthy dialogue, establishing open communication channels, and implementing best practices – all of which empower your student activists while sustaining their trust in you.
Refresh and Reset
12:00 – 12:15 p.m. ET
In this opening session, you will share what information from day one resonated the most with you.
---
Strategy #4: Facilitating Open Dialogue Between Student Activists and Campus Administrators
12:15 – 1:00 p.m. ET
As an administrator, you have a powerful and often supportive role in facilitating open and honest dialogue between student activists and your campus leaders. You will learn effective communication techniques that create space for authentic dialogue between students and administrators, including critical stakeholders.
---
15-minute Break
1:00 – 1:15 p.m. ET
---
Strategy #5: Inspiring Transparent and Ongoing Communication Channels
1:15 – 2:00 p.m. ET
Now that both you and your student activists understand your role in supporting their efforts, how do you encourage and inspire ongoing and transparent communication with this critical group? What can you do to help funnel student concerns on an ongoing basis? In this session, you will explore creative communication outlets that provide students and administrators with timely updates and opportunities for feedback while also inspiring a culture of transparency.
---
30-Minute Meal Break
2:00 – 2:30 p.m. ET
---
Strategy #6: Do's and Don'ts of Supporting Student Activism
2:30 – 3:30 p.m. ET
Your student activists will regularly analyze the credibility and trust of administrators, including yours as their designated or chosen advisor. This session will provide you with tangible advice and promising practices from our expert faculty regarding the dos and don'ts of supporting your student activists while serving in your administrative capacity. We will explore common pitfalls to avoid and learn how to sustain trustworthy, professional relationships with your students.
---
Final Q&A and Conference Wrap-Up
3:30 - 4:00 p.m. ET
Paige J. Gardner, PhD
Assistant Professor, Seattle University
Dr. Paige J. Gardner (she/her/hers) is currently an Assistant Professor of Student Development Administration. Prior to this role, Dr. Gardner served as an Assistant Dean of Students at Loyola University Chicago and has 12 years of experience in crisis management, facilitating diversity & equity trainings, identity development workshops, and professional development retreats for college students, staff, and faculty.
Naomi Sigg
Director, Office of Multicultural Affairs, Case Western Reserve University
Naomi plays a major role in the development of diversity, equity, and inclusion initiatives on campus. She serves as the Co-Chair of the Student Life Diversity, Equity, and Inclusion Committee, founding member of the APIDA Task Force, and serves on several university committees including the Diversity Leadership Council, the President's Advisory Council on Minorities, and Alianza Latina/Latino Alliance, the Latinx employee resource group.
Questions About the Event?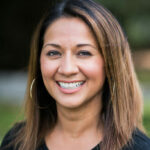 Rabia Khan Harvey
Senior Program Manager, Academic Impressions