Bring together early-career faculty at your institution to build confidence as academic writers, advance their scholarly writing, and get published.
Overview
While each path is unique, academic researchers and writers often struggle with prioritizing and managing their research agenda. Further, early-career faculty are still navigating academic writing conventions and publication processes while building their confidence as academic writers and developing their scholarly voice. Many at this stage need support and guidance around the intangible yet crucial skills that go into academic writing, such as: setting boundaries with peers, juggling multiple research projects, collaborating and publishing successfully with co-authors, and more. Oftentimes, early-career faculty only learn these skills through a trial-and-error process with uneven results: some excel while others falter, usually along lines of access that perpetuate inequity in overall faculty success.
This six-session coaching cohort provides highly practical, individualized, and actionable writing training that guides early-career faculty in building sustainable writing and publishing practices. Our approach, informed by our extensive experience working in higher education, cultivates scholars towards a deeper understanding of the craft of writing and the strategies needed for success.
Who Will Benefit
This coaching cohort is designed for early-career faculty at the same institution who are seeking to kickstart their research and writing productivity, build confidence in their scholarly voice, and find accountability and community among peers.
What We'll Cover
As each circle will be unique to the group, the agenda will be determined by the group itself. Topics that are likely to surface include:
Identifying and overcoming internal barriers to writing efficiently and confidently
Breaking down overwhelming writing tasks into manageable pieces of work
Managing distractions and creating boundaries
Managing multiple writing projects more productively
Making more effective and strategic decisions about manuscripts and publication options
Aligning research writing with long-term career goals
How it Works
The series consists of 6 interactive sessions over a period of about 4 months.
Groups are facilitated by an expert academic coach with extensive research experience in higher ed.
Groups are kept small (ideal for groups of 5-10 faculty) to ensure maximum participation and engagement.
Each conversation is 60 minutes in length and is held over video conference. Participants can expect to complete some pre-work in preparation for the interactive conversation in order to maximize learning.
The conversations can be scheduled per the group's availability but should ideally happen every two to three weeks to maintain momentum and accountability.
Allison DiBianca Fasoli, Ph.D.
Allison DiBianca Fasoli, Ph.D. is a faculty coach, leadership coach, and a psychological researcher and educator. She coaches clients around career growth and career decisions, work-life balance, branding, leading others, and defining visions for their teams. She helps scholars, researchers, and writers increase their scholarly productivity (without working more!), transform their writing practices and processes, clarify their conceptual ideas, and grow their scholarly voices. Allison also offers writing consultations to help clients present themselves and their work persuasively in writing– from cover letters to promotion materials to personal websites.
Questions About the Event?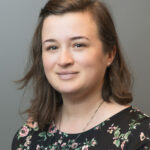 Jenna Ledford
Learning & Development Manager,
Academic Impressions