COVID-19 Critical Response
DISCUSSION SERIES
Watch a webcast recording where our experts connect with the broader higher education community to share ideas and ask questions amid the COVID-19 crisis.
Admissions and enrollment management professionals were already facing an uncertain yield season due to the NACAC-CEPP changes, and then the COVID-19 crisis hit. No one has a playbook or silver bullet for how to navigate these circumstances, but many find benefit in open discussion, idea-sharing, and Q&A among their peers.  
Watch this webcast recording where we create a conversation space, moderated by W. Kent Barnds, Executive Vice President for External Relations at Augustana College, around things like:    
Implications of policy changes around credit for dual enrollment, advanced placement, etc. 

 

Adjusting admissions deadlines and requirements

 

Creative ways to partner with faculty on yield strategy 

 

Communication with school counselors 

 

Incentivizing student behavior 

and

 action

 
Who Should Attend
This discussion will benefit admissions and enrollment management professionals who want to share strategies and hear ideas from other institutions about how to adapt recruitment and yield practices in light of the COVID-19 crisis. 
If you are looking for a space to gain ideas and best practices around the current coronavirus crisis, we encourage you to check out our other webcasts in our COVID-19 Critical Response Discussion Series.
A Discussion-Based Format 
As COVID-19 continues to be an ever-evolving situation, we cannot provide you with hard-and-fast answers. But we can make space for open discussion and idea sharing based on both our speakers' expertise and the experiences of the rest of the audience.   
After watching this recorded webcast, you will have a clearer understanding of how other campuses are responding and ideas for how you might continue to make decisions and move the work forward.
Before accessing this free webcast…

Please sign up first for future updates from Academic Impressions.
Instructor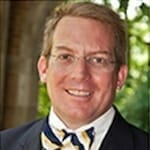 W. Kent Barnds
Executive Vice President, External Relations
Augustana College
Since his arrival at Augustana in 2005, Kent has overseen the most successful enrollment in the college's history and the two largest entering classes, with significant increases in both academic quality and student diversity. He oversees the offices of admissions, financial assistance, communication and marketing and Web services. As a consultant for higher education admissions offices, he lectures on a wide variety of higher education topics ranging from college admissions interviews and essays to the value of a four year degree from a private college.