by Pat Sanaghan (The Sanaghan Group)
Most meetings simply don't work and are a waste of precious time. Unfortunately, many higher education leaders spend much of their professional lives in these unproductive meetings. Higher education runs on thousands of daily meetings including committees, task forces, departmental meetings, and so on.
When was the last time you participated in an engaging, productive meeting where you felt that it was a great use of your time and attention? When's the last time you looked at your meeting calendar and said to yourself, "I am really looking forward to Tuesday's committee meeting!"
Here are 10 practical tips for improving your meetings, based on Academic Impressions's powerful Meeting Diagnostic Tool (MDT):
1. To Lead or Facilitate?
---
We hope you're enjoying this read. The full text of this article or report is complimentary for our Daily Pulse subscribers. Please login to read it!
ARE YOU A NEW READER?
Get hundreds of articles and reports like this one — Please sign up to have your Daily Pulse and other updates from Academic Impressions delivered to your inbox.
Daily Pulse is a curated email digest of practical strategies, timely research reports, and current events in higher ed. You'll also get periodic updates about our upcoming events and other services, as well as free access to hundreds of articles on this site.
We are excited to bring you the most critical updates and reports in higher education. Thank you for your interest!
____________________________________________________________________
Take This Powerful Meeting Assessment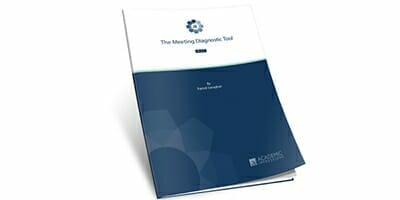 Use Academic Impressions's Meeting Diagnostic Tool (MDT) to assess the effectiveness of your regular meetings and identify the specific factors that either help or hinder your meetings.
The MDT goes beyond looking at the nuts and bolts of an effective meeting and looks at the process of a meeting. That is where the real challenges lie. You might find that meeting participants rate some of these elements quite low. It is difficult to fix a meeting when you don't know exactly what needs "fixing." This tool uniquely uncovers both what is working and what isn't; allowing you to build on your strengths and identify opportunities.