This article is an excerpt from Sue Ohrablo's acclaimed book High-Impact Advising: A Guide for Academic Advisors, which you can find here.
Currently, higher education institutions are facing a crisis with declining enrollment and student attrition. Higher education professionals are being tasked with student retention on a system-wide level. With the issuing of this directive, student service professionals are scrambling to find ways to outreach to, engage, and retain their students.
While formal assessment is important in identifying why students leave and how we can better retain them, there is value in informal assessment, as well. Front-line personnel such as academic advisors, counselors, and student success coaches can identify reasons for student departure as an outcome of their daily interactions with students. Resiliency is one factor which will impact a student's decision to stay or go. While all students face multiple challenges throughout their academic careers, some of them can become derailed as a result of those challenges. By assessing student resiliency, student service professionals can strategically intervene in an attempt to retain students.
Here are three ways to assess and build student resiliency...
1. Help Students Respond to Difficulties in the Classroom
Consider how the student responds to difficulty within the classroom as they encounter challenges with faculty and classmates. Does the student consistently express dissatisfaction with faculty members?
Statements such as, "the professor is unfair," "the professor doesn't like me," or "the professor is never satisfied with my work" may indicate that the student does not take responsibility for her academic success and maintains an external locus of control.  If you assess that there is nothing unusual with the faculty member's expectations, help the student to understand those expectations and develop a plan for success.
If a student makes similar claims about classmates, with statements such as "the people in my group gang up on me," or "I am the only one doing all the work," he may be at risk. Carefully listen to the student to determine if the concerns have merit or if there is a pattern of blaming others for lack of success. Adjust your advising to target the source of difficulty and provide strategies for successfully communicating with faculty and peers.
Assessment: Questions to ask the student:
What has your experience been with faculty, overall?
What type of feedback have you received in previous courses?
What specific feedback have you received from this professor?
Have you discussed your role in the group with the other group members?
What do you believe is the source of the group members' frustration?
Building Resiliency - Strategies to provide to the student:
Pinpoint the key issues the professor has identified. Address each issue individually.
Use the syllabus to learn about the professor's expectations. For example, if it states no extensions, then set goals to complete work on time or ahead of time.
Offer to take a leadership role in the group. Assign specific tasks and deadlines for group member contributions.
2. Help Students Respond to Changes in their Personal Lives
Traditional-aged students may identify concerns about roommates, homesickness, lack of friends, and family issues such as divorce or parental unemployment.
Adult students often experience transitions in work, family, and other personal arenas. When a student is promoted, she may conclude that she needs to take a semester off as a result. Similarly, adult students will often state that they failed or stopped out due to loss of job, divorce, or family member illness.
We know that most all of our students will experience these types of events, yet most of them persist. Examine the student's perceptions of these transitions and help him develop a manageable plan. Ask him to consider why his mother-in-law's illness will prevent him from being a successful student, and provide options such as reducing his coursework or taking less demanding courses. Provide ideas for students to develop support networks if they are feeling isolated. If the student is hesitant to make connections, let him know that you can serve as that lifeline if that is what's needed to help him persist.
Assessment - Questions to ask the student:
Are there specific people or activities that make you feel comfortable or happy here?
How does your family member's illness impact your ability to remain enrolled?
What are the expectations of your family members regarding your role in this event?
What adjustments can you make to meet your academic goals as well as personal obligations?
Building Resiliency - Strategies to provide to the student:
After identifying possible sources of connection, encourage student to set goal to engage others.
Identify the factors related to the life change such as stress, time restrictions, and financial restrictions. Engage in discussion and provide resources such as financial aid and time-management strategies.
Engage in short-term and long-term planning to help student remain in control.
3. Listen for Excuses for Non-Persistence
Students who are not committed to completing their studies are more likely to find reasons to stop. The lack of commitment can stem from a number of sources, including incongruence between the student's values and interests and her major/career choice, poor institutional fit, and unrealistic student expectations.
For example, I frequently hear doctoral students complain, "I was very successful during my undergraduate and master's programs. This doctoral program is too hard." Helping such a student to understand that doctoral studies are supposed to be hard and providing support and strategies for success can positively impact their success.
Other excuses students may provide include computer problems, lack of reliable transportation, and limited time to focus on schoolwork. Help the student identify the source of his excuses. The source may be fear of failure, fear of rejection or isolation, or fear that he's made an irreversible mistake. Provide encouragement by identifying options and resources for overcoming identified barriers.
Assessment - Questions to ask the student:
Tell me a little bit about how you came to choose your current program of study.
What are the time commitments you currently have in your life?
What takes precedence over school? Is there a way to prioritize your studies?
What are your expectations of faculty and course requirements?
Building Resiliency - Strategies to provide to the student:
Explain that academic rigor increases from high school to undergraduate to graduate.
Provide information regarding goal-setting and time management.
Identify options for the student and ask the student for feedback regarding each option.
By identifying those students who may be less resilient and therefore at higher risk for attrition, student service professionals can provide proactive support -- establishing on-going communication with students, engaging in discussion about perceived barriers, and offering options and possible solutions.
Get Sue Ohrablo's Book High-Impact Advising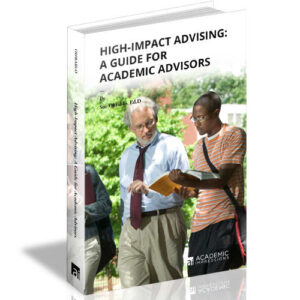 How can academic advisors provide high-quality developmental advising in the face of diminishing resources and increased commitments? We brought this question to Sue Ohrablo, a nationally recognized speaker with 25+ years of experience working with diverse institutions and student populations. In this 300-page, comprehensive training guide, Sue offers practical guidelines for academic advisors.
"I highly recommend that all academic advising professionals read High-Impact Advising: A Guide for Academic Advisors, as it will help them to enhance key skills needed to establish positive relationships with students, appropriately assess students' needs, effectively teach students, and efficiently provide high quality service."
Jacqueline T. Hollins, Assistant Vice Provost/Director of Academic Advisement, SUNY at Buffalo (UB)
"As a department leader in academic advisement, I would use Sue's book as a training resource and teaching mechanism for advisors. It allows advising professionals to understand today's complex environment of advising students, beyond just selecting courses."
Jake Shilts, Director, Advisement & Career Services, Miami Dade College
"Advisors will reap the benefits of this well-balanced, informative guide."
Shari Saperstein, Associate Dean, College of Undergraduate Studies, Nova Southeastern University
"A student-centered, informative, and practical approach. Dr. Ohrablo presents powerful guidelines geared towards student success for 21st century academic advisors. The handbook offers indispensable information and engaging scenarios that mirror real life college instances that students experience. A key resource tool for academic advisors and higher education professionals."
Dr. DeLaine Priest, Associate Vice President of Student Development and Enrollment Services, University of Central Florida