Share this article with colleagues.
By Jennifer Scott Mobley, Ph.D.
---
Introduction
As a higher education leader for almost 20 years and a former department chair for ten, I have witnessed time and time again how the right department leader can animate an academic program. As John C. Maxwell once said, "The reality is that 99 percent of all leadership occurs not from the top, but from the middle of an organization."
Sitting at the nexus of the student body, the faculty, and the administration, department chairs are poised to provide crucial leadership in the effort to help students progress toward graduation and their institutions toward transformation. Despite their important positioning, department chairs are rarely taught how to lead nor are they typically rewarded for good leadership.
Nearly 50,000 currently serve as department chairs in the United States with about a quarter of them being replaced each year (Gmlech and Buller, 2015). And yet only 3.3 percent of department chairs came to their positions with formal coursework in the administrative skills they need (Cipiano and Riccardi, 2012). While challenges facing higher education grow in intensity and become more complex, many department chairs enter the role woefully unprepared for the challenges that await them. The convergence of interconnected crises in recent years—including the COVID-19 pandemic, the Great Resignation, growing economic concerns, sweeping racial unrest, heightened political polarization, and the cascading impact on mental health and well-being—-only exacerbate further the need to improve leadership skills of higher education leaders and create an active and viable leadership pipeline. Furthermore, there has been a massive turnover of senior leadership with many presidents resigning due to these pressures, controversies, or disputes with trustees and students. Over four years, the chance that department chairs will be working with a team composed of the same president, provost, and dean is only 7%. For all of these reasons, it is not an exaggeration to conclude that the development of academic leaders, especially department chairs, is one of the most critical and overlooked management challenges facing higher education today.
So, what makes an effective department leader today and how can we support their development? Leading a department involves a diverse set of three main categories of leadership: personal, interpersonal, and strategic leadership. It is about managing politics skillfully and effectively to achieve what's most important, building bridges between people, departments, and silos, skillfully handling conflict and negotiation, acting courageously in critical leadership moments, connecting with people in a way that inspires their trust and commitment, and responding productively to opposition without losing your focus. More recently, there has been greater attention to competencies such as crisis and change management and how to lead change in the midst of change fatigue (Gigliotti, 2021).
Let's look at each category in turn:

Personal Leadership: Leadership begins with the ability to lead yourself. By learning how to develop self-awareness, manage ambiguity, and build resilience, department chairs can reflect on their standards, express their values, and own their own behavior which in turn hones their ability to act courageously in risky situations and show up in critical leadership moments with confidence.

Interpersonal Leadership: Leadership cannot exist apart from a group of people who need to be led. Simply put, department leaders can't lead unless someone follows, which means that building strong relationships is key. Successful department chairs need to negotiate and navigate conflict, influence and persuade, and build genuine connections and trusting relationships with their peers, faculty, staff, administration, and networks. They develop their people and recognize and celebrate each individual's value, experiences and strengths. Relationships must also be maintained and nurtured, and this involves being able to skillfully handle conflict and negotiation as well as persuade and influence. By creating meaningful connections, department leaders drive outcomes—from department-level engagement to learning, creativity and innovation.

Strategic Leadership: Strategic leadership consists of the competencies needed to lead higher education institutions of varying purpose and size. By facilitating the flow and sharing of information within the institution and across organizational boundaries, department chairs can learn how to manage politics skillfully and effectively to achieve what's most important and build bridges between people, departments, and silos. They can manage crises and change as well as scan the horizon for future opportunities and challenges.
Through my research on higher education leadership, as well as coaching and training hundreds of department leaders, I have identified four key competencies that, when mastered and used in concert, enable department leaders to lead change during this momentous time in higher education: the abilities to anticipate (strategic mindset), interpret (manage complexity), appreciate (values difference), and decide (decision quality). Each has received attention in the leadership literature, but usually in isolation and seldom in the special context of both the general and unique nature of higher education institutions and higher education leadership (Ruben and Gigliotti, 2017). Following Ruben and Gigliotti, these proposed competencies recognize both vertical and horizontal perspectives and illustrate the need to learn from within higher education while also pointing to the value of looking at change leadership competencies that are traditionally valued in sectors outside of higher education as well.
Strategic Mindset (Anticipate): Department chairs who want to succeed in this complex and hypercompetitive environment need to have clarity about what the new higher education landscape will look like and what their department's place in that world is going to be. This requires highly strategic leaders, visionaries who can step back from the day to day to see where higher education is headed and stake out a viable position for the department. As Rita McGrath notes, they can "see around corners," anticipating and capitalizing on inflection points before they happen (McGrath, 2019). Successful leaders know how to scan the environment to identify future opportunities and challenges and translate them into strategies. Yet many department chairs struggle at anticipating opportunities or detecting ambiguous threats on the periphery of their program or discipline. We know that we need to spend less time on the tyranny of the urgent and focus on the future of our department, but that is far easier said than done.


This was the issue that Don brought to me for coaching. Don was a department chair who had built his reputation as a turnaround wizard. He was terrific at reacting to problems and fixing them. But after a few years into the role, Don grew weary of feeling like he was constantly putting out fires and not addressing the deepest needs of the department. Enrollment had abruptly declined in his department, and more of the same in a hypercompetitive environment wasn't going to work. He wanted to be less reactive and more proactive, considering various scenarios and gathering better information from diverse sources in order to anticipate where his program was headed. Don and I discussed how he could better manage his time and create new habits so he could focus more on building a strategic mindset and anticipate new opportunities and detect threats from both inside and outside higher education. He started to attend conferences outside of higher education to learn more about how to understand market research, gauge students' likely reactions to new programs and predict potential new offerings. Over time, Don worked with his faculty to develop broader networks and to take the perspective of prospective students, competitors, and partners which yielded in several successful partnerships and new curricular offerings. In order to build a strategic mindset, department chairs need to balance the short-term with the long-term and to broaden their thinking outside of their disciplines and the walls of academia.

Manages Complexity (Interpret). The era of the "critical thinker" in higher education has evolved to the leader with a sophisticated grasp of data and analytics. For many years it was common for department leaders to launch new courses or programs in areas and disciplines that resonated with the disciplinary interests of faculty. But today the ability to undertake sophisticated market research and synthesize data about demographic forecasts, employment demand, and population shifts provides higher education leaders with access to unprecedented levels of information. Department chairs are significantly disadvantaged if they routinely operate without an in-depth understanding of the data that inform most decisions. To excel, leaders should take steps to ask the right questions so they can collect the right information and synthesize it. The best leaders don't go it alone: They use coaching and development, like those found at Academic Impressions, to get the tools and support they need to sharpen their attentiveness, critical thinking skills, and self-awareness.


Fatima knew that she couldn't go it alone. She reached out to me soon after she took on the role of department chair because she wanted to reset the tone within her academic unit. Fatima felt there was a ripe opportunity to lead from the middle by raising questions that are broader than what a faculty member might ask and more precise than what administrators might ask. As Fatima sifted through data and analytics, I served as a sounding board to help clarify her thoughts and create compelling questions so she could make student success a priority for her department. For example: Are there curricular barriers to success? Is the department fulfilling student demand, or is progress being delayed because courses aren't available? Are prerequisite courses leading to success in subsequent courses? Are courses scheduled in a way that supports progression? Is there a lot of variance in grades across sections, modalities, or instructors? Are there equity gaps in the academic performance of students taking courses in the department? More alert to the nuances revealed in the data, Fatima and her department were able to ask better questions when she met with students they lost to another major or institution to figure out why. To improve her ability to interpret, I also worked with Fatima to actively look for information and evidence that disconfirmed her hypothesis. She generated a list of at least three possible explanations and invited perspectives from diverse stakeholders. Her ability to connect the dots ultimately led to the overhaul of the major which in turn increased enrollment.

To excel, leaders like Fatima take steps to organize thoughts and create action steps so they can manage ambiguity. Leaders who challenge in the right way invariably elicit complex and conflicting information. That's why the best ones are also able to interpret. Instead of reflexively seeing or hearing what you expect, you should synthesize all the input you have. You'll need to recognize patterns, push through ambiguity, and seek new insights.

Values Difference (Appreciate). Successful department chairs recognize the value that different perspectives and cultures bring to an organization. Excellent leadership communication is about far more than conveying ideas: Department chairs should ask questions, listen actively, and fuel an inclusive culture with streamlined information sharing and informed decision-making. According to Ralph Gigliotti, Assistant Vice President for Strategic Programs and Director of the Center for Organizational Leadership at Rutgers University, department chairs can demonstrate appreciation by engaging in strengths-based conversations with the faculty and staff they lead. "Department chairs can help others engage in the work that leverages their strength and embody coaching practices like asking curious questions to create windows of opportunity for meaningful dialogue and problem solving," he states. At its core, this competency illuminates the importance of authenticity and seeing others for their humanity and their worth. "When you come into contact with people who display this authenticity and deep interest in your lived experience," Gigliotti notes, "you feel seen and you feel valued. And we need that more than ever."


People need to be listened to and listen themselves—and communication enables meaningful connections. Leaders should determine the best way they communicate, then learn how others communicate best. Consider Tom, a department chair I coached who admitted that his communication with his department was suffering because he was set in his ways and avoided risky situations. When faced with a tough problem, he would gather all available information and retreat alone in his office. His solutions, although well thought out, were predictable and rarely innovative. When he needed outside advice, he turned to a few colleagues at his institution who reaffirmed his viewpoints and suggested tried-and-true solutions instead of questioning his assumptions. Through coaching, I helped Tom learn how to invite and appreciate different (even opposing) views to challenge his own thinking and that of his advisers. For a new initiative he was considering, Tom captured input from people not directly affected by the decision who may have a good perspective on the repercussions. He even assigned a colleague to play devil's advocate, an approach that yielded a hybrid solution. Tom also began to make great strides in communicating with his department by asking each of them about their communication preferences as well as creating space at department meetings to discuss the question, "Do we want to do this differently?" This was uncomfortable for Tom at first, but then he began to see how this built psychological safety and trust among faculty as well as helped generate fresh solutions to stale problems and improve his strategic decision making. Some will always disagree with their chair, and that's fine, but few will disagree with the goal of being as open and honest as possible in governance. And that will ensure that, since you will not be chair forever, the functional principles at work here will remain in place and alive once your term ends. By developing this competency, department chairs can effectively mentor those with different perspectives to eventually be chairs and in turn make for a more dynamic and diverse department.

Decision Quality (Decide). Being able to anticipate, interpret, and value differences are essential building blocks for decision making. Once you are able to set a baseline for your own values and behaviors as a leader, you are better equipped to make timely and effective decisions that help translate strategy into specific executional steps and see that execution through to the end. All leaders recognize that emergencies demand thinking in probabilities, not certainties, and that a decision not to act can be as damaging as a decision to act. Higher education professionals, however, are uniquely susceptible to being weighed down by an anchor of certainty, because our analytical training teaches us to demand proof for every assertion, find flaws in every attempted proof or argument, and use cautious language and multiple caveats when summarizing any study. Furthermore, our cognitive biases may affect our actions and cause us, for instance, to estimate the harms to one group but not another.


Priya, a department chair in biological sciences, liked to make decisions quickly and keep the process simple. This worked well when the higher education landscape was relatively predictable and the choices straightforward. However, amid the cascading effects of senior leadership transitions and an ongoing pandemic, the landscape was constantly shifting. To help ease the difficulty from moving from uncertainty to action, I helped her practice in situations where the perceived risk was much higher than the actual risk. reframe binary decisions by explicitly asking her faculty, "What other options do we have?" She began to divide big decisions into pieces to understand component parts and better see unintended consequences. In addition, Priya began to let others know where she was in the decision process, whether she was still seeking divergent ideas or whether she was moving towards closure and choice. Finally, she honed her delegation skills by breaking down long-term projects into sprints and creating short experiments where she could develop some of her faculty to take on more responsibility. By understanding her fixed mindset triggers around delegation and building new habits to enhance shared responsibility, Priya was able to improve her decision making and execution even in the midst of ambiguity and change fatigue.

In uncertain times, department leaders have to make tough calls with incomplete information, and often they must do so quickly. But wherever possible, try to insist on multiple options at the outset and don't get prematurely locked into simplistic binary choices. Successful leaders don't shoot from the hip but follow a disciplined process that balances rigor with speed, considers the trade-offs involved and takes both short- and long-term goals into account. In the end, department leaders must have the courage of their convictions, informed by a robust decision-making process.
For department chairs, there is no guaranteed formula for success in advancing through the unpredictable and sometimes undecipherable higher education landscape. While this list is by no means exhaustive, it provides a good starting guide for department chairs as they lead from the middle. The future of higher education requires that we elevate the role of department chair and provide the resources necessary to support today's department leaders as well as nurture an active leadership pipeline for future department leaders. These four competencies present significant challenges to leaders due to the natural responses that are hardwired into us. However, with deep self-awareness and understanding of the changing environment for learning and leading are essential first steps along the way to what I hope—for an increasingly broad and varied set of department chairs—will be a deeply satisfying professional opportunity to lead, to serve, and to transform.
Note: To protect confidentiality, pseudonyms are used in lieu of actual names of coaching clients.
---
Works Cited
Cipriano, Robert & Riccardi, Richard. A Continuing Examination of the Unique Department Chair. The Department Chair, vol. 22, no. 3, 2012, pp. 9-11.
Gigliotti, Ralph. Personal interview. 4 January 2022.
Gigliotti, Ralph. The Impact of COVID-19 on Academic Department Chairs: Heightened Complexity, Accentuated Liminality, and Competing Perceptions of Reinvention. Innovative Higher Education, vol. 46, 2021, 429-444.
Gmlech, Walter H., and Buller, Jeffrey L. Building Academic Leadership Capacity: A Guide to Best Practices. Jossey-Bass, 2015.
McGrath, Rita. Seeing Around Corners: Spotting Inflection Points in Business Before They Happen. Mariner, 2019.
Maxwell, John C. The 360 Leader: Developing Your Influence from Anywhere in the Organization. HarperCollins, 2011.
Ruben, Brent and Gigliotti, Ralph. "Are Higher Education Institutions and Their Leadership Needs Unique? The Vertical versus Horizontal Perspective." Higher Education Review, vol. 49, no. 3, 2017, pp. 27-52.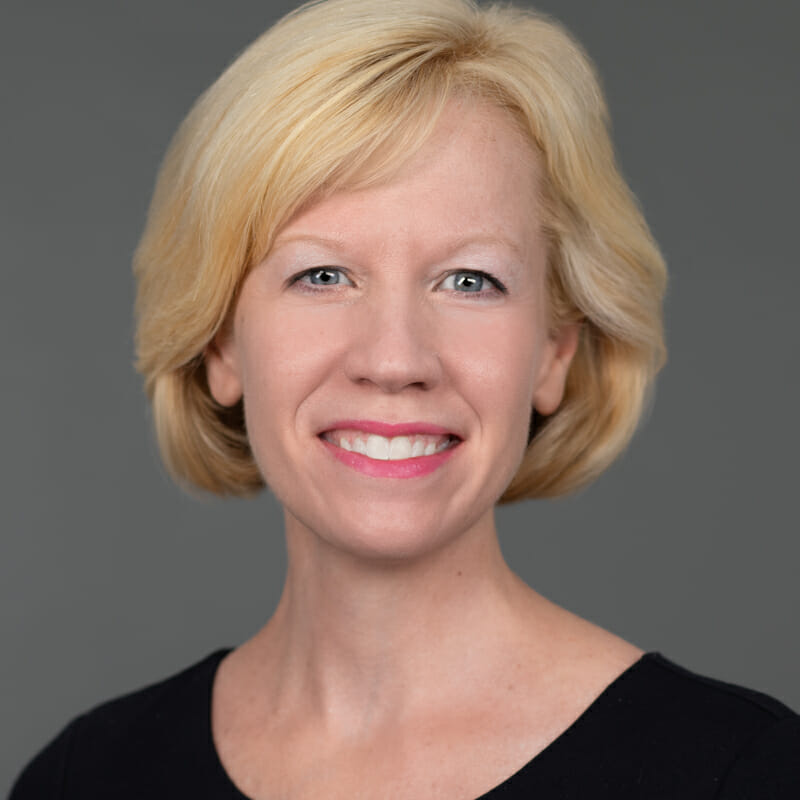 Jennifer Scott Mobley is an executive and leadership coach that helps midlevel and senior level higher education leaders navigate the future of higher education and the next stage in their careers. Informed by approximately 20 years of progressive experience as a higher education leader, she has worked with numerous clients in education and business including University of Tennessee's Executive Leadership Institute, Microsoft, New York University, Tennessee Higher Education Commission, and GE Aviation. In addition to her work as a Gallup-certified coach, Jennifer is an experienced trainer of professional development programming for emerging and senior leaders in higher education, ranging from department chairs to provosts. She is also the co-instructor of the Leading and Influencing as a Department Chair Bootcamp at Academic Impressions.