This article is an excerpt from Sue Ohrablo's acclaimed book High-Impact Advising: A Guide for Academic Advisors, which you can find here.
by Sue Ohrablo
After an academic year begins, advisors can start to breathe a little easier once most of the fires have been put out, questions have been answered, schedule adjustments have been made, and students are mostly settled into their classes. The anxiety that accompanies long, fast-paced days may begin to dissipate.
During this time, advisors are left scratching their heads, asking themselves, "Why can't these students register themselves?"; "Why does this student continue to check with me even though I already gave her the information?"; and, even, on the worst days, "What is wrong with these students?"
As things calm down during this period, I encourage advisors to reflect on the nature of student needs, and reconsider the dynamics involved in the student experience and the role of the academic advisor.
As an advisor, there are several factors you can address to reduce a student's continued reliance on you. These are:
The student's readiness to achieve key tasks
Your own understanding of the student's needs and expectations for the advising process
Engagement and opportunities to help students make connections across campus
1. Readiness
Developmental advising involves taking a holistic approach to advising and forming partnerships with students. Students will most likely not expect to engage in a developmental advising relationship, as they often view the advisor as the expert who can provide information to them. Their expectations fall closer to the realm of prescriptive advising.
In order to effectively deliver developmental advising, it is important to first assess where the student is developmentally, and to avoid prescribing activities for which the student may not be ready. Remember that a student's developmental readiness is not a measure of age or academic level. For instance, a first semester doctoral student who has never taken a doctoral level course may have the same amount of readiness as a first semester freshman. By engaging students in discussion and asking questions, advisors can better assess readiness.
Example: An Ineffective Discussion
Meeting 1:
Advisor: Since you are struggling with composition, I recommend going to the writing center.
Student: Ok.
Meeting 2:
Advisor: Did you go to the writing center?
Student: No. I got busy.
Advisor: How is your composition class going?
Student: I am still failing. I don't know what to do.
Advisor: Please make an appointment with the writing center.
Such an interaction could leave the advisor frustrated and wondering why the student refuses to take the advice provided. A more productive conversation would take a developmental approach:
Example: A Developmental Approach
Meeting 1:
Advisor: What do you believe are the major challenges with your composition class?
Student: I don't know. The professor is kind of hard to understand, and I feel she rushes through class.
Advisor: Do you feel comfortable meeting with the professor during office hours?
Student: I don't know anything about office hours.
Advisor: You can check the syllabus to see when she's available, and then you can go meet with her one-on-one. That way, she'll be able to answer any questions you have, and provide clarification for you. Does that sound like something you'd be able to do?
Student: Yes. I feel comfortable doing that.
Advisor: Another resource is the writing center. There you can bring in work and they can critique it. You can also show them the professor's feedback and help you improve your writing. Do you know where the writing center is and how to contact them?
Once the advisor assesses the readiness of a student to achieve a particular task, the advisor will be able to offer better follow-up responses to the student. Does the student need basic information regarding how to access resources? Does the student know how the resources can benefit her? Is the student hesitant to take advantage of the resources? If so, what is the cause for concern?
The real work of the advisor is to ask the right questions.
2. Advising Needs and Expectations
When a student repeatedly contacts you for what seem like trivial, redundant things, you may wonder, "Why can't this student figure this out or do it for himself?" But rather than become annoyed with the student's "neediness," take the time to evaluate what the student's actual needs are.
For instance, a student may call every semester to ask what he needs to register for. You may have provided him information on how to access his degree audit. You may have reviewed the degree audit with him. You may have helped him develop an academic plan and showed him how to find the schedule of classes and how to register himself. Yet still, he comes back.
This is a good thing!
You need to realize that there is something that the student gets when he contacts you. Perhaps it is affirmation that he is on the right track. Perhaps it is reassurance that he hasn't made mistakes. Maybe he just wants to connect with someone he trusts. I often receive feedback from students expressing their gratitude for the assistance I've provided them, and what students are grateful for can differ: One student refers to "the kind voice that kept me informed and encouraged," while another mentions the "great information and . . . positive words."
Instead of reiterating that he already has all of the tools he needs, take the opportunity of this visit to move him forward in some way. Ask open-ended questions that help you better understand his experience and concerns, and that reinforce his successes.
Sample Discussions:
In Person:
Student: I just wanted to check to see if I registered correctly.
Advisor: OK. Let's look at it together. I see that you registered for Anatomy & Physiology and Physics. They are both prerequisites to some of your other courses, so you are right on track with the course sequences. Both are pretty time-intensive courses. Would it be helpful to take a look at how you're going to devote time to studying for these courses?
On the Phone:
Student: Can you send me the link to the schedule of classes? I always forget where it is.
Advisor: Sure, are you at a computer? Let's walk through the steps together, and then you can add the URL to your favorites. How is the semester going? What are you thinking of taking next semester?
Student: The semester is going ok. I'm kind of thinking of changing my major, though. I don't know if I want to be an accountant for the rest of my life.
Advisor: Let's talk a little about how you chose accounting in the first place. What do you like about it? Dislike? Perhaps it would be helpful to seek some career counseling. Do you know about the services our Career Development Office has to offer?
3. Engagement and Opportunities to Help Students Make Connections
When advisors find themselves caught up in seemingly mundane administrative tasks, they should focus instead on the person who is positively impacted by their actions. It is through frequent contact that advisors have the opportunity to make a significant impact on student success and persistence.
Through engaging students in meaningful interactions, an advisor can help support students throughout their academic experience. Advisors can also make targeted referrals and provide tools for students to make additional connections throughout the institution.
Strategies for helping the student make connections:
After providing information to a student, encourage the student to follow up with you. A simple phrase such as "Let me know how it goes" can make the student feel that you are concerned for him.
Call a colleague while the student is in your office. Put the colleague on speaker and facilitate the connection between the two.
Describe the individual to whom you are referring a student. Statements such as "She's great, you'll like her," or "He is very student-oriented" can help defuse any anxiety the student may have.
When referring to departments or events, try to provide the student with the name of someone with whom she can initially connect.
By analyzing the nature of student inquiries and anticipating student needs, advisors can more effectively serve students through the development of a meaningful, long-term advising relationship.
Get Sue Ohrablo's Book High-Impact Advising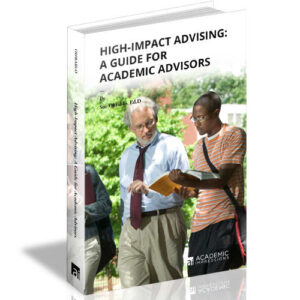 How can academic advisors provide high-quality developmental advising in the face of diminishing resources and increased commitments? We brought this question to Sue Ohrablo, a nationally recognized speaker with 25+ years of experience working with diverse institutions and student populations. In this 300-page, comprehensive training guide, Sue offers practical guidelines for academic advisors.
"I highly recommend that all academic advising professionals read High-Impact Advising: A Guide for Academic Advisors, as it will help them to enhance key skills needed to establish positive relationships with students, appropriately assess students' needs, effectively teach students, and efficiently provide high quality service."
Jacqueline T. Hollins, Assistant Vice Provost/Director of Academic Advisement, SUNY at Buffalo (UB)
"As a department leader in academic advisement, I would use Sue's book as a training resource and teaching mechanism for advisors. It allows advising professionals to understand today's complex environment of advising students, beyond just selecting courses."
Jake Shilts, Director, Advisement & Career Services, Miami Dade College
"Advisors will reap the benefits of this well-balanced, informative guide."
Shari Saperstein, Associate Dean, College of Undergraduate Studies, Nova Southeastern University
"A student-centered, informative, and practical approach. Dr. Ohrablo presents powerful guidelines geared towards student success for 21st century academic advisors. The handbook offers indispensable information and engaging scenarios that mirror real life college instances that students experience. A key resource tool for academic advisors and higher education professionals."
Dr. DeLaine Priest, Associate Vice President of Student Development and Enrollment Services, University of Central Florida