Department chairs and program directors are busy people, and orienting adjunct faculty may not be top of mind. But adjuncts who are teaching online for the first time need support and information to hit the ground running. Here is a quick checklist of items to cover with first-time online instructors.

by Teresa Focarile, Boise State University
(who also wrote: "Adjunct Faculty: A Department Chair's Guide to Orienting New Instructors")
Many institutions are expanding their online course offerings, and using adjunct faculty to do so. While these faculty members are often teaching from a master course and therefore are not responsible for developing the class, there is still important information about teaching online that needs to be shared with these new instructors in order for them to be effective online teachers, and to ensure they understand the expectations for teaching in your program (Larcara, 2011).
Checklist
Some items on this checklist might already be in place. For example, most institutions have a team that can get adjunct faculty up to speed on the functionality of the Learning Management System (LMS). In addition, many institutions have developed trainings (sometimes mandatory) for faculty who teach online. But if your institution does not have those kinds of supports in place, and/or if you want to give your adjunct faculty specific information about teaching for your program, here is a checklist of essential online teaching knowledge you should make sure to review with your first-time instructors.
---
We hope you're enjoying this read. The full text of this article or report is complimentary for Academic Impressions members. Please login to your member account to read it!
If you're signed up to receive our Daily Pulse, but your institution does not have an active membership, you won't have access to this article.
FIND OUT ABOUT MEMBERSHIP:
An Academic Impressions membership provides multiple users on your campus with unlimited access to exclusive reports, research briefs, hundreds of free webcasts and online trainings, and discounts on conferences. Learn more about membership and get unlimited training and reading for you and your team today.
____________________________________________________
Image Credit: Photo by William Iven on Unsplash.
More Resources on Orienting and Supporting Adjunct Faculty
Adjunct Faculty: A Department Chair's Guide to Orienting New Instructors | Article
How RIT is Building An Adjunct Community | Article
Managing and Supporting Adjunct Faculty | Recorded Webcast
Negotiating Successful Adjunct Union Collective Bargaining Agreements | Recorded Webcast
More Resources for Department Chairs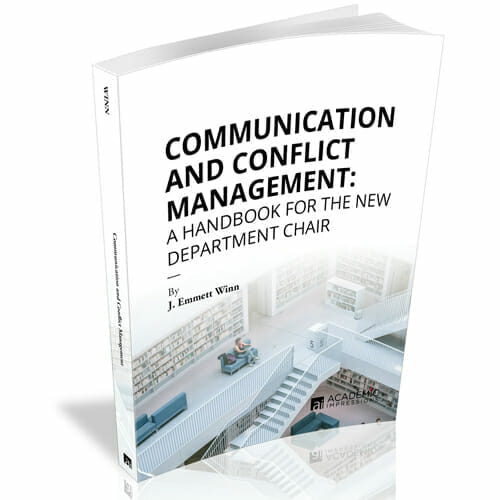 Communication and Conflict Management: A Handbook for the New Department Chair
Book | by J. Emmett Winn
Effective communication will make or break a department chair. Get a primer on the essential communication and conflict management skills that every department chair needs.