by Lisa Endersby, Educational Developer, Teaching Commons, York University, National Chair, NASPA Technology Knowledge Community
"It's important… to remember that online is not a type of student, rather, it is a mode of delivery for academic coursework."
Sue Ohrablo, High-Impact Advising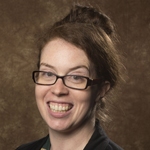 The changing reality of our student demographics means that the diverse demands of outside employment, caring for children or dependents, and even commuting to and from campus greatly impact how, when, and if students are able to access the very services we promote as both valuable and essential. We continue to wait behind desks and office doors for students to approach us, often left wondering why more students haven't simply reached out for help when these myriad of offices exist. The competing demands for our students' time and attention are not an indication that our students are any less invested or engaged with their learning; it simply yet profoundly means that we need to do better at reaching out to them as a partner in their success rather than wishing or hoping they will access something that may not be easily accessible given their daily lived reality.
Of course, it is one thing to understand and yet another to do. What might it look like to better engage and support our online learners?
I offer this checklist of critical questions to ask that will help you as you strive to:
Know the actions to take when deciding on what online tools you will invest in.
Know what your students want and need from online services.
Consider how technology will enhance both the service-oriented and socially integrative educational experience.
---
We hope you're enjoying this read. The full text of this article or report is complimentary for Academic Impressions members. Please login to your member account to read it!
If you're signed up to receive our Daily Pulse, but your institution does not have an active membership, you won't have access to this article.
FIND OUT ABOUT MEMBERSHIP:
An Academic Impressions membership provides multiple users on your campus with unlimited access to exclusive reports, research briefs, hundreds of free webcasts and online trainings, and discounts on conferences. Learn more about membership and get unlimited training and reading for you and your team today.
Learn More
In my recorded webcast Translating Your Student Development Services for Online Students, I share information to help you create a pathway to transition your most important student services to meet the unconventional needs of online students. Included with the digital recording is a resource packet to help you as you transition student development services online, including:
Articles
Institutional examples
Case studies
I also recommend these three references for further reading:
Bates, A. W. (1995). Technology, open learning and distance education. London: Routledge.
Ohrablo, S. (2014, March 14). 7 Ways Advisors Can More Effectively Engage Online Students. Academic Impressions.
Venable, Melissa (2007). Online career services: What do college students want and expect? 23rd Annual Conference on Distance Teaching & Learning.