READ THE WHOLE SERIES:
Assessing and Meeting Student Needs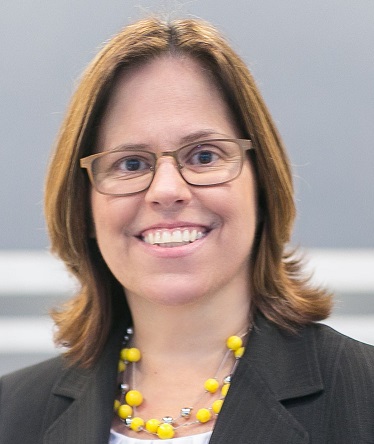 By Sue Ohrablo, author of High-Impact Advising: A Guide for Academic Advisors
Ask academic advising professionals what they perceive to be the primary role of academic advising, and you'll most likely hear responses such as "to help students," "to serve students," or "to facilitate student growth and development." All are appropriate responses which get to the most basic reason that advising departments exist; however, these objectives often remain ambiguous and ill-defined. What does "help" or "serve" look like? How is it achieved? Advising administrators need to assess the specific needs of the students whom they serve and implement a specific plan for meeting those needs.
Here are three strategies for assessing student needs and three strategies for meeting student needs.
3 Strategies for Assessing Student Needs
1. Student Feedback: Formal Assessment
Formal instruments, such as student satisfaction surveys, can be used to solicit feedback from students regarding their advising experience. When selecting or developing such an instrument, it is important to consider what it is that you most wish to learn.
For example, surveys of this type are often designed to collect feedback on the advisor's behaviors and characteristics. However, it is equally important to examine processes and student expectations in order to obtain a big picture view of student needs.
There is a risk that use of student satisfaction surveys may yield data that is skewed toward those students who are either extremely satisfied or dissatisfied, and may not capture the overall student experience. However, the data is still valuable for assessing student needs. When reviewing survey results, look for patterns. To what factors do students respond favorably? What are their sources of frustration? Once administrators have identified patterns regarding personnel, policies, and procedures, they can begin to address problem areas and build on current successes.
2. Student Feedback: Informal Assessment
In addition to using formal assessment instruments, I encourage you to seek informal feedback from students, staff, and advisors in order to gain a better understanding of student needs. Use your daily observations and experiences to help assess student needs and to guide you in your decision-making. If this stance of information-gathering becomes a part of your daily work, you can turn one of the most seemingly negative parts of the job into one of the most productive.
As advising administrators, you have the unenviable task of addressing escalated student complaints. Though many of you have probably been advisors yourselves and are energized by helping students navigate their academic journey, you are now faced with managing the negative side of advising. You have to address claims of unresponsive advisors, unfair policies, requests for exceptions, and charges of misadvising. The daily barrage of complaints may lead you to feel helpless and devalued, and may lead to a defensive response that blames the student instead of the system. Resist the temptation to become frustrated as a result of escalated student complaints. Rather, use these complaints as an impetus for change.
When addressing escalated student concerns, look for common themes in the issues brought forward by students. Are one or two advisors consistently identified as providing inaccurate information or being unresponsive? This could be a symptom of a systemic problem which may involve the need for training, improved tools, and a review of advisor responsibilities and student load. Similarly, look for trends regarding processes and policies. For example, if students continuously miss deadlines and are seeking exceptions as a result, there is an opportunity to examine the communication plan and resources provided to students, in order to identify areas for improvement.
3. Advisor Feedback
A third strategy for assessing student needs is to solicit feedback directly from academic advisors. Their daily work with students provides them with deep insight as to what is and is not working, as well as how students perceive the advising experience. Advisors can inform you about the most common needs of students as well as the most frequent problems they encounter. Take the opportunity to proactively solicit feedback from advisors, rather than waiting until student issues are escalated. Advisors will feel more valued and empowered, and you will capture a more representative cross-section of student needs than would be indicated by just looking at the escalated cases.
3 Strategies for Meeting Student Needs
1. Dissect the Problem into Specific Items to Address
Once you've identified student needs, you can dissect problems into specific items that need to be addressed. For example, multiple students may complain about a particular advisor, claiming that she is unresponsive. Upon close examination, "unresponsive" may be characterized by a lack of returned calls, delayed email responses, or difficulty in scheduling appointments. Once you've identified the individual components of "unresponsive," work to identify the causes for each component.
For example:
Perhaps the delay in email response is due to a lack of training or information, as evidenced by the advisor's need to research each question before responding to student inquiries.
Perhaps the advisor is challenged in balancing, on the one hand, the many administrative duties inherent in academic advising, and on the other, the need to return students' phone calls.
Perhaps that advisor's student load far exceeds that of her colleagues.
Once the causes are identified, you can implement a specific plan for change. This plan may include providing training and support to the advisor, follow-up with the student, the development or revision of systems, and/or the continuous monitoring of future student feedback.
2. Examine Policies and Procedures Critically
It is important to continually examine the origin and objectives of policies and procedures, as they are often the source of both student and advisor frustration. Often, this type of regular examination will reveal illogical and even paradoxical policies.
For example, I once encountered an academic probation policy wherein students who failed a graduate-level course were placed on probation and required to repeat the course in the subsequent semester. If students failed to comply, they were suspended for a minimum of one year. The purpose of the policy was to help students quickly reinforce and master the content before moving on in their studies.
However, upon examining a large number of student appeals regarding this policy, we discovered that the college was suspending students for not repeating the course, even if the course was not being offered by the college during the subsequent semester. Although the students had no opportunity to repeat the course in the given timeframe, they were being adversely impacted for circumstances beyond their control. This not only negatively impacted the students, but caused undue stress on advisors who tried their best to explain and uphold the illogical policy, as well as the front office staff that had to calm irate and anxious students.
When reviewing policies and procedures, ask these questions:
What is the intent of this policy?
Why was this policy developed?
Is there a need for us to continue doing it this way?
Have we tried other ways of accomplishing this?
How can we remove barriers and work smarter?
3. Anticipate Student Needs
Finally, advocate to have a voice at the table when decisions on academic policies are being made at the macro level (with the academic department, college, or university-wide). It is critical that advising administrators be involved in the process in order to represent student interests and needs. For example, a department may decide to change the curriculum for a specific program. While the dean is busy obtaining approval from the curriculum committee, president, and board of trustees, and while the faculty are busy revising course content and learning objectives, advising will need to anticipate how the changes will impact student needs.
For instance, if every new course will require a prerequisite, it will be essential that students be given an academic planning tool which clearly outlines the course sequence. Further, students will need help in developing a comprehensive plan which will enable them to successfully progress through the program without experiencing roadblocks or delays. By proactively establishing communication protocols and developing tools for students, advising administrators can positively contribute to a smooth transition on behalf of students.
A Final Note
In summary, as advising professionals, you need to constantly be learning and reviewing what you think you know about student needs and how advisors are, and need to, serve those needs. Be careful not to assume that, as a result of experience and training, you know what's best for students. Constantly review and update your policies, procedures, and protocols to make certain that they make sense, and that they are aligned with the institution's mission and the students' actual needs.
Get Sue Ohrablo's Book High-Impact Advising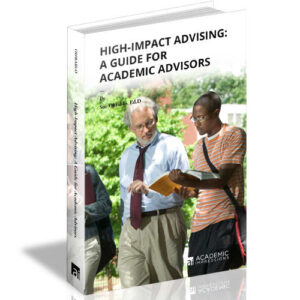 How can academic advisors provide high-quality developmental advising in the face of diminishing resources and increased commitments? We brought this question to Sue Ohrablo, a nationally recognized speaker with 25+ years of experience working with diverse institutions and student populations. In this 300-page, comprehensive training guide, Sue offers practical guidelines for academic advisors.
"I highly recommend that all academic advising professionals read High-Impact Advising: A Guide for Academic Advisors, as it will help them to enhance key skills needed to establish positive relationships with students, appropriately assess students' needs, effectively teach students, and efficiently provide high quality service."
Jacqueline T. Hollins, Assistant Vice Provost/Director of Academic Advisement, SUNY at Buffalo (UB)
"As a department leader in academic advisement, I would use Sue's book as a training resource and teaching mechanism for advisors. It allows advising professionals to understand today's complex environment of advising students, beyond just selecting courses."
Jake Shilts, Director, Advisement & Career Services, Miami Dade College
"Advisors will reap the benefits of this well-balanced, informative guide."
Shari Saperstein, Associate Dean, College of Undergraduate Studies, Nova Southeastern University
"A student-centered, informative, and practical approach. Dr. Ohrablo presents powerful guidelines geared towards student success for 21st century academic advisors. The handbook offers indispensable information and engaging scenarios that mirror real life college instances that students experience. A key resource tool for academic advisors and higher education professionals."
Dr. DeLaine Priest, Associate Vice President of Student Development and Enrollment Services, University of Central Florida