Managing the donor database and tracking your alumni data is complex. Here is a quick look at the three most common challenges with alumni data--and what is keeping our advancement operations from doing better.
by Sasha Wedekind, Academic Impressions
Recently I spoke with two dozen advancement services professionals to get a more defined sense of what is most challenging in managing the alumni database--and why. I've summarized what I learned in the following graphic: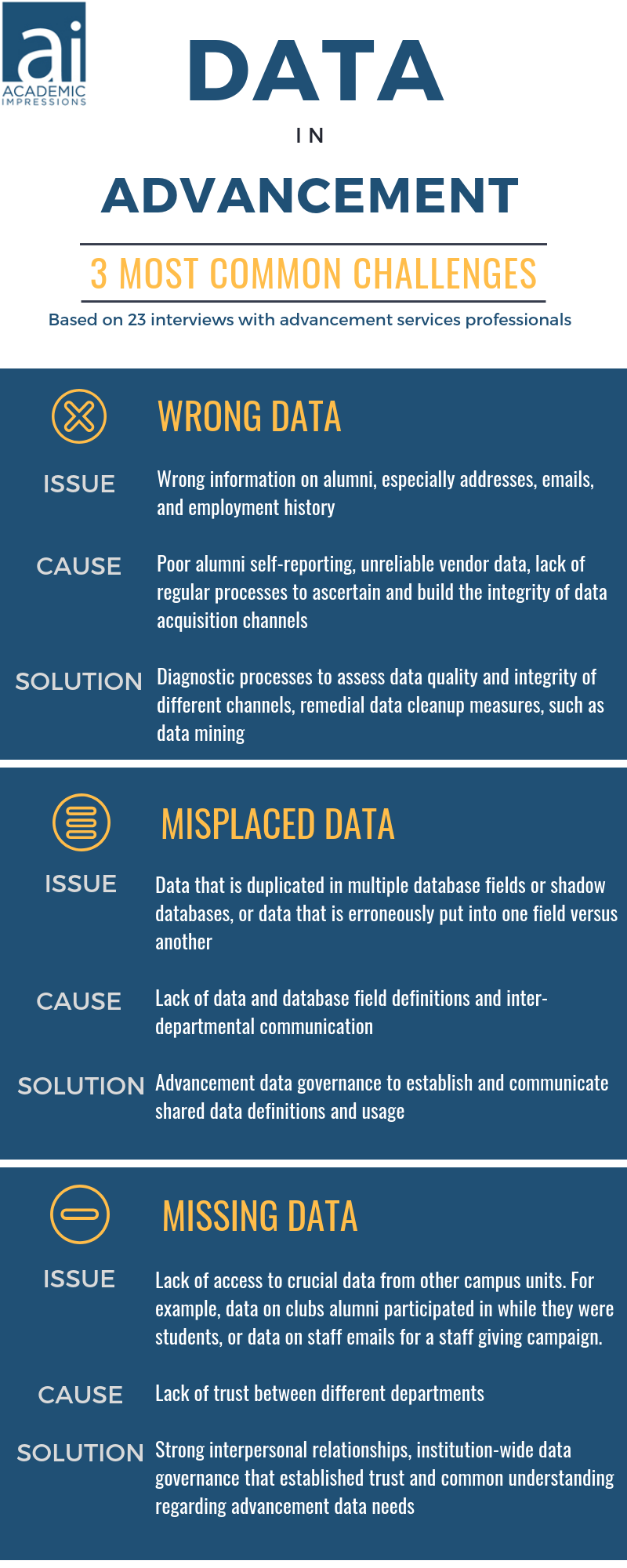 Problem #1: The Wrong Data
What are people doing now?
Everyone I spoke with mentioned the same key challenge: having wrong information on alumni, particularly addresses, emails, and employment history. This is a major problem; without accurate contact information, advancement shops cannot communicate with their constituents. This challenge is particularly applicable to young alumni data, since many young alums do not update their addresses through the Postal Service (US universities can verify alumni addresses through the Postal Service Change of and have multiple email accounts, many of which they don't check.
What stops people from doing better?
The root of the problem is that alumni do not inform their institutions about changes to their contact information. Secondarily, universities do not currently have an efficient way of finding correct information and monitoring all of their data channels. Data is usually received from a lot of different sources, including the Postal Service, call centers, forms submitted by alumni, vendors, individual professors and others, none of which are perfect. Many people use vendors as a primary source of data, but even the most popular ones, like LexisNexis, are often inaccurate. With so many imperfect and different data sources in place, incorrect data can inevitably slip through the cracks.
Very few people have processes in place to regularly assess the efficiency and quality of different data channels and how they are adding data to the database. If there are no regular check-ins on data quality, data channels, and projects to clean up incorrect or out-of-date entries, data quality can degrade quickly. While simply establishing diagnostic processes to assess data integrity will not immediately result in cleaner data, it is a first step towards assessing opportunities for improvement and establishing data quality priorities.
Problem #2: Misplaced Data
What are people doing now?
The second biggest challenge of data quality in advancement is misplaced data – data that is duplicated in multiple fields or shadow databases, or data that is erroneously put into one field versus another. Here are a couple of examples:
Data on student activities entered into a field "student activities" by alumni relations and into a field "bio" by frontline fundraisers.
A shadow database of alums used by a fundraiser embedded in a specific college instead of the central database that collects unsubscribe information.
Address types (e.g. primary, seasonal, etc.) being used differently by different people in the office when entering data.
Misplaced data results in many issues, for example: alums not being communicated to in the way they want, information being misinterpreted by MGOs in preparation for visits, and data that is not usable for prospect analytics.
What stops people from doing better?
The root cause of this issue is a lack of data governance that would establish shared data definitions and a shared understanding of how different teams use the same data and data fields. Definitions ensure that everyone is aware of the purpose of each database field, how different data points are called, and how different users interact with and use different data.
One does not need a formal data governance structure to establish data definitions. However, without data stewards and representation from each department, data definitions are not truly representative of all users and do not get properly communicated. Most people I spoke with had some data policies in place; however, most of these were outdated and effectively no longer in effect, since there weren't people to enforce them and update them as needed. A data governance structure ensures that these conversations happen regularly and that decisions on data definitions involve all end users.
Problem #3: Missing Data
What are people doing now?
Most advancement shops struggle to receive data they need from other parts of campus. For example, that includes data on which residence halls alumni lived in while on campus, data on clubs they participated in while they were students, or data on staff emails for a staff giving campaign. Advancement can usually get this data, but it takes a lot of time and effort to convince their counterparts in other departments to share this information. That usually means jumping through a lot of bureaucratic hoops, such as multiple request forms, having to explain why data is needed, and reassuring people that it will be stored securely. An additional challenge is that even if the data is shared, advancement teams must clean it up to make it usable within their system.
This problem is more prominent at larger institutions and at institutions where advancement uses separate databases. However, even in small institutions that operate within the same database, data-sharing can be a challenge. This issue comes down to the question of trust and collaboration, rather than limitations in infrastructure.
What stops people from doing better?
The reason why advancement professionals do not receive data is a lack of understanding about what they do across campus. People are hesitant to share data if they do not understand how it will be used.
A lack of established relationships is another reason. The way most people receive data in such situations is through relationships and connections in other departments. If these connections and trust are not there, data is much harder to get.
While many people eventually get around this data challenge by making friends across campus, the full solution to this problem is institution-wide data governance. Data governance ensures that all departments understand how others use student and alumni data, and policies are created to accommodate easy data-sharing as well as campus-wide definitions and consistent field usage.
_________________________
Photo by Rawpixel on Unsplash.
Infographic by Sasha Wedekind at Academic Impressions.
_________________________