An interview with James Langley (Langley Innovations)
Recently, we reached out to Jim Langley, founder of Langley Innovations and the author of three bestselling Academic Impressions guides for institutional advancement:
We asked Jim to share the philosophy behind these four unique books and what he hopes development officers and their partners on campus will learn as they look to create a more sustainable future for their institutions.
AI.
Why these books? Why are these books so needed? Why are they especially important now?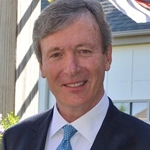 Jim Langley.
What these books bring to the market is a sense of the new realities in which philanthropy operates. They are very different realities than those in which philanthropy operated even a decade ago; they are very different from several decades ago. When you look at the market, there are a number of fine books out there about the tactics and techniques of fundraising, but they are 'of a time.'
These books start to address what we can do to create the conditions for sustainable fundraising in the present and going forward.
I think it is fair to say that in the past 10-15 years, there was a widely held assumption within higher education that a great deal of philanthropy was there for the asking. But as the economy has become more stagnant, as the costs of higher education have spiraled, as more graduates have been left with more debt, and as the competition for the philanthropic dollar has increased on all fronts (including a burgeoning number of nonprofits), the assumption that the money is there for the asking no longer holds. Many front-line fundraisers are reporting having to make dozens of calls to secure a single appointment.
So what these books try to do is acknowledge these changing conditions, acknowledge that level of competion, acknowledge that there is a different value proposition and more scrutiny that is being applied to higher education -- and speak to how presidents, deans, and boards can create the conditions that will inspire higher levels of philanthropy and allow their institutions to sustain significant philanthropic investment over time.
AI.
Thanks, Jim. How do chief advancement officers need to rethink their relationship with these key stakeholders -- presidents, deans, board members? Or how do they need to rethink their role in educating these stakeholders?
Jim Langley.
These books were written with two purposes:
To help presidents, deans, and board members understand that they cannot be absent from the building of a philanthropic culture or from successful fundraising, that they play an invaluable and integral role.
To help fundraisers understand that they can not and should not attempt to do it on their own, that they should seek out these partners; to explain that there is a more certain way to secure high-level support through new collaborative models and through taking advantage of the talents and interests of these stakeholders.
Whether or not these stakeholders are directly engaged in active fundraising, they are very important in defining the value proposition that allows fundraising and to compete and to be successful.
AI.
Jim, could you offer a quick, concrete scenario -- or a compare-and-contrast scenario -- to illustrate this point?
Jim Langley.
Yes. Even as I came into the profession, there was an environment in which the fundraiser was held in awe. It was believed that the fundraiser, by virtue of his or her own charm, charisma, courage, and audacity, could be singularly effective in approaching people of means and in convincing them to make significant investments.
While all those qualities are still valuable, what time and experience have taught us is that any number of prospects have been visited by any number of courageous, charismatic audacious fundraisers. As competition has increased and as donors have reviewed their philanthropic records, donors began to ask increasingly: What difference is being made? How can I make a difference? And particularly for the mid-range investor: Can I still make a difference at this institution as it secures seven or eight-figure gifts. Can my gift still make a difference?
There was a time when there was so much accumulated goodwill toward higher education that we could be in an active harvesting mode and we could focus on the ask, and that approach was appropriate.
But now we are in a time when, while there is still goodwill toward higher education, the harvest has been active for a long, long time. Many institutions have been in multiple campaigns, and many donors have been asked for their support many times. The new scenario is to deal with the repeated donor or the new donor in a way that isn't about just asking for support but about defining where specific levels of support can make a tangible difference.
There is a huge market of middle-class, mid-range donors who can be the critical difference makers if we know how to listen to them and how to engage them. Further, some of those initially modest donors will become increasingly generous over time as their means increase. If we don't reach them now, we are missing a great opportunity. It behooves us to speak to them now, defining for them where modest levels of investment can make a significant difference.
AI.
Jim, how do you hope these books will make a difference? What do you hope that each group of readers will take away from reading them?
Jim Langley.
There is great power to listening, adapting, and creating reciprocal relationshops with what we hope will be our long-term sources of support. All relevant organizations over time stay close to their constituents. When we listen, we learn how times have changed, we understand what the investor is looking for, we understand what the investor is struggling with.
We have it within our means -- we have the knowledge at our disposal -- to build fundamental strength in and around our institutions, both moral and philanthropic strength, if we will take the time. If we become so focused on the short term, we miss the power of -- if you will -- compound philanthropic interest.
These are three key points that are stressed in all three books.
AI.
Could you define that concept of compound philanthropic interest?
Jim Langley.
Yes! When we look at the truly philanthropic culture over time, we see that the great dynamo of that culture is the loyal individual. The individual who sustains loyalty in that institution is a huge difference maker. With each passing year, that individual is likely to give more as their means increase. With each passing year, that individual is more likely to move toward a major gift. With each passing year -- particularly at the fifteen-year threshold -- they are more likely to leave a portion of their estate.
When we look at that accumulated return, we see many organizations overlooking this very important element of the philanthropic culture (in fact, the essential element of the philanthropic culture). In their pursuit of annual goals, they have let loyal donors get away. The loss of loyal annual donors will be predictive of less major gift fundraising capability in the future.
AI.
Thanks, Jim! What will development officers get from reading each of these books?
Jim Langley.
In each of these books, I have looked to help the development officers understand:
What they should request of their president, deans, and boards
What is realistic to expect of these stakeholders
Where, in high-functioning philanthropic cultures, we see effective partnerships
Where they can do their best work by themselves, and where they can be most effective in collaboration
I want development officers to not feel alone in this business and to know how they can work with others to achieve optimal fundraising results. I feel that so many fundraisers have this grim existence because of these long-held assumptions about the fundraiser's role; they are expected to do everything and to know everything. What I want to teach them through these books is: Let's look at high-functioning cultures, at what distinguishes them -- and then, as you look at your culture, what can you do to leverage those strengths?
Also, every fundraiser can become an educator within their own institution if they have the facts at their disposal. It isn't that stakeholders want to isolate fundraisers; it's that they operate under myths and assumptions about what fundraisers do. When fundraisers move into new environments, there is a great opportunity to build coalitions and educate that culture about what works, because they will be looked to with great credibility.
We want development officers to be armed with the right information so that they can build coalitions, be less isolated, and enjoy a higher level of success.
AI.
Thanks, Jim! I really appreciate the conversation. Is there anything you would want to add?
Jim Langley.
The thing that is so important to me at this stage in my life and career is this notion of sustainable models: that sustainable models outlive organizations that focus on routine goals. What we have learned from ecology is that what you take, you have to replenish, and that when we replenish, there is plenty there and will be plenty there in the future. I see parallels between what we have learned from the environment and from ecology and what we can apply to philanthropy.
More from Jim Langley
Jim Langley is the author of a series of powerful fundraising guides for campus leaders: Fundraising for Presidents, Fundraising for Deans, Fundraising for Boards, and Comprehensive Fundraising Campaigns.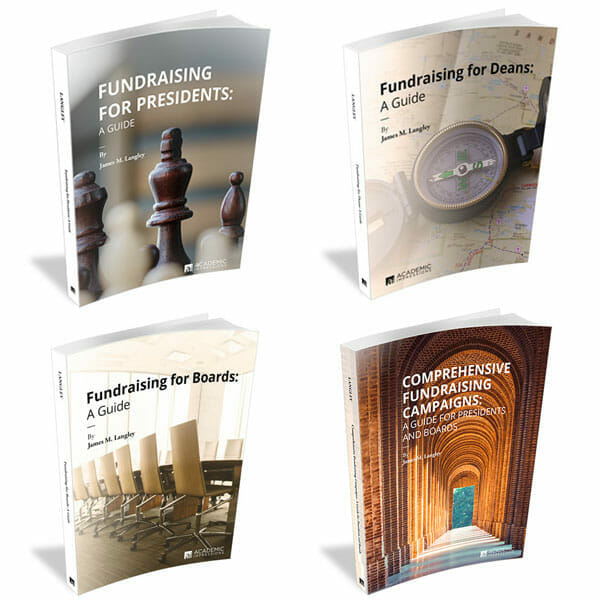 "This is is a treasure trove of great advice, forward-thinking reflections, and the tough, but much needed questions that presidents, boards, vice presidents and deans need to ask one another before embarking on a fundraising campaign."
Matthew T. Lambert, Vice President for University Advancement, William & Mary