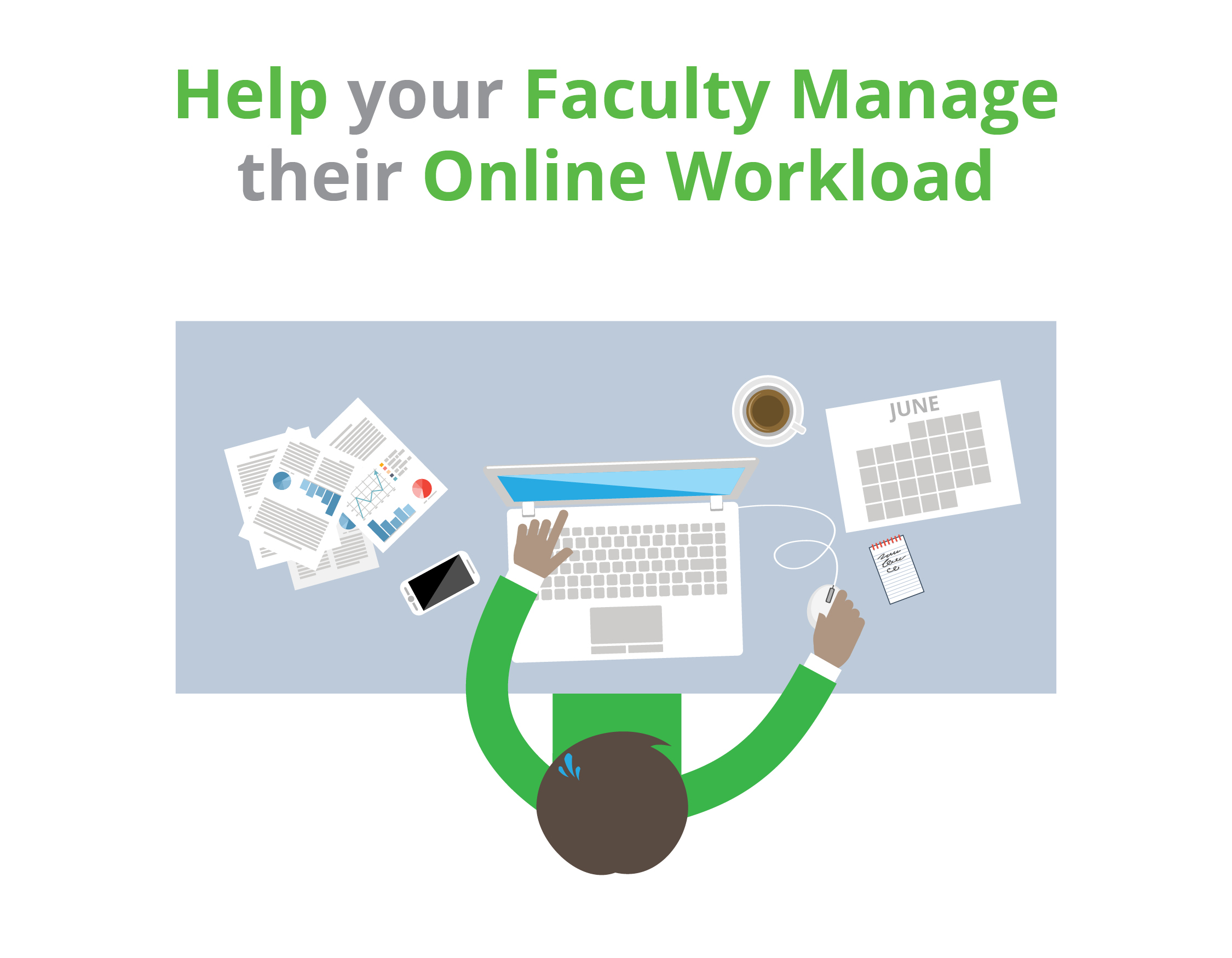 PRACTICAL STRATEGIES
In this updated and revised edition of a popular 2009 article from Academic Impressions, we have turned to Larry Ragan and Susan Ko for tips on how department chairs and faculty developers can help faculty manage online workload.
We hope you will also invite your faculty to review our recorded webcast, Managing Online Course Workload.
Because online and blended courses require more preparation than most traditional courses, faculty often find that they are committing significantly more time than they would for a face-to-face class. In the absence of specific guidance from department chairs or faculty developers on how to effectively structure an online course or how to manage their growing workload, faculty--especially faculty new to online learning--are in jeopardy of over-committing their time.
For practical tips on how to assist faculty with online course workload, we turned to experts Larry Ragan, director of the Center for Online Innovations in Learning (COIL) at Penn State University, and Susan Ko, the faculty development director for CUNY School of Professional Studies.
Managing and Setting Expectations
In the absence of a set period of scheduled classroom time, it is critical to discuss with faculty the need to define structured, set time periods for their online communication and instructional work. Otherwise, faculty may underperform -- or over-perform. "If we don't help faculty define and quantify that time, they may have the impression that they will need to be online all the time."
"Structure is critical, and communicating that structure is critical."
Larry Ragan, Penn State University
FREQUENCY AND RESPONSIVENESS
Considering the needs of each course, faculty need to clearly define the frequency & duration of their work:
How often do I need to be online?
How long should I be online?
The exact time is going to vary depending on the course and the teaching style of the faculty member, but Ragan encourages chairs and faculty developers to set certain benchmarks. At Penn State University's World Campus, faculty are asked to:
Check in at least once a day and at least once and preferably twice over the weekend (when inquiries from adult learners are most likely)
Set aside at least an hour each day to work on their course
Set a specific time when that hour will occur
Set a standard for how quickly to respond to inquiries from students (for example, within 12 or 24 hours).
"If the faculty member is online 6-9:30 each night, communicate that to the students. The students will know they can count on that. They'll get used to that rhythm. If they send you an email during the day while you have research to pursue or other face-to-face commitments, they will come to expect a response during the evening hours. This will give the class structure and regularity."
Larry Ragan, Penn State University
Ko cautions that faculty who are new to online and blended environments may also need support in aligning the expectations they have -- both for themselves and for their students -- with the size of their class and the type of course, particularly if your institution is offering larger online courses or even MOOCs. "If you have 20 students," Ko remarks, "you will expect a lot more one-on-one interaction. But with 30, or 100, or 500, you may need to organize small groups. You may need to think through the frequency of your interactions with students."
MANAGING COMMUNICATIONS WITH STUDENTS
Even more than in a classroom setting, in an online course it is critical that faculty communicate clear expectations to students -- including guidelines around quality, assignment length, and the grading rubric.
By creating an FAQ and by ensuring that students know where all course materials are located, faculty can reduce the workload of addressing student inquiries. If an instructor finds himself or herself answering the same question from several students who are all having difficulty with the next assignment, then rather than address the questions individually, the instructor can take the time to craft one response and post that to the Announcements board for the course. Offer your faculty specific examples of how they can use the different communications tools available to them to streamline their conversations with students.
"There's the old saying that the three characteristics of real estate are location, location, location. I like to say that in online instruction, the three most critical elements are communication, communication, communication."
Larry Ragan, Penn State U
The more specifically faculty are able to refine their written instructions, the fewer inquiries they will have from puzzled students, and the better the response they will see to assignments.
ADDITIONAL TIPS
Susan Ko suggests:
For blended courses, clarify expectations around student participation in each environment. "Make sure communications in one setting reinforce communications in the other setting. One obvious example is that you don't want students to wait to come to class or to office hours before asking a question. The instructor needs to encourage students to ask those questions more immediately, online, and clarify how they will interact with students online and how they will interact with students face-to-face."
Set up a specific protocol for student inquiries. Should a student contact the instructor by email? On a message board? By phone?
Embed faculty expectations for students in the grading system. For example, if an instructor requires that a student post two responses to other students each week, that expectation should be reflected in the grading. "Your late policy, your expectations in terms of quantity and quality of participation in online discussion should all be reflected in a grading rubric."
Susan Ko, CUNY School of Professional Studies
Keeping Up with the Course
Because an online course lacks face-to-face interaction, there can be a tendency for some instructors to add copious amounts of written communication. Help faculty think through the impact that the assignments they design will have on their workload. Each faculty member, Ragan suggests, will need to locate the "sweet spot" between the level of engagement their students need and the workload that online engagement can create.
"A faculty member told me once that he was just overwhelmed, just swamped, by the amount of communication needed in his online course. He just couldn't handle it. I happened to know he had four students. I asked him why the communication was so time-intensive. He had every student writing a reflection paper every day."
Larry Ragan, Penn State University
Ragan's example, however, shouldn't be taken to suggest that faculty should not communicate with students with frequency; the critical pairing is frequency and brevity. According to Susan Ko, "short and more frequent is better than long and less frequent."
For example, in some cases, faculty who are accustomed to a schedule that requires them in the face-to-face classroom 2-3 times a week have tried to replicate that schedule in their online courses. "That isn't going to work," Ko cautions, suggesting that it is much better for an instructor to see what is occuring in the online class and respond briefly 4-5 times a week, rather than spending many hours in the online classroom twice a week. "If checking in happens just twice a week, an instructor may feel overwhelmed seeing so many postings and so many inquiries. It is easier to keep up on what's going on if the instructor is checking in daily."
"Also, there are some concerns that you want to catch early--for example, if one student takes a discussion off on a tangent and is giving other students incorrect information, you don't want to wait several days to respond."
Susan Ko, CUNY School of Professional Studies
It is important to ensure that an exhaustive workload isn't created for either the faculty or the students. Within a few clearly communicated expectations or parameters, encourage faculty to set their own guidelines and to hold themselves accountable.
A SIMPLE TIP THAT CAN SAVE A LOT OF TIME
"Have faculty set up a system for keeping their records and keeping track of files. When the instructor asks students to submit files, the instructor should also tell students what to name the files. For example, a naming convention that identifies the student's name and the date can help faculty organize their work and manage communications, especially in larger online courses."
Susan Ko, CUNY School of Professional Studies
Managing Expectations Around Integrating Technology into Course Design
Integrating technology into course design: how much is too much, and how can faculty, especially faculty who are new to the online or blended environment, avoid being overwhelmed?
"I take a very modest approach to this," Ko remarks. "I don't really worry about faculty who are early adopters, those who are always trying out new technologies. For the other faculty, I say, 'Just try one new thing.' See if it helps achieve a specific goal. If it does, integrate it well. If instead an instructor tries several new things in one course, not only does the instructor not have the time to really integrate these technologies, but they will be overwhelming for the students, too."
Ko suggests that taking a "modest approach" involves six steps for an instructor:
Be open to new ideas.
Find out how other faculty are using the technology.
Take the time to reflect and plan. How will you really use this technology? Will your students benefit from it? Will certain of your students benefit from it, and not others?
Try the technology yourself.
Try it with students, and observe how they react.
In the next course, adjust your design as needed.
"Learn it, practice it, review it, revise," Ko concludes.
Maintaining Momentum and Enthusiasm
Finally, Ragan advises remembering how difficult teaching online can be for faculty who are new to it. Continual encouragement will pay dividends in faculty commitment, enthusiasm, and the quality of their instruction. "I tell faculty that my goal for them is to survive. The thriving part will come later. If you can survive your first or second time teaching online, it will feel overwhelming, it will feel tough and take more time than your face-to-face class, but it will be a rewarding experience. Many faculty have found that online courses have rejuvenated them in their love of teaching."
CRITICAL RESOURCES FOR DEPARTMENT CHAIRS
You may also be interested in:
Managing Underperforming Faculty -- This is a three-day, intensive conference where 

Academic Impressions, Jeffrey L. Buller of Florida Atlantic University, and Kathleen A. Rinehart of Saint Xavier University will walk you through developing performance expectations and metrics, and best strategies for faculty performance issues. 

100% of attendees have told us that they will personally use the information from this conference in their future work.
Or visit our page on Academic Administration to explore the trainings and professional development opportunities available through Academic Impressions.