Series: Managing the Student Lifecycle
This new series convenes expert perspectives on student success and predictive analytics. We hope to empower enrollment managers, student affairs professionals, deans, and faculty to think deeper about their student data, predictors of success, and managing the student lifecycle holistically from recruitment to retention to completion.
by Paul Marthers, Emory University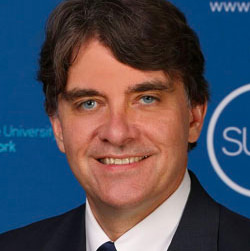 Across higher education, we are seeing sweeping reorganization of student affairs, often driven by cost reduction, the need to do more with less. But the conversation we need to be having is how to structure student affairs and allocate resources in ways that help the institution manage the whole student lifecycle. Equally critical to the need to reduce costs is the need to move away from a history of one-office efforts to improve student success. These efforts are rarely successful and are often the product of a campus that is a collection of silos or what some call (with no small amount of irony) "cylinders of excellence."
And this can't only be about getting student affairs and academic affairs talking. We need a more integrated effort than just that. In more than twenty five years working in the enrollment and student affairs arena, I have seen that campuses are most likely to have success in moving the dial when enrollment and student success efforts are everyone's job. When I worked at Oberlin College, we saw significant improvement in both yield on admitted students and graduation rates after the president made it clear that student success was a whole-campus endeavor.
Whole-campus efforts tend to have higher visibility and the power to motivate collective buy-in and effort. At Oberlin, faculty became admissions office volunteers, willingly showing up at recruiting and yield events, even on weekends. Athletics became an admissions partner--not an adversary--through a shared position. Admission staff members became pre-major advisers and assistant coaches of teams. When the president appointed a retention team, it included faculty along with administrators from admissions, advising, study abroad, and financial aid. Student success became everyone's job, because just about everyone who works on a college campus is involved in some part of the student lifecycle.
In this article, I want to explore ways of aligning enrollment management and student affairs so that an institution can take a student lifecycle approach to recruiting, admitting, and retaining students. I will provide examples of three models for achieving this organizational alignment:
Structural integration (merging divisions)
Operational integration (establishing committees or working groups)
Programmatic integration (collaborating on a specific initiative)
---
We hope you're enjoying this read. The full text of this article or report is complimentary for Academic Impressions members. Please login to your member account to read it!
If you're signed up to receive our Daily Pulse, but your institution does not have an active membership, you won't have access to this article.
FIND OUT ABOUT MEMBERSHIP:
An Academic Impressions membership provides multiple users on your campus with unlimited access to exclusive reports, research briefs, hundreds of free webcasts and online trainings, and discounts on conferences. Learn more about membership and get unlimited training and reading for you and your team today.