Managing the Whole Student Life Cycle
Paul Marthers is the author of Managing the Whole Student Life Cycle: A Handbook for Higher Ed. Make retention a whole-campus initiative in more than just name. From matriculation to graduation, walk through how to coordinate across enrollment management, student affairs, and academic affairs to create conditions and programs that drive student success. Find out more.

by Paul Marthers, Emory University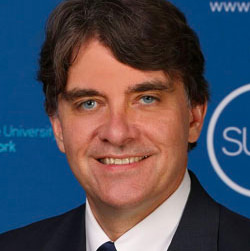 Across higher education, we are seeing sweeping reorganization of student affairs, often driven by cost reduction, the need to do more with less. But the conversation we need to be having is how to structure student affairs and allocate resources in ways that help the institution manage the whole student lifecycle. Equally critical to the need to reduce costs is the need to move away from a history of one-office efforts to improve student success. These efforts are rarely successful and are often the product of a campus that is a collection of silos or what some call (with no small amount of irony) "cylinders of excellence."
And this can't only be about getting student affairs and academic affairs talking. We need a more integrated effort than just that. In more than twenty five years working in the enrollment and student affairs arena, I have seen that campuses are most likely to have success in moving the dial when enrollment and student success efforts are everyone's job. When I worked at Oberlin College, we saw significant improvement in both yield on admitted students and graduation rates after the president made it clear that student success was a whole-campus endeavor.
Whole-campus efforts tend to have higher visibility and the power to motivate collective buy-in and effort. At Oberlin, faculty became admissions office volunteers, willingly showing up at recruiting and yield events, even on weekends. Athletics became an admissions partner--not an adversary--through a shared position. Admission staff members became pre-major advisers and assistant coaches of teams. When the president appointed a retention team, it included faculty along with administrators from admissions, advising, study abroad, and financial aid. Student success became everyone's job, because just about everyone who works on a college campus is involved in some part of the student lifecycle.
In this article, I want to explore ways of aligning enrollment management and student affairs so that an institution can take a student lifecycle approach to recruiting, admitting, and retaining students. I will provide examples of three models for achieving this organizational alignment:
Structural integration (merging divisions)
Operational integration (establishing committees or working groups)
Programmatic integration (collaborating on a specific initiative)
1. Structural Integration
When student affairs and enrollment are structurally aligned as partners in the same division, there is a clear signal that the campus takes a student lifecycle approach. Close alignment of enrollment and student affairs can also help build a culture of assessment, where decisions are made and initiatives are launched based on gathering and analyzing data. There is growing recognition that effective student success operations require data mining, predictive modeling, and rigorous assessment of program effectiveness. In a data-informed student success office, resource allocations and budget requests become an exercise in measuring return on investment.
In the student lifecycle approach, interventions to promote student success begin at recruitment and flow through graduation. The student lifecycle approach functions like a web linking offices that are involved in student success. Gone are the days when admissions and financial aid offices did the recruiting, admitting, yielding, and then handed off to student affairs units at the point of new student orientation. While enrollment units are chiefly focused on intake and student affairs units pay more attention to student through-put, the student lifecycle approach depends on close coordination and feedback loops between enrollment and student affairs.
When data is shared among offices across the student lifecycle, staff in those offices can identify key pressure points that need addressing. For example:
Looking at new student academic records and personal backgrounds, do patterns that predict success or failure emerge?
Are disproportionate numbers of students failing first-year math or writing classes?
Are larger than expected numbers of international students struggling with spoken English in classes?
Knowing what a potential student failure profile looks like isn't important only to student affairs staff.  It can also help admissions committees make better-informed decisions, as well. When I worked at Rensselaer Polytechnic Institute (RPI), an analysis showed that high school calculus grades below a B were a predictor of academic difficulty. As a result, RPI created a "Calculus Bridge" summer program for a small cohort of incoming freshmen. Similarly, knowing the affordability concerns that admissions and financial aid officers hear from prospective families can help student affairs offices prepare more effective orientation and first year experience programs to address financial anxieties that may get in the way of success in classes and co-curricular pursuits.
To drive student success at the State University of New York (SUNY), we employ a wide variety of organizational structures on our 64 campuses. In several cases, enrollment management and student affairs are aligned in the same division, reporting up to one vice president. Examples of this model includde Buffalo State College, the College at Fredonia, as well as Brockport and Oswego. This integration has allowed SUNY Brockport, for instance, to take a data and assessment driven approach to reversing enrollment shortfalls and increasing graduation rates. The campus has had several early wins—a much larger incoming class for 2016 and success at attracting non-completers on the cusp of graduating back to campus to finish their degree.
2. Operational Integration
If you don't have structural alignment, no need for despair. Your institution does not have to stand still. Even if enrollment, student affairs, and academic advising offices are not formally aligned, their staff members can still work as partners. This can occur through a committee on student success, whose membership cuts across campus divisions. A partnership ethos is more likely to develop on campuses when there are open lines of communication between the various student success-oriented offices and when there is encouragement for staff to learn what their partner offices do. Collaborations are more likely to occur on campuses that foster teamwork, not just in word, but also in deed.
Here are some of the baseline conditions that can help campuses move forward on student success:
All the offices striving to improve student success have to be clear regarding their goals and must make those goals known campus-wide.
Across campus, there is broad agreement that student success is a top priority.
The commitment to student success must start with the president/chancellor and be articulated as a chief goal of the institution's strategic plan.
The campus culture promotes collective efforts to solve problems and maintains a community where divisions are expected, encouraged (and even rewarded with funding) to work together as partners.
Units should be encouraged to make joint requests for resources.
To make this happen, try spelling out expectations in the criteria for unit and individual performance plans and evaluations. Consider devising incentives to spur interdivisional partnerships, such as special funds set aside for student success initiatives or a performance-based budget (and executive evaluation) process that explicitly encourages such collaboration.
At one campus where I worked, Rensselaer Polytechnic Institute, we refreshed our strategic plan annually and mapped all budget requests to specific goals outlined in that plan. Part of that annual process involved looking for ways that each division could partner with other divisions on initiatives that would achieve the goals of the Rensselaer Plan. During at least three of those budget planning rounds, the enrollment division I led asked for funds to assist outreach and yield efforts by the schools of architecture and management. Those collaborative efforts led to increased enrollment and retention in both of those schools.
3. Programmatic Integration
If these committees and working groups do not yet exist on your campus, consider assembling a team or working group around a single student success program or initiative -- but rather than just tap a few offices within your division, pull together a cross section of professionals who can offer insight into varying points of the student lifecycle.
At some of the SUNY campuses where enrollment and student affairs are in separate divisions, the SUNY Investment Fund (analogous to a grant making foundation) has seeded cross-divisional and multiple campus partnerships to support innovative student success initiatives. For example, an analytics-driven initiative seeks to enhance advising and early outreach to struggling students at SUNY's university centers at Albany, Binghamton, Buffalo, and Stony Brook. A collaborative project links Plattsburgh State's financial aid office to twenty nine SUNY community colleges in an effort to draw stopped-out students at risk of defaulting on their loans back to re-enroll and stay on track to getting their degree. The reenrollment initiative resulted from the widely-celebrated success of a pilot undertaken by Niagara County Community College.
Here are further examples of program-specific efforts at other institutions:
Georgia State University, for example, has been widely recognized for the data-driven ways it has made student success central to its mission and strategic plan. At Georgia State, a campus-wide emphasis on student success has taken six-year graduation rates from around 33% to nearly 60%.
At the University of Texas at El Paso, the "Models of Success" project serves as a leading-edge research laboratory to evaluate what works and does not work.
The "Titans Deserve Better" program at Cal State Fullerton has sought to strengthen academic advising, improve course availability, and increase support for learning communities.
---
Interested in putting these ideas into practice?
Make retention a whole-campus initiative in more than just name. Order copies of Paul Marthers' book Managing the Whole Student Life Cycle: A Handbook for Higher Ed for your campus. (There is a bulk rate on large orders for campuses that are serious about getting multiple departments on the same page and taking the next steps.)
In each chapter of his book, Marthers reviews approaches that have shown demonstrated success at varied institutions, offers worksheets and guiding questions to prompt thinking and application at your own campus, and suggests practical first steps and next steps. Topics addressed include:
The role of faculty on the front lines of student success
Establishing equity in student success programs
Keeping students on track from matriculation to graduation
Creating an articulated, integrated, and unifying undergraduate experience
Removing policy and procedural barriers to completion
Helping students develop grit and resilience
Using data and metrics in student success