In November of 2016, Academic Impressions held its first Women's Leadership Success in Higher Education conference. (You can see information about the upcoming Women's Leadership Success conference here.)  For me personally, this was one of the highlights of my year and a culmination of months of work that sprung from an idea that had formed in the summer of 2015. As it happened, the conference took place the week after the election. I found myself wondering how or if the election would impact the synergy in the room.
What we experienced was an incredibly positive, high-energy, joyful three days of learning! Key messages standout from that experience:
While the conference focused on gender, we discussed the many other lenses that we bring to our leadership role: race, religion, nationality, birth-order, and our preferences for working with others were just a few. We discussed how each of these lenses help you to bring a unique perspective to leadership.
We learned how to use our full voices and space to deliver an authentic message. (And had fun while learning to do so!)
We learned what data tells us about the power of having a diverse leadership team.
As we prepare for the 2018 conference, coming up in just a few short weeks, we asked a few of our speakers for their thoughts on what holds women back from their leadership potential and what tactics they use in challenging situations to handle them with confidence. Their answers were varied, but demonstrate how each taps into her unique strengths to lead effectively.
We spoke below with Jeanne Hey, Dean, College of Arts and Sciences, University of New England, and with Arlethia Perry-Johnson, (Retired) Vice President of Marketing, Kennesaw State University.
An Interview with 2 Successful Leaders
Elizabeth Hubbell, Academic Impressions: Are there ways that you see some women who have leadership potential holding themselves back? What would you wish to advise to them?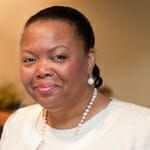 Arlethia Perry-Johnson. I believe more women have become increasingly vocal about their desire for leadership opportunities, so I don't see many women holding themselves back from competing for leadership roles. That said, I do believe that many women acquiesce when it comes to being fairly compensated for their hard work. My counsel on that front is for them to know their worth and be willing to negotiate well for it.
It is well known that there is a pay equity issue between men and women in the workplace, but part of that gap can be closed through effective negotiation that is grounded upon knowing the compensation level of others who held the position before you, and the current compensation levels of your peers. Armed with that information, women then need to be willing to ask for compensation packages that are aligned with the duties and responsibilities with which they are charged, and to also ask for raises when they are high performers making strong contributions to their organizations.
Jeanne Hey. Among faculty, some highly capable women with leadership promise undermine their advancement potential by failing to get promoted. This is most clear in cases of women associate professors who do not pursue promotion to full professor. They sometimes fail to maintain their research progress. They sometimes become heavily invested in service that limits their time for scholarship. And they sometimes are fully promotable, but simply fail to show the confidence or ambition to apply for promotion. Whatever the case, by staying associate professors, they make it difficult or impossible to become a department chair, dean, or provost. My advice is to "keep your eye on full professor."
Elizabeth Hubbell: What is one tip or tactic that helps you feel more secure and confident in challenging situations?
Arlethia Perry-Johnson. One tactic that I use in challenging situations is to be extremely well prepared for the encounter in question.  This may require deeply researching a problem or challenge and identifying data or information that will inform the discussion at hand and reflect a deep understanding on my part of the issue that needs to be resolved.  Oftentimes challenging situations have developed without opportunities for all of the facts to be laid bare for full disclosure and discussion, and starting at ground zero to ensure the accuracy of all of the assumptions at play often reveals potential misunderstandings and unintended distortions of the facts. Arming oneself with pertinent facts, data, and chronologies is an effective strategy and preparation process for tackling difficult scenarios.
Another very effective approach is to identify allies who are aligned with your position on an issue, and to enlist their support in advance of a meeting or encounter to contribute their influence or authority toward presenting a united front in order to affect a desired outcome.
Jeanne Hey: Practice. If I'm in a situation where I have to speak to a group, or even to a senior administrator, practice grows my confidence. I usually talk to myself to work out the best way to phrase a point. If it's a major event, I ask friends, family, and colleagues to listen to my practice and give me feedback. I then go into the situation with the confidence that comes from really knowing my stuff and articulating it well.
Elizabeth Hubbell: Thank you both! I am excited to talk more with you at the next event.
We have been thrilled with the overwhelming interest and enthusiasm our conference has garnered. We hope you will consider joining us for the next conference. You will be a part of a dynamic learning experience, gleaning critical leadership skills from the warmth and wisdom of our experienced faculty. We hope to see you there!