2012. Academic Impressions surveyed professionals from 79 institutions of higher education, asking them to grade their institution's level of customer service and to comment on the challenges faced in improving it. The responses were revealing.
A "C" in Customer Service
29 of our respondents rated their institution with a "B" letter grade for level of service offered, and 31 would assign a "C" grade (together accounting for three quarters of the total responses). Only 6 would assign an "A." Among those who assigned a failing grade and those who assigned a C, a shared litany of common complaints emerges:
"Too many offices on our campus treat students as an imposition on their work activities. Telephones are unanswered, hours are not conducive to student needs, many staff have the attitude that students should be grateful for anything that they are given."
"Cranky clerical folks, arrogant faculty, harried receptionists, clueless student workers -- you name it, we've got 'em! it's embarrassing to anyone who cares about the institution and the students."
"While some departments excel, others are infused with a "don't bother me attitude."
Many of the respondents emphasized that front-line staff are focused on completion of tasks rather than achievement of (student-centered) outcomes, and lack the time and the perspective to provide better service to students. When asked to describe how they see exemplary customer service, overwhelmingly, the respondents focused on responsiveness.
And while some respondents cited the need for a "friendly" attitude, among many there is a growing awareness that providing effective service to students has less to do with targeting "customer satisfaction" through an improved demeanor and more to do with eliminating wait times, shortening lines, and ensuring that students receive the help they want and need in removing obstacles to their progress toward a degree -- whether they are facing obstacles to registering for classes, receiving their financial aid, or seeking academic support services that will help them succeed in a difficult term.
Identifying the Challenges
When asked about the challenges faced in improving customer service, respondents listed these three as the most daunting:
"We need a cultural shift; our faculty/staff don't see customer service as necessary."
"We don't provide effective customer service training."
"We aren't sure how to audit our current service and identify bottlenecks/gaps."
There are a number of initiatives that can have a positive impact on service offered to students -- including addressing structural barriers (such as bringing different services together into a one-stop approach) and auditing inefficient policies and procedures. But it is clear that the primary challenge is one of training. "Service" usually is not core to the conversation during hiring, orientation, and training of front-line staff.
Service Excellence in Higher Education
As our colleges and universities strive to help more students persist and succeed, it's time to have deeper conversations on campus about how we serve our students and other constituents:
What do service competencies look like in our sector?
What roles do faculty and staff have in improving service on campus?
How do we create physical environments that foster better service?
Where do we look for effective models of service excellence?
How can we best train and certify our people?
Browse 10 "Frequently Asked Questions" videos from experts on enhancing the quality of service excellence on your campus.
Get the Book
Boost your department's standard of customer service.
Elevating Customer Service in Higher Education (2018) provides an in-depth guide by three practitioners with decades of combined experience in the higher education and hospitality sectors. Our authors are deeply embedded in customer service initiatives and have certified hundreds of higher-ed professionals at Academic Impressions' customer service trainings and on-campus workshops.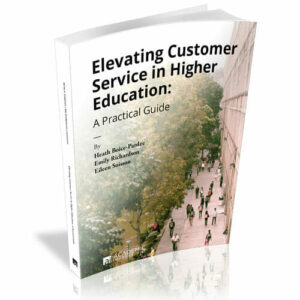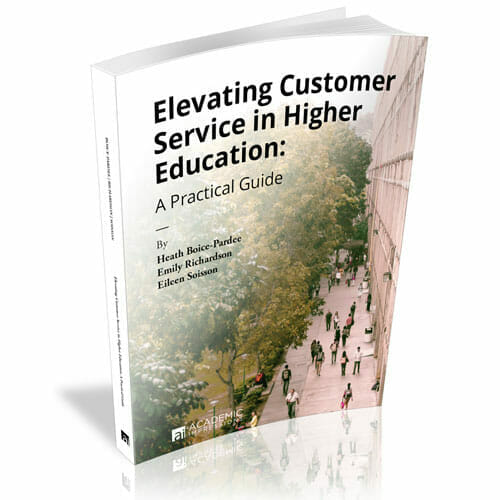 "The book provides the basics of academic customer service in a very considered and practical guide by pulling on some of the best work in service excellence, academic customer service, and business practices. It provides the background needed to engage in customer service on campus and initiate the thinking necessary to begin setting up a service excellence program. It should be read by every administrator who cares about retention and service excellence."
Neal Raisman, N. Raisman & Associates
"How refreshing and encouraging it is to read a book about customer service on today's college campuses. Customer service can no longer be viewed as a negative concept on our campuses. Rather, such service is mandated today... Implementing such measures that change a campus's culture may mean the difference between those colleges that survive and those that do not. The foundations of quality service discussed in this book should be mandatory reading for all college administrators."
David DeCenzo, President, Coastal Carolina University