This article is an excerpt from Sue Ohrablo's acclaimed book High-Impact Advising: A Guide for Academic Advisors, which you can find here.
Being an effective academic advisor is like being an expert juggler. It is easy to drop a ball now and then. In this article, I examine strategies to keep all the balls in the air in order to effectively support our students and help them persist toward graduation.
The role of the academic advisor is complex, requiring advisors to effectively communicate with students, understand and interpret policies and procedures, follow institutional protocols, maintain student records, utilize technology, and engage in problem-solving. These activities can be categorized into three distinct skill sets: interpersonal, operational, and analytical. To deliver comprehensive advising assistance, an advisor needs to blend all of these skills.
Here are some strategies for developing these essential skill sets and maximizing your effectiveness as an advisor.
Interpersonal Skills
I have had the privilege of interviewing numerous advisor candidates over the years, some who are aspiring to this new role, others who are experienced in the field. Most often, when asked what is the most important skill an advisor can bring to the position, prospective advisor candidates respond, "working with people." While I'm sure they think this is the "best" answer, it is really a simplification of the complex nature of the application of interpersonal skills in the advising relationship.
Some strategies for effectively infusing interpersonal skills into the advising session include:
Demonstrate caring every time: Ask how the student is. Ask about new events, successes, and challenges. Ask about adjustment issues. For example:- It is good to see (hear from) you!
- What has been happening since we last spoke?
- How is the new job (role in a club/sport/roommate)?
Inquire and validate: Instead of assuming a student's experience and perceptions based on developmental theory or on your own years of experience, ask the student. Use open-ended questions to better understand the student's unique experience and perceptions.  For example:- Tell me about how your algebra class was.
- I see that your GPA dipped a bit last semester. What do you think led to that?
- How are you feeling about your decision to change your major to accounting?
Provide support and encouragement: Regardless of age, generation, or academic level, students value receiving support and encouragement from university personnel. Students may doubt themselves and experience fear and anxiety about the academic process. An advisor can help reduce those fears in order to help students succeed.  For example:- Congratulations on the completion of your first semester! What are some things you learned that you can use in being successful next term?
- It looks like it was a good decision to reduce your course load. Your grades seemed to have improved as a result.
- I know stats can be an intimidating class. Here's some information about tutoring and study groups should you want some support.
Operational Skills
Advisors spend a lot of time fielding complaints about tasks that were never completed or processed. You may hear statements such as, "I already submitted my request to change my major. Why hasn't it been done?" or "I paid my bill, why do I still have a hold on my account?" throughout the day. Effective advisors are able to develop systems and strategies for completing paperwork and following up on administrative tasks.
Some strategies for effectively infusing operational skills into the advising role include:
Complete the necessary processes right away: While meeting with a student, you may notice that the major has not been changed. Send an email, complete a form, or make a call during or following the session to facilitate the change.
Learn your systems and identify best practices: If you don't know how to see if a student's major has been changed or what kind of hold she has, learn more about how to use the student database. If you're finding that filling out forms, signing, scanning and forwarding them is too cumbersome, ask if there is an alternative method to initiate change.
Develop a "tickler" system for follow-up: Strategies may include flagging emails, leaving them unread until resolved, or categorizing them as "waiting for response."
Identify a system that works best for you: To-do lists, scratch pads, color-coded folders, online reminders, all-day events. While there are many tools and methods to stay organized, each person must find what works best for him/herself.
Analytical Skills
One of the most important skills that an effective advisor can apply is that of analytical thinking. If advisors simply provide links to resources or hand out policies, they are not much more valuable than the resources themselves. Advisors can maximize their impact on the student experience by anticipating their needs, understanding the university system, and problem-solving on behalf of the student.
Some strategies for effectively infusing analytical skills into the advising process include:
Avoid "blind" overrides: When students encounter an obstacle such as not being able to register for a class, advisors who have the authority to override the barrier may do so without research -- a situation that is far from ideal. For example, a student may get a prerequisite error message and the advisor knows that the student took the prerequisite; therefore, the advisor enters an override to allow registration. An analytical advisor will want to know why the student received the error message if the student did, in fact, complete the prerequisite course. By researching the situation, the advisor might find that the student's program is incorrect, or that the course was built with an incorrect prerequisite or restriction which may block other students from registering.
Investigate student claims: A student may insist that she has already taken a course that you've indicated she needs. Rather than simply insisting that the student has not taken the course, ask questions and engage in further research. Perhaps the student had registered for the course and withdrawn in a previous semester. Perhaps the course was cross-listed but is not appearing on the degree audit. The student may have participated in one section but have been registered for another section (it happens!). By engaging in due diligence, you will be better equipped to provide accurate, comprehensive information to the student.
Identify problems within the system and work to have them fixed: As you work with students, you are apt to find "glitches" in the system. Rather than simply brush them off and fix individual student problems, understand that there are no glitches. If a student cannot register because the credit limits have been inaccurately set, in addition to raising the limit for the student, the advisor should bring the issue forward to administration. Help to identify causes and implications of credit restrictions on overall student registration patterns.
I encourage you to bring all three skill sets to the work of academic advising. By building relationships with students through developing strong interpersonal skills, reliably providing information and processing necessary administrative duties, and engaging in strategic problem-solving, you can maximize your effectiveness both in meeting students' needs and in meeting institutional objectives for advising.
Get Sue Ohrablo's Book High-Impact Advising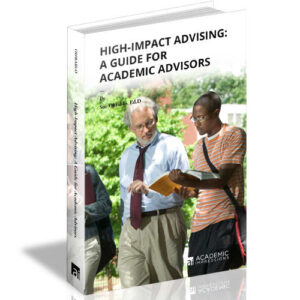 How can academic advisors provide high-quality developmental advising in the face of diminishing resources and increased commitments? We brought this question to Sue Ohrablo, a nationally recognized speaker with 25+ years of experience working with diverse institutions and student populations. In this 300-page, comprehensive training guide, Sue offers practical guidelines for academic advisors.
"I highly recommend that all academic advising professionals read High-Impact Advising: A Guide for Academic Advisors, as it will help them to enhance key skills needed to establish positive relationships with students, appropriately assess students' needs, effectively teach students, and efficiently provide high quality service."
Jacqueline T. Hollins, Assistant Vice Provost/Director of Academic Advisement, SUNY at Buffalo (UB)
"As a department leader in academic advisement, I would use Sue's book as a training resource and teaching mechanism for advisors. It allows advising professionals to understand today's complex environment of advising students, beyond just selecting courses."
Jake Shilts, Director, Advisement & Career Services, Miami Dade College
"Advisors will reap the benefits of this well-balanced, informative guide."
Shari Saperstein, Associate Dean, College of Undergraduate Studies, Nova Southeastern University
"A student-centered, informative, and practical approach. Dr. Ohrablo presents powerful guidelines geared towards student success for 21st century academic advisors. The handbook offers indispensable information and engaging scenarios that mirror real life college instances that students experience. A key resource tool for academic advisors and higher education professionals."
Dr. DeLaine Priest, Associate Vice President of Student Development and Enrollment Services, University of Central Florida