by Daniel Fusch and Michelle Sponholz (Academic Impressions)
with Sommer Browning, Marical Farner, Cynthia Hashert, and Jenny Filipetti (Auraria Library)
We recently had the opportunity to visit the newly renovated Auraria Library. This unique tri-institution academic library is shared by the University of Colorado Denver, Metropolitan State University of Denver, and the Community College of Denver, and located in the heart of downtown Denver. The recent revitalization of the Auraria Library is impressive for several reasons. First, the library remained open - for all three institutions - during the multiple years of the renovation. Second, the library integrates a lot of the features discussed in The Library of the 21st Century. Notably, the library's new learning space includes multimedia walls for collaborative learning.
To learn more about the uniqueness of this library project - and what may be replicable at other institutions - we interviewed the panel of stakeholders responsible for this newly-renovated learning space. This article highlights the key takeaways from that interview. Participants at our 2017 Academic Planning and Revitalization Institute, an annual workshop that has highlighted innovative library design since 2007, will also get to discuss the project further with the library planning team, and will get to tour the facility. The Institute's post-conference workshop on March 8 will also provide an in-depth look at how to integrate high-impact learning technology (such as the large-scale digital displays at the Auraria Library) on a budget.
(You can learn about the March 2018 Academic Planning and Revitalization Institute here.)
Interview with Auraria Library
Academic Impressions. This must have been a uniquely complex project, given the shared Auraria campus. What can your peers at other academic libraries learn from that process? How did you manage a multi-year, multi-phase project while minimizing the impact? What are 2-3 key takeaways or lessons learned from that process that you would like to emphasize?
Auraria Library team. When in doubt, zoom out. Maintain focus on the user and ensure that assessment from users and stakeholders is integrated and takes priority over individual desires and needs. Doing this can mitigate engagement in divisive conversation or activity that may otherwise focus resources too acutely, to the benefit of a smaller percentage of beneficiaries/stakeholders. For example, if you find the group focusing on whether or not they like the color yellow, elevate the issue back to the desired outcome by asking key questions such as "What is the experience we are looking to create in this space?"
Establish visioning and design principles up front. These principles can be carried through an iterative and lengthy process to result in a cohesive and desirable outcome. This was essential to the success of our own multi-year, multi-funding source project. We understood that spaces and services should reflect the learning community we serve, so the library employed participatory action research with key stakeholders and campus beneficiaries. We wanted the design to be as collaborative as possible. Both the future services we desired (such as using the library as a laboratory for academic courses) and library-generated action research data informed 'basis of design' and guiding principles. We used these outcomes to reimagine spaces and services at each phase of the project.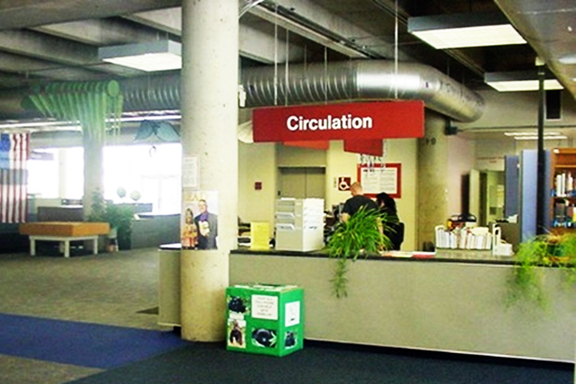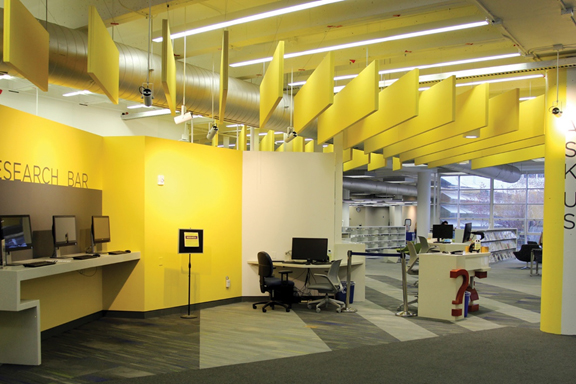 Photos by Jane Hood: The Auraria library circulation desk, before and after renovation.
Visit other libraries. Look to facilities that have undergone similar renovations and learn from their research and implementation. Ensure that a focus on the overall project mission, i.e. the experience of the learning community, is defined and at the forefront of all project planning and implementation activities.
Celebrate often. Even as you spend time trying to mitigate the discomfort felt by students, staff, and faculty caused by the renovation's programmatic and spatial changes, nothing provides a better remedy for that discomfort than focusing on the current and future benefits of such an endeavor. Note that it is not simply completion of renovated spaces that provides opportunities for appreciation and celebration, but also the process itself, which allows unique opportunities for community engagement and a time for thoughtful examination and exploration that isn't always present in day-to-day organizational operation. This is a time to re-establish our commitment to ongoing staff development and hiring plans that allow for our expertise and value to grow along with the spaces. Additionally, celebrating with the project team allows for cohesiveness in direction and an openness to opposing perspectives when conflict arises.
Academic Impressions. Looking back, is there anything you would have done differently?
Auraria Library team. If there aren't things you would have done differently in a project this size, then you probably aren't being honest! We would have focused on a few things earlier in the design process, such as upgrading the library's infrastructure (HVAC replacement and a comprehensive electrical and data overhaul) and factoring in technology refresh, cleaning, and maintenance cycles. We also would have tried to improve communication by having fewer points of contact so contractors, architects, library staff, and stakeholders always knew whom to talk to about what. We also would have insisted that the graphic and interior design process be merged so that creating wayfinding would have been a simpler and smoother process. Finally, it would have been great to teach the entire library staff to read architectural drawings!
Academic Impressions. We're excited about the Discovery Wall. Can you talk a little bit about the media wall and about technology planning on a budget?
Auraria Library team. As with all projects undertaken during the renovation, the Discovery Wall emerged from a process of collaborative inquiry and experimentation. A local Google Liquid Galaxy installation whose content was focused on sustainability and water-related issues inspired our early collaboration with Metropolitan State University of Denver's One World One Water Center. Involvement of Metro's and CU Denver's Office of Information Technology, Auraria campus students, internal stakeholders, deans and faculty at the three Auraria institutions and the addition of a professional architectural firm, led to the larger vision of a multi-use video wall. This wall is intended to support ongoing collaboration and integration of technology into both formal and informal learning activities.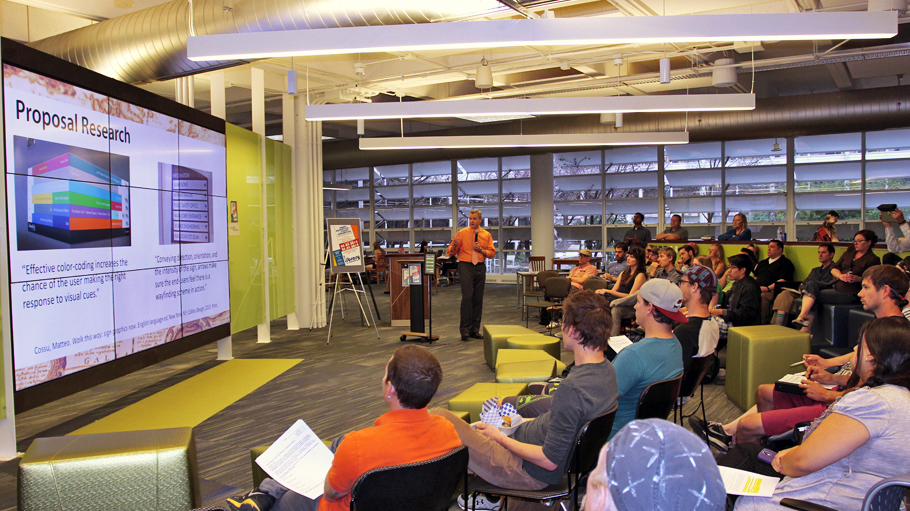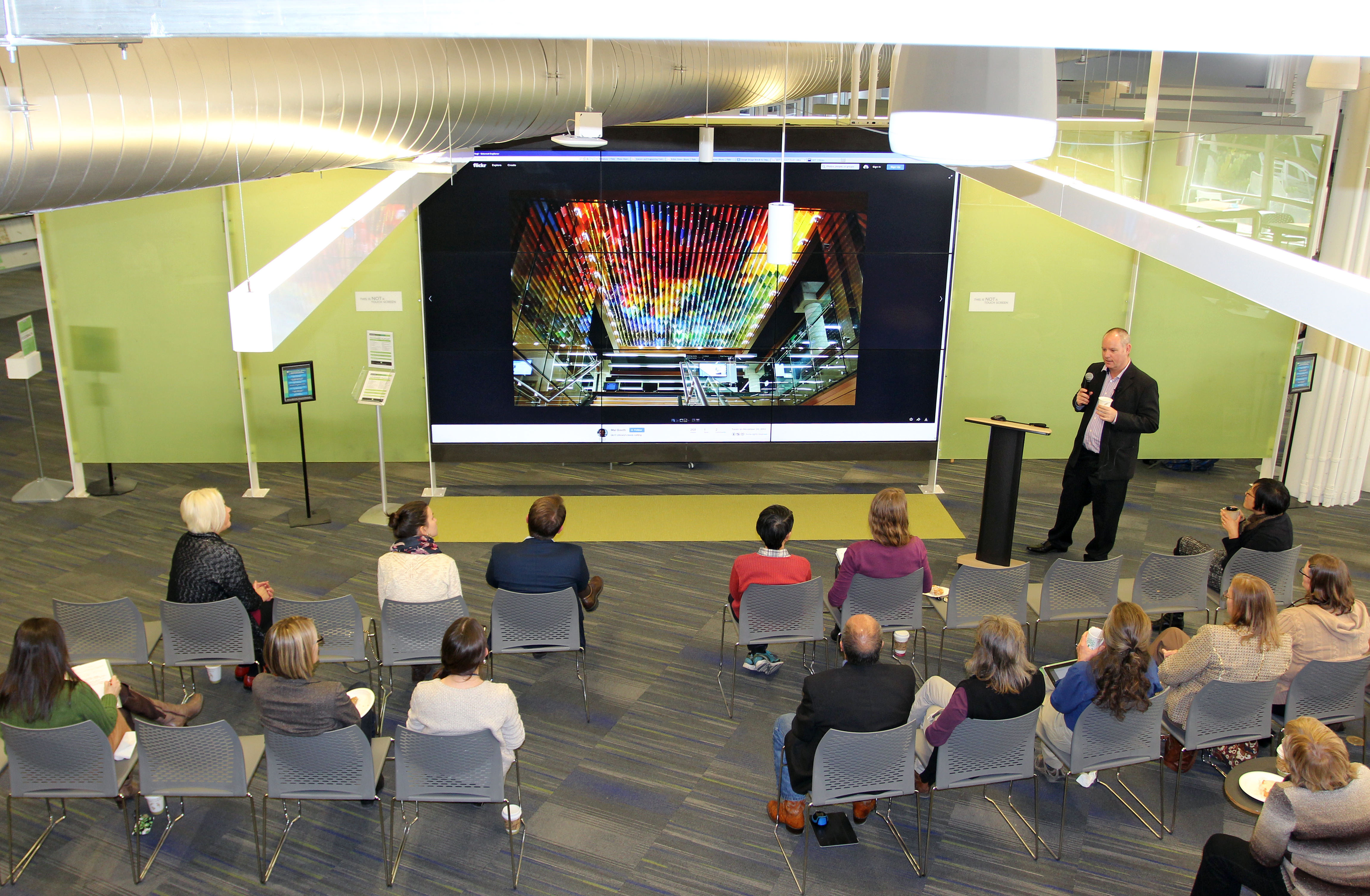 Photos by Jane Hood: The Discovery Wall.
Key to keeping the project on budget was keeping it focused. While the initial concept development for any newly created space should involve many viewpoints, successful implementation of technology requires that a more focused group of experts are involved in design and construction. The pursuit of multiple initiatives should pause until after the technology infrastructure and installation is completed; then, experimentation and collaborative inquiry regarding content development and usage of surrounding space may begin anew. Innovative spaces and services also require support personnel and a planned budget for refreshing technology and for expanding capabilities.
Academic Impressions. Participants in our upcoming Academic Library Planning and Revitalization Institute will have the opportunity to visit the Auraria Library. What will they learn there, and what do you think they can get most excited about?
Auraria Library team. The library immediately feels very modern, yet reflects the past in the building's infrastructure. The building persona is as it was imagined in the basis of design - with a first floor that is surprising, disruptive, experimental, and active and a second floor that is more orderly, familiar, traditional, and quiet. The usage and activities on both floors reflect this persona. Space, information resources, technology, and users co-create the function of the library at any given moment. When you visit, note how the design reflects and reinforces the identity of the academic library is a place that values and encourages continual reimagining, exploration, and development.