Learn how you can incorporate elements of modern academic library design into your own campus.
Learn how you can revitalize your institution's library to ensure that it remains a vibrant academic hub and learning space on campus. This interactive event will provide attendees with an integrated and practical approach to library planning and design. Throughout this event, you will:
Envision what can make your library design most responsive to your students' needs
Analyze the latest in user-centered library design
Explore various service-delivery models to co-locate student services
Learn processes for working with project stakeholders and promoting campus involvement
This event will be most helpful to those in the planning stages of renovating or building a library.
Site Visit and Panel Discussion: Haverford College Lutnick Library
You will experience firsthand the Lutnick Library renovation, a space consciously designed in response to current and future needs. Haverford College transformed a library that lacked modern infrastructure and created a much-needed interactive and inviting facility featuring active teaching and learning spaces, a Digital Scholarship Commons, technologically robust spaces, and a balance of collaborative Group Study Rooms as well as quiet research and study spaces. Haverford worked closely with architects to preserve historical elements of the library, that date back to the 1800's, while making the space more accessible and responsive to the evolving needs of students.
You will have the chance to participate in a panel discussion with the key decision-makers and stakeholders behind the design and implementation of these efforts.
Bring Your Library Planning Committee
Based on past attendee feedback, we strongly encourage you to bring your library planning committee, as well as senior level decision-makers responsible for funding and sourcing. An effective institutional team may consist of the dean or director of libraries, the primary advocate for the library project, and other stakeholders from library, information technology, academic affairs, and facilities management.
Bring your team and save!
Save over 15% when you register three or more colleagues.
Testimonials from Past Participants of this Event
"This was an exciting, engaging, and inspiring experience to share and discuss the future of the academic library in a relevant way and using a perfect format!! Loved it!"
Anne M. Wood, Assistant Vice President and Chief Information Officer, Juniata College
"The speakers provide vital information about how and what makes a modern academic library."
Greg Paveza, Dean of Graduate Studies and the Library, Southern Connecticut State University
"AI made good on its promise and provides a great opportunity for learning."
John Ernst, Director of the Success Center, Thomas More College
"Solid conference. Useful information. And, I would recommend the experience to others!"
Dr. James A. Wilson, Jr., Associate Provost for Academic Affairs and Director of the Honors Program, Prairie View A&M University
"This conference was the complete package: relevant topics, philosophical and practical applications, fantastic speakers, fantastic location. One of the BEST conferences I've ever attended. It is what a conference should be! Full of collaboration, networking, and solutions."
Megan Lowe, University of Louisiana at Monroe
"The conference brought to light a vision for the future of libraries and where they are headed to add value to the learning experience."
Steve Petersen, Campus Architect, Harper College
"This conference really helped our institution identify some solid starting points in planning our proposal for an expanded facility. The breadth of material covered, as well as the expert insight and experience, served to bring important considerations and talking points to the forefront. The inclusion of case studies and site visits really enhanced the experience."
Jeff Campbell, Patron Services Specialist, James Madison University
"I feel like I gained a lot of knowledge that would make me a viable resource at my library."
Irene Girgente, Multimedia Tech Specialist and Student Supervisor, Longwood University
"Academic Impressions provides valuable exploration of timely and pragmatic challenges to higher education institutions. The combination of impassioned subject matter, experts as presenters, and means of engaging conference attendees was potent."
Colin Tennent, Associate Vice President of Facilities Management, University of Saskatchewan
"The thoroughness of the conference preparation was impressive and the conference packet was wonderful."
Kathryn Boone, Learning Commons Operations Manager, Old Dominion University
"This conference was a great start for our college to review its own mission or vision to what a library role may be headed in the future. Great experts and speakers."
Dale Saenz, Catalog Reference Librarian, Laredo Community College
"Great opportunity to network with other professionals in the field."
Nicole Willard, Director, Library, University of Central Oklahoma
"This conference was the complete package: relevant topics, philosophical and practical applications, fantastic speakers, fantastic location. One of the BEST conferences I've ever attended. It is what a conference should be! Full of collaboration, networking, and solutions."
Megan Lowe, Coordinator of Public Services and Associate Professor, University of Louisiana at Monroe
"The conference helped me take an abstract concept (info commons) and turn it into a real and feasible outcome."
Dina Hornreich, Interim Library Director, Red Rocks Community College
"This institute provided a wealth of information ranging from general to vision-focused. Assessment was always a part of each presentation. Very appropriate use of ethnographic research. There was so much to learn from presenters, and ample to collaborate with other attendees/participants. The mentoring was an excellent opportunity to collaborate with peers from across the globe!"
Janice Peyton, Library Director, Lone Star College Montgomery
"Very effective presentations that gave me tools I can implement immediately in our Library Planning Process."
Reuben Pinkson, Architect, University of Texas Health Science Center at San Antonio
"This is an inspiring, practically helpful, very encouraging event for anyone starting out on a library renovation or new build project."
Sharon Brown, Director, Wilfrid Laurier University
"Wherever you are in the process of library renovation, this conference will provide the necessary tools for you to design your unique plan and move forward with confidence."
Sharon Neal, Library Director, Alvernia University
"The presenters were experts and the conference was well thought through. I was provided with the information I needed to get my renovation started."
Jacquline Neath-Foster, Director of Library Services, Atlantic Union College
"I found the conference by Academic Impressions concise and informative and the open format inviting for questions and problem-solving."
Les Aho, Physical Plant Manager, Atlantic Union College
"Thank you! This was an excellent and worthwhile conference. It really helped me to see the planning steps that need to be taken for a major library remodel."
Michele Ukleja, Coordinator of User Services, Harper College
"The AI methodologies of imparting knowledge and experience is a valuable one! My second time coming into contact with your material and I find it to be excellent!"
Racquel Anderson, Const. Technologist, UWI Mona Campus
"The AI conference was great! The staff was helpful, the faculty well-informed and spoke to the issues we're dealing with. I met people who are in the same phase and a little further into the process who helped me think differently about our project."
Julia Lisuzzo, Manager of Summer Programs, Rochester Institute of Technology
"Having both practitioners and colleagues as presenters and as attendees was an essential, effective blend. I have work to accomplish. I got to learn from those who would work with me and from those like me who have work to do."
Kathleen List, Director of Library Services, Ringling College of Art and Design

Agenda
Your registration fee includes full access to all conference sessions and materials, access to the networking reception on Wednesday, breakfast and lunch on Thursday, and breakfast on Friday, as well as refreshments and snacks throughout the conference.
Day One: Vision and Align
12:30 - 6:30 p.m.
Key Elements of the Contemporary Academic Library
This introductory session will walk you through the key elements of the modern academic library. Much of the conversation will focus on the distinction between "then" versus "now." An interactive group discussion will provide your institution focus for the remainder of the conference.
---
Expert Panel: Envisioning and Realizing a 21st Century Library
Our panel of experts will share their original vision for completed new-build and renovated academic libraries. They will discuss how the vision was derived and how their spaces have met or didn't meet their original expectations.
---
Investigating User Needs
The most successful academic library spaces are those that help students, staff, and faculty members do their work well and pursue their academic goals. The alignment of library spaces, services, and technologies with rapidly changing academic work practices requires an ongoing commitment to conducting user research and using those insights in the planning process. During this session, you will gain hands-on experience implementing user research techniques to identify and understand user needs and behaviors. This session will also include time and structured prompts to help you conceptualize user research you may wish to conduct on your own campus.
---
Networking Reception
This informal reception is your chance to decompress, have some refreshments on us, and expand your network of connections. Our programs are intentionally designed for smaller groups, so this is a great time to catch-up with attendees and speakers whom you may not have connected with yet.
---
Day Two: Align
8:30 a.m. - 4:30 p.m.
Transforming User Needs Data into Technology Infrastructure
Learn about the latest findings that support smart investments in technology infrastructure. Through a case study and examples drawn from two institutions, you will learn how to be efficient with your dollars and space when it comes to technology for enhancing student performance.
---
From Insight to Action with Design Thinking
Once you gain an understanding of user needs and behaviors, it's important to put those needs at the center of space and service design decisions. This session will focus on using the design thinking process to turn insights about user needs into space and service design decisions. You will also learn how to prototype design decisions to gain valuable user feedback before investments are made.
---
Site Visit and Panel Discussion: Lutnick Library at Haverford College
We will visit the Lutnick Library on the Haverford College campus. The new library serves as an open and vibrant learning space on the campus and allows users to meet many needs within its footprint. Highlights include:
Digital Scholarship Commons
Peer-to-peer student liaison model
Gallery spaces curated by students
Impressive set of reading rooms
Co-curricular learning and exhibition spaces
Accessible furniture
Panel discussion to share the practical aspects and impact of library renovation projects
---
Day Three: Actualize
8:00 a.m.- 12:00 p.m.
Debrief of Campus Tour
---
Campus Visioning and Participatory Design Process
Our experts will walk you through a participatory design process, so you can recruit the appropriate team to facilitate a meaningful session on your campus. You will learn how to:
Inform program elements and layout decisions while building campus alliances
Take advantage of previously collected data to establish a shared context before the charrette
Promote the findings after the charrette
Build campus and community relationships and further fund development
---
Putting It All Together: Grand Valley State University - Mary Idema Pew Library Case Study
The quality of your results depends on the quality of your planning. Included will be a walk-through of the library building process from top to bottom, focusing on the "Escape the Gravity of the Known" slogan that drove GVSU through their project. This narrative will include the library trends that GVSU incorporated in their project, the means through which they met the needs of their users, and the forward-thinking steps they had to undertake to realize their vision.

Speakers
Kristin Meyer
User Experience Librarian, Grand Valley State University
In her current role, Kristin focuses on understanding and improving the student experience of the Mary Idema Pew Library Learning and Information Commons. This state-of-the-art facility opened in 2013 and has been described as a model of twenty-first century learning.
Terry Snyder
Visiting Associate Professor of History, Librarian of the College
Since 2011 Terry has served as the chief administrator of the Haverford College Libraries including the Lutnick Library, which houses the internationally important Quaker and Special Collections Library; the Gilbert F. White Science Library; the Astronomy Library; and the Union Music Library. (Read more on Haverford Libraries' program and strategic plan here.)
John D. Shank
Head of the Boscov-Lakin Information Commons & Thun Library, Penn State University
John D. Shank is the Head Librarian at Penn State Berks. Prior to his appointment in July 2001, he held positions at Bryn Mawr, Haverford, and Montgomery County Community College. He was selected by Library Journal in 2005 as a "Mover and Shaker."
Lee van Orsdel
Previous Dean of Libraries, Grand Valley State University
Lee has 45 years of leadership experience in academic libraries in Alabama, Kentucky, and Michigan, including reorganization, staff development, leadership, program innovation, and library design. Recently retired, Van Orsdel was dean of university libraries at Grand Valley State University from 2005 to 2016.

$1,495 through Sept 4
$1,595
Learn how you can incorporate elements of modern academic library design into your own campus.
1-2 registrations: full price
3-4 registrations: 15% off each conference registration
5-7 registrations: 20% off each conference registration
8 + registrations: 25% off each conference registration
$295
Purchase the conference binder, which includes all presentation slides, worksheets, action plans, and additional resources.
Note: Conference attendees do not need to purchase materials separately.
Questions About the Event?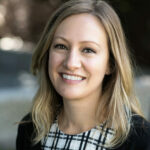 Whitney Egstad
Program Manager, Academic Impressions
*All-inclusive members receive $250 off of conference registrations (in addition to the early bird discount if applicable). Academic Affairs, Advancement/Alumni Relations, Business Office, Enrollment Management, Student Affairs, and Leadership members will continue to receive $100 off conference registrations. Upgrade your membership to qualify for a higher discount. Please note this discount is not applicable on pre- or post-conference workshops or conference binders.