YOUR ANNUAL FUND THIS YEAR
Follow Jim Langley's advice on what makes for the best and worst annual fund strategies to ensure this is a successful year for your annual giving operation.

by James M. Langley (Langley Innovations)
The 2 Worst Annual Fund Strategies
Using the annual fund to balance the annual operating budget.
Donors give much, much more in the name of philanthropy than they do for charitable purposes.  Charity calls people to meet an urgent need; philanthropy is a means by which people can create a better society.  If you cast your annual fund as a way of meeting urgent need, you raise unsettling questions in the minds of philanthropic investors:
Why do they need money for basic operating costs when they charging $20,000 or more in tuition?
Does this suggest that the school is struggling to make ends meet?
If so, will my investment be used to advance the mission or just plug holes in a broken system?
Where is there a chance for me to make an important, lasting difference?
Failing to adjust your annual fund solicitations to loyal donors' giving patterns.
The vast majority of regular annual donors make their contributions in December. Yet, every year, they are subjected to repeated requests to give starting at the beginning of the year. This drumbeat of requests raises questions in the minds of many loyal donors about how much money is being spent to raise money. It also makes them feel that the school's fundraising has become impersonal and machine-like.
Loyalty should be prized and reinforced with personalized communications.  If donors have given two years or more on essentially the same date, they should not be re-solicited until six weeks before their renewal date.  In the intervening months, annual fund directors should poll them to learn more about what they value most about the school and send them information that reinforces it.
The 2 Best Annual Fund Strategies
Define clear value-added purposes and goals for the year.
This allows the modest investor to understand what the money is to be used for and to be a part of achieving large, significant, and measurable objectives. Annual objectives should be articulated by the president at the outset of each fiscal year. At the end of the year, each donor should receive an annual report from the president detailing how intended objectives were reached and how the mission of the school was advanced.
The next best option is to turn your annual fund into an "Innovation Fund" and have the president, perhaps with the assistance of an alumni/volunteer Innovation Council, award stipends to the most creative proposals submitted by faculty, students, or staff. Donors will enjoy be a part of a presidentially administered venture fund and reading about award-winning proposals.
Make your primary focus retaining loyal donors.
The longer a donor gives, the more likely it is that s/he will give again, give more generously as their means increase, and give generously late in life and through their estates. True philanthropy is a lifelong commitment. Annual funds that become so obsessed with meeting an annual goal that they do not notice, or seek to stem, the lapsing of multi-year donors, unwittingly undermine the long-term philanthropic potential of their school.
There is no more powerful source in philanthropy, or a more important building block in a sustainable philanthropic culture, the loyal individual donor.
With these key insights in mind, it might be worthwhile to reexamine your annual fund strategy:
How are you catering to your most loyal annual fund donors?
How are you positioning your annual fund and communicating your story to your donors?
There is still time to make adjustments and have a great fundraising year.
More Annual Fund Strategies
Many annual giving shops struggle with stagnant or underperforming annual giving programs. We've put together a program to help you breathe new life into your efforts. We invite you to join us for a three-day conference that will showcase the most successful tactics in annual giving and help you develop a comprehensive plan to improve your shop's efforts.
Come to the Institute for Annual Giving.
More from Jim Langley
Jim Langley is the author of a series of powerful fundraising guides for campus leaders: Fundraising for Presidents, Fundraising for Deans, Fundraising for Boards, and Comprehensive Fundraising Campaigns.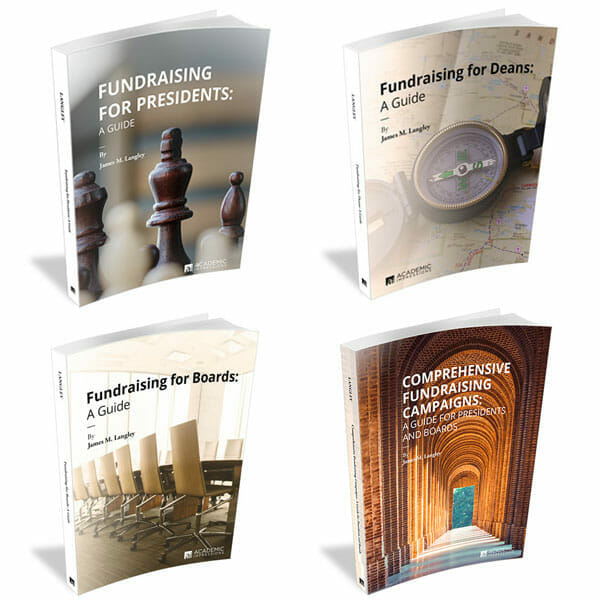 "This is is a treasure trove of great advice, forward-thinking reflections, and the tough, but much needed questions that presidents, boards, vice presidents and deans need to ask one another before embarking on a fundraising campaign."
Matthew T. Lambert, Vice President for University Advancement, William & Mary