by W. Kent Barnds (Augustana College)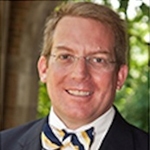 Whether we like it or not, admissions counselors are increasingly thought of as a college's sales force. Yet I don't completely understand why many of my colleagues in admissions bristle at the idea of being a "salesperson." After all, we are charged with generating awareness, building and managing relationships, and "closing the deal" with interested students. Furthermore, we are regularly asked to introduce our college's new programs, processes and ideas.
Why should we run from this comparison?
Why Being Seen as a Sales Force is an Opportunity
In my experience, the involvement of the sales team often comes too late in the process of developing programs, resulting in less-than-optimal messaging and differentiations at the point of sale. Using the "sales force" comparison presents an opportunity to help other campus stakeholders understand what we need from them in order to be the best sales team we can be.
I recommend:
Redefining the admissions team as an effective "sales force" with integrity and expertise.
Leveraging this "sales force" status to become involved early in the development of new programs.
---
We hope you're enjoying this read. The full text of this article or report is complimentary for our Daily Pulse subscribers. Please login to read it!
ARE YOU A NEW READER?
Get hundreds of articles and reports like this one — Please sign up to have your Daily Pulse and other updates from Academic Impressions delivered to your inbox.
Daily Pulse is a curated email digest of practical strategies, timely research reports, and current events in higher ed. You'll also get periodic updates about our upcoming events and other services, as well as free access to hundreds of articles on this site.
We are excited to bring you the most critical updates and reports in higher education. Thank you for your interest!