This article is an excerpt from Jim Langley's book Comprehensive Fundraising Campaigns: A Guide for Presidents and Boards (Academic Impressions, 2016).
Over-reliance on marketing academic distinction and under-reliance on building alumni affiliation is one of the reasons that annual alumni giving has been declining for 20 straight years and why, today, fewer than one in 10 alumni are giving back annually to their alma mater.
The percentage of alumni giving back to their alma mater is such a key baseline measure in assessing an institution's ability to stage a successful campaign. Yet institutional leaders often assume that academic distinction is the key driver of this affiliation. The data does not support this. According to U.S. News & World Report, the colleges and universities with the highest percentages of annual alumni giving as of October 2015 were as follows:
| | |
| --- | --- |
| Princeton University (NJ) | 62.9% |
| Thomas Aquinas College (CA) | 58.3% |
| Williams College (MA) | 56.9% |
| Florida College | 54.4% |
| Bowdoin College (ME) | 54.2% |
| Middlebury College (VT) | 53% |
| Davidson College (NC) | 52.9% |
| Wellesley College (MA) | 51.4% |
| Carleton College (MN) | 50.6% |
| Amherst College (MA) | 49.2% |
These levels of annual alumni participation certainly suggest deep appreciation and affiliation. However, note that academic distinction, as measured by where an institution stands in its U.S. News classification, is not a predictor of alumni participation. The fact that Thomas Aquinas is ranked 61st among national liberal arts colleges has not prevented that institution from instilling high levels of student and alumni loyalty.
Institutions contemplating comprehensive campaigns need to begin by assessing the depth of alumni appreciation, and not just in broad ways. Many alumni will say that they received an excellent or very good education and express ongoing pride for their alma mater. That does not mean they will give. (See my article "Why Donors Give: It's Not What You Think".)
In general, several other factors must be in place. The alumni will have to be philanthropic in general, feel a sense of personal indebtedness to one or more people on the faculty or staff, and believe that the value of their degree exceeded the cost. These, then, are the precise lines of inquiry that an institution must explore in alumni surveys, whether they are conducted face-to-face, online, or over the phone.
Appreciation levels expressed by other constituents, including parents, as well as corporations and businesses that hire graduates, also should be assessed. Parents' appreciation tends to be short-lived, often peaking after admission or the first time their child comes home with a positive report or crows about grades. It tends to wane by the end of the sophomore year, when it is assumed that the child is halfway to self-sufficiency or the parents are halfway to freedom from tuition payments.
The level of appreciation among corporations and businesses can be assessed by conducting an inventory of interactions that includes the following questions:
Have they given previously? If so, are they satisfied with their return on investment?
Do they provide internships for students? Has the number been increasing?
Do they hire graduates? Has the number been increasing?
Do they sponsor research at the institution? Have the levels changed in recent years?
Do they sponsor athletics?
Are they vendors? Is the institution becoming a larger or smaller client?
Are alumni on their boards or in senior executive positions?
The more of these interactions, the greater the likelihood of campaign support, especially if the request depicts how the alliance between parties can be made more strategic and productive. Businesses and corporations don't give out of the goodness of their hearts; they give to realize corporate objectives. And there's nothing the matter with that if they align with and prove to be synergistic with institutional objectives.
The volume of donors, alumni or otherwise, who have given to your institution for 10 years or more is the single best metric in determining an institution's campaign potential. Nothing is more predictive of how many people might give, and at what level, in a campaign than the number of people who have already given at various levels. In most cases, this volume is waning with each passing decade. It is critical that institutions build and measure alumni affiliation differently than in the past.
More on this topic:
More from Jim Langley
Jim Langley is the author of a series of powerful fundraising guides for campus leaders: Fundraising for Presidents, Fundraising for Deans, Fundraising for Boards, and Comprehensive Fundraising Campaigns.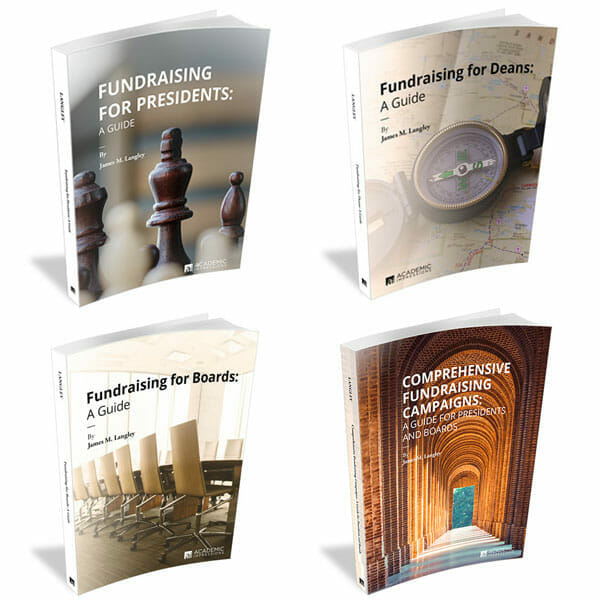 "This is is a treasure trove of great advice, forward-thinking reflections, and the tough, but much needed questions that presidents, boards, vice presidents and deans need to ask one another before embarking on a fundraising campaign."
Matthew T. Lambert, Vice President for University Advancement, William & Mary