Join us for a one-of-a-kind chiefs of staff program solely for those working in higher education.
Overview
When it comes to job-specific training and professional development opportunities, chiefs of staff often find it difficult to find training specific to their needs. We have designed two highly practical programs, based on level of experience, that are both facilitated by a panel of current and former chiefs of staff and president to help you take charge of your own development. We hope you can join us at one of these must-attend workshops specifically developed for chiefs of staff in higher education.
The role of chief of staff looks very different at each institution and requires a unique skill set for continued success. During this workshop, we will look at how you can maintain a balance in your professional life while managing a varied and often unpredictable role. We have assembled three current and former chiefs of staff and an acting president to help you:
Define the role for yourself and stakeholders
Navigate the massive and ambiguous workload with the appropriate tools
Mitigate stress, maintain energy, and keep a positive attitude
Establish critical internal and external relationships
Handle presidential transitions, conflicts, and crises with confidence
Who Should Attend
This program is designed for new or aspiring chiefs of staff who have been in the role for three years or less, as well as professionals aspiring to the chief of staff position.
For those who have been in the role for more than three years, you might be interested in the Institute for Experienced Chiefs of Staff: Improving Your Processes, Communications, and Relationships.
If you have questions about which level is right for you, please reach out to our Senior Program Manager, Elizabeth Ross Hubbell.
Follow Through With Success Coaching
Have you ever gone to a training only to find that you came back with great ideas but don't have the time, support, or skills needed to make the changes?
Academic Impressions has produced thousands of trainings and we have learned that utilizing a coach after attending a conference helps provide accountability and bridges the training with the on-the-ground work of getting the job done.
As a result, we are now offering success coaching on select conferences.
Purchase this training + 3 one hour follow up success coaching calls
Work with an assigned coach who has extensive experience in higher ed.
Get individualized support to help you follow through on what you've learned.
Workshop your plans, run your ideas by someone and get additional help/practice.
To get success coaching, simply purchase the Conference + Success Coaching product below.
The Academic Impressions Online Learning Experience
Intentionally Designed
Online Learning
Our virtual trainings go far beyond just replicating PowerPoint presentations online: these experiences are intentionally designed to give you the kind of robust and dynamic learning experience you've come to expect from Academic Impressions. These trainings provide you with an active learning environment and an online space where you can explore ideas, get inspired by what your peers are doing, and understand the range of possibilities around a certain topic. You will leave these sessions with practical solutions that you can take back to your team or task force.
What you will get:
A dynamic, interactive, and high-touch virtual learning experience designed to engage and set you up for growth
Seamless online face-time, networking, group work, and Q&A opportunities from the comfort of your own workspace
Practical takeaways and hands-on knowledge
Guidance from vetted subject matter experts
See What Our Attendees are Saying
"The virtual design of this conference coupled with the amazing work of our program manager promoted a high level of engagement and sense of community among attendees. The speakers were knowledgeable and enthusiastic to share their experiences. It was a refreshing shift from long days of traditional meetings on Zoom!"
"This is the first time I've ever attended a virtual conference, and to be honest, I had low expectations. Well, I was wrong. I am very impressed with the platform used and the quality of the content shared. Oftentimes, these conferences only talk about ideas and what could work, but at this event, actual pathways and practical next steps were shared. Academic Impressions did a great job featuring quality speakers who were willing to share what they know."
"Although the workshop was online, it felt as if the presenters were right there with us. All presenters were knowledgeable and really related the content to real work experiences. They were so willing to answer questions and offer assistance—I learned so much that I can apply."
"Many conferences leave you with learning but not always sure how to turn that into action for your organization. There were actionable tips shared throughout the two days and tools provided to help move the learning into action. I am always impressed with Academic Impressions conferences and this virtual one did not disappoint."
"At first, I was skeptical that a virtual conference was capable of being both engaging and informational - but Academic Impressions has mastered it! The 3-day online event was structured in a creative way that all participants had multiple opportunities to interact with each other and the presenters. No one's questions went unheard or unanswered. Thank you for this great experience, it has changed my view of virtual conferences and I look forward to attending more in the future."
- Desiree Ford, Digital Communications Manager, Binghamton University
"The virtual conference has been amazing. The presenters have all been great and the information they've provided is going to help us better use our social media. Even though this conference had to be virtualized due to COVID-19, the online format has been set up in a way that we can all collaborate and share ideas. I'm very eager to take what I've learned back to campus and start implementing new ideas."
- Chris Forde, Coordinator of Marketing & Public Information, Lincoln Trail College
JULY 29, 2021
All Times Eastern
Welcome and Introductions
11:00 – 11:15 a.m.
In this opening activity, you will meet your facilitators and engage in an activity to define your current challenges and what you most hope to get out of this conference.
---
Defining Your Role on Campus
11:15 a.m. – 12:30 p.m.
The role of Chief of Staff can have a wide variety of models and structures. Your university size and the needs of your President and Board will largely determine the role you serve. In this session, you will learn which questions to ask to clarify your role and methods you can use to help others on campus understand your function from the start.
---
Break
12:30 – 1:00 p.m.
---
Five Paths to Leadership: Understanding How You Manage Stressful Situations
1:00 – 2:30 p.m.
One of the keys to success is having an awareness of how you manage stress, being prepared for your strengths and challenges during stressful situations, and being aware of how your President and close co-workers manage stress. In this session, you will use the results from an assessment to engage in a discussion on how you act when under stress and how to manage potential pitfalls.
---
Final Questions and Day 1 Close
2:30 – 3:00 p.m.
---
JULY 30, 2021
All Times Eastern
Welcome and Day 1 Debrief
11:00 – 11:15 a.m.
---
Strategies to Meet Your President's Goals
11:15 a.m. – 12:30 p.m.
As the Chief of Staff, you are often faced with implementing changes and initiatives set by the President, Board, and Executive cabinet. This role can be challenging as those around you express concerns and questions regarding changes. By using key negotiation and communication strategies, you can help implement these initiatives while also hearing and addressing concerns of staff and faculty.
---
Break
12:30 – 12:45 p.m.
---
Challenging Situations: Managing Internal Conflicts and External Crises
12:45 – 2:00 p.m.
In spite of your best efforts of mitigating issues, you will likely be faced with a conflict or crisis on campus during your tenure as Chief of Staff. Managing internal conflicts requires you to work with parties with different opinions while maintaining focus on initiatives set by the President. Crises require key communication skills with both external and internal audiences and close collaboration with the President to ensure your messages are in sync. The lessons provided in this session will help you prepare for these challenges and give you resources for when you need them.
---
Break
2:00 – 2:30 p.m.
---
Breakout Sessions
2:30 – 3:30 p.m.
These four sessions will give you a chance to hone specific skills based on your needs.
Option 1: Working with your Board and Executive Cabinet
Option 2: Marketing Your Skills as Chiefs of Staff
Option 3: Strategies for Effective Communication
---
Break
3:30 – 3:45 p.m.
---
Panel Discussion: Keeping the Pulse of Campus
3:45 – 4:15
One of your hardest, yet most critical roles, is to be an "ear to the ground" so that you are aware of emerging trends and issues on and outside of campus. By noticing trends, you can capitalize on them early and help your constituents to be proactive in preparing for emerging developments. By being able to spot potential issues, you can be a catalyst in mitigating a situation before it becomes a crisis. In this session, you will learn ways other chiefs of staff have successfully connected themselves across campus so that they have a hyper-awareness of happenings.
---
Closing Remarks
4:15 – 4:30 p.m.
Dr. Christopher Romano
Vice President of Enrollment Management and Student Affairs, Ramapo College of New Jersey
In his current role, Christopher leads the division of enrollment management, including the offices of admissions, advising and first-year experience, career services, financial aid, marketing and web administration, athletics, residence life, the Educational Opportunity Fund, public safety, and the division of student affairs. Christopher chairs the strategic enrollment management planning committee and is responsible for the development and maintenance of Ramapo's strategic enrollment management plan.
Dr. Karen M. Whitney
President Emerita, Clarion University
Throughout her 40 year career in higher education, Dr. Karen Whitney has held a variety of executive and leadership positions with increasing levels of responsibility, beginning as a Director to Associate Vice President, Vice Chancellor, President, and Chancellor. Karen is also a nationally recognized organizational and leadership development writer, speaker, consultant and advisor. She holds a doctorate from the University of Texas at Austin in Higher Education Administration and is a certified coach through the Center for Executive Coaching.
Dr. Brittany Williams-Goldstein
Chief of Staff & Board Liaison, Ramapo College
Dr. Williams-Goldstein serves as the President's primary liaison to the Senior Cabinet and the Board of Trustees. She is responsible for the strategic development, implementation, and coordination of Cabinet and Board activities as well as the coordination of the Office of the President. She chairs the Space Management and Allocation Committee and also leads the College's Administrative Assessment Committee. During her tenure at Ramapo, she has served as a member of the Campus Facilities Master Plan Steering Committee, Accreditation Steering Committee, Position Review Committee, and two Strategic Planning Task Forces.
Questions About the Event?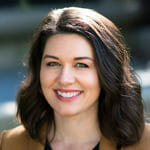 Jess Landis
Learning & Development Manager, Academic Impressions