The Road to Adaptive Learning: Improving Comprehension, Easing Faculty Burden
The Road to Adaptive Learning: Improving Comprehension, Easing Faculty Burden
---
Overview
The Road to Adaptive Learning:

Improving Comprehension, Easing Faculty Burden

By: Courtney Yuen
If you're currently using learning analytics, this article will show you how a more advanced implementation of this technology plays out. We'll follow TAWC's journey about how they got there.
What's adaptive learning?

An adaptive system is built around a set of AI algorithms that process data drawn from tens of thousands of learner interactions. The computations that the system carries out are designed to discern the best content to deliver to a student based upon their prior knowledge, pace of learning, preferences, and many other variables. This means that no two students will experience the same course in exactly the same way, though all students ultimately achieve the same learning outcomes.
Data, data, data. We all know it's valuable.
In the classroom, it has the potential to improve student comprehension. It can also support faculty and reduce costs. If used in more advanced forms, it can even customize the learning experience to the preferences of each student.
We all have data, but not everyone is using it in the same ways.
According to a study by Ellucian, 61% of institutions currently have some kind of learning analytics program. However, very few have pushed it beyond its most basic functions and ventured into the world of adaptive learning.
The American Women's College (TAWC) at Bay Path University is one such trailblazer. TAWC builds their online courses in an adaptive platform that's improving student comprehension, performance, and accessibility – and easing faculty burden at the same time. Their model is also saving students money.
TAWC Student Reactions:

95% satisfied with delivery mode and commitment to adaptive technology
82% said adaptive courses have helped them learn material better
75% said feedback from instructor and adaptive course helped them stay on track with learning outcomes
Creating a new model to support students
Five years ago, TAWC transitioned most of its accelerated, undergraduate programs for adult women to a fully online model with the help of a $3.5 million FIPSE grant. That's how SOUL, or Social Online Universal Learning, was born.
"Without learning analytics, you're really just following the textbook as the course map," Chief Administrative Officer of The American Women's College (TAWC) at Bay Path University Amanda Gould said. "By being willing to engage with the learning analytics you've put the student at the center and not the content."
But, that's not where SOUL stops. Gould's team saw the benefit of taking their model a step deeper with learning analytics and decided to integrate an adaptive learning platform. She describes it as a "data-driven approach to student support."
"Our courses are offered in an accelerated format, so waiting a period of weeks for the first exam to know what our students were struggling with is just not an option for us," said Gould. "The more information we had about student performance… allowed our instructors to be as proactive as we could encourage."
SOUL has six main components: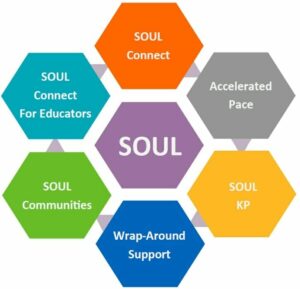 Courtesy: The American Women's College at Bay Path University
SOUL Connect – On-boarding program for each new student. They also strategize with an advisor to prepare for their educational path ahead.
Accelerated Pace – Immediate intervention whenever a student begins to struggle, so they can successfully complete courses on the accelerated schedule.
SOUL KP (KnowledgePath) – A customized learning experience determined by the individual needs of each student. It also correlates the best learning modalities (text, video, audio clips, and/or interactive exercises) for each subject to the learner.
Wrap-around Support – Learning analytics and predictive models immediately alert educator coaches of student risk factors. Then, the coach can reach out and intervene with specialized support and resources.
SOUL Communities – Virtual learning communities that connect TAWC students who share the same goals and professional interests. Facilitated online interactions include: learning about professional associations, reading about hot topics, practice-based discussions and exploring job postings.
SOUL Connect for Educators – A program for faculty to learn how to use analytics to inform both their class instruction and student support.
Students are saying that the adaptive courses are helping them learn the material better, and the direct feedback they're receiving is keeping them on track.
It's easy to see why. Learning analytics are predicting their trouble spots, and the adaptive platform on top is tailoring everything to their learning styles.
TAWC's model isn't going unnoticed. It has won recognition from the Online Learning Consortium, Educause and the Lumina Foundation, among others.
Using the model to simultaneously support faculty
The responsibilities of faculty members continue to pile up. They include master of content, deliverer of content and more recently predicter and corrector of learning gaps. While deploying a new technology may seem like it would add to this burden, TAWC has found it's actually helping to reduce it.
"The role of faculty is really in a transitional state," said Gould. "Although it's anxiety-provoking, our faculty have found it's beneficial to use evidence-based learning and insights that machines can collect in vastly more scalable ways than individuals can."
Gould said they've experienced an entire spectrum of reactions to their new model from faculty.  At first, faculty were feeling disconnected or a step removed from their students, due to the self-sufficient nature of the course navigation.
"What we figured out at that point was… we hadn't yet coached them on how you become the interventionist based on all the insights you've gained," she said. "Until they get the kind of depth of appreciation for how much information they have at their fingertips, it may feel a little bit like a black hole."
This data-driven approach allows faculty to identify individual learning gaps in the classroom and strategically intervene. On the flip side, they can also see when the material is too easy and skip ahead if the student has demonstrated mastery.
Shaping course content into an adaptive platform
In order to build an adaptive course, you need a variety of alternative media formats to better serve the unique learning styles of each student. Therefore, you're not just looking for text-based materials. Instead, you're on the hunt for video, podcasts, and other interactive media.
That's why adaptive course development and open educational resources (OER) go hand-in-hand at TAWC.
Gould said you ingest the content so it can be "served-up" in the adaptive platform. That's why it works best with OERs that can be sliced and diced in user-friendly ways rather than in a linear text format.
"The world of open media allows for dynamic course development, and true opportunity for a higher ed institution to attempt to commit themselves to a low-cost material strategy," she said.
In addition to expanding the variety of modalities available in their courses, they're also saving students some coin. Gould said during the 2017-2018 academic year, TAWC students collectively saved $176,000 by using low-cost or no-cost materials in more than 50 courses. That's an average of $120 saved per course for each student.
She said they also hire subject matter experts who help create content when they need it on the fly, in addition to partnering with low cost providers such as OpenStax, Lumen Learning, and Flatworld.
"There's a different level of attribution in this new digital environment than there used to be from printing, publishing, and getting copyright. There's not yet a comfort with what that all looks like and feels like in academia," said Gould. "Finding ways that faculty can contribute, get the appropriate recognition and feel good about a digital learning content world is still part of what we have to figure out in higher education."
Hiring subject matter experts has also allowed TAWC to identify and more intentionally use strengths already held by faculty.
"We're really trying to think about what are the true skill sets of those involved – engaging with students, conveying content in dynamic ways, or serving as a content expert."
Bay Path University doesn't have a tenure system. That has allowed them to tap professional advisors and instructional designers as partners and resources to faculty, who are often asked to wear several hats.
What's next for SOUL?
When asked, "How did this model change your pedagogy?" adjuncts who piloted the model had responses along the lines of:
"I can teach specifically to where there's gaps in student learning."
"I did a lot more of one-to-one work with the students."
"More focused on individual progress with the content."
But, the model isn't perfect just yet. Gould believes this is just the beginning.
"There's so many more changes ahead of us in higher education. I think we're at the earliest stages of really trying to experiment with new models for making sure we can provide quality learning experiences in an affordable way to students of all ages and backgrounds."
– Amanda Gould
Tips to Get Started
Promote appreciation for data-driven action. You can only collect data meaningfully to drive action if your practices are done in consistent and systematic ways. For example, if an automated trigger is set to signal that a student is late to submit work, but your instructors are simply changing due dates, then the interventions are worthless.
Be willing to collaborate. You will be relying on a variety of different types of resources and teams in this model. Make sure your academics, academic technologists, and student support staff are interacting in productive ways to help your students be successful.
Focus on where you can make the impact. You'll find that adaptive technology may not necessarily add value to learning in all subject areas. Because it can be resource intensive to construct this type of learning experience, you must consider where it can truly deepen learning engagement and focus your efforts.
Don't reinvent the wheel. The beauty of a digital landscape is that you can share, partner and network in exciting new ways across the industry! You can also connect with Amanda Gould by emailing her at: agould@baypath.edu
20+
years serving higher ed
3,500+
institutions served
200,000+
faculty and staff participants
>