As a mid-level leader, enhance your ability to inclusively build and motivate a cohesive team.
Overview 
Leadership is full of challenges, and the tasks of supervising and leading a team are two of the most complicated to navigate. While our Fundamentals of Leadership bootcamp is designed for those in the early stages of a leadership position, this program is specifically designed for those with existing experience in leadership and supervisory roles who are looking to enhance their skills around managing individuals and leading teams.
This bootcamp will guide you through four levels of leadership mastery. In the first two weeks, you will focus on leading self by developing self-awareness of your strengths, areas of growth, values, and what leadership means to you. Next, you'll focus on leading others by developing effective communication, collaboration, and conflict management skills. Building upon this, we'll then move on to leading teams, where you'll learn how to navigate stages of team development, acquire tools for building high-performing teams, and gain practical tips for facilitating inclusive and effective meetings. Then, in the last two weeks, we'll focus on leading the organization; specifically, on how to steer your team as you encounter and work through change.
Highlights of the program include:
Tips and Strategies from Our Expert Instructors: You'll have the opportunity to practice the new skills you are learning alongside others in your cohort.
Leadership Assessment: Through Academic Impressions' 5 Paths to Leadership Self-Assessment, individual assignments, and group discussions, you'll discover how you show up as a leader in typical circumstances and under stress.
360 Assessment Plus One-on-One Feedback: Engage in a 360-feedback assessment and get perspective from your colleagues. You will also meet with one of our expert Success Coaches to help you digest your 360-feedback so you can identify meaningful ways to incorporate this information into your leadership growth.
Leadership Capstone: You will compile a capstone project that includes your philosophy on one-on-one supervision, motivation, leading teams, and all assessments—a tool you can use to reflect upon and communicate your own leadership style and strengths.
One-on-One Consultation: You will have an individual consultation session with one of the program speakers to work through any questions or challenges you may be encountering. During this session, you will have the opportunity to work through how you plan to implement the action steps you've identified.
A Highly Personalized Experience
A hallmark of the Academic Impressions bootcamp experience, the individual attention provided within our highly personalized program will help you to apply best practices from the bootcamp to your own leadership experience. To preserve the intimate and interactive nature of this training, the bootcamp is limited to 30 participants. Register early to reserve your spot!
Who Should Attend
This bootcamp is designed for those with at least some leadership and supervisory experience who are looking to enhance or evolve their leadership skills. The bootcamp will focus primarily on supervising individuals and leading teams. We will also cover topics such as how to motivate individual members of your team, how to build your skills as a supervisor and advocate for your team members, and how to build a cohesive team that works together effectively and efficiently.
Follow Through With Success Coaching
Have you ever gone to a training only to find that you came back with great ideas but don't have the time, support, or skills needed to make the changes?
Academic Impressions has produced thousands of trainings and we have learned that utilizing a coach after attending a training helps provide accountability and bridges the training with the on-the-ground work of getting the job done.
As a result, we are now offering success coaching on select trainings.
Purchase this training + 3 one hour follow up success coaching calls
Work with an assigned coach who has extensive experience in higher ed.
Get individualized support to help you follow through on what you've learned.
Workshop your plans, run your ideas by someone and get additional help/practice.
To get success coaching, simply purchase the Bootcamp + Success Coaching product below.
Hear About the Bootcamp Experience
March 21 – May 2, 2023 | 1:00 – 4:00 p.m. ET
Individual Session Dates: March 21, 28, April 4, 11, 18, 25, and May 2, 2023
Leading Others
Modules 3-4
Leading Teams
Modules 4, 5, 6
Session 1: Defining Your Leadership Strengths
March 21, 2023 | 1:00 p.m. – 4:00 p.m. ET
In this kickoff session, you'll meet your cohort, the program faculty, unpack the features of the bootcamp, and dive right into the 5 Paths to Leadership Assessment to identify your strengths. The 5 Paths to Leadership Assessment will help you to understand ways of achieving greater balance among five forms of intelligence so that you can improve your overall effectiveness as a leader. This assessment will ask you to assess your leadership style under "normal" circumstances as well as under "stressful" circumstances. In order to get the most out of the bootcamp kickoff session, we ask that you please complete a 5 Paths Self-Assessment. You will be sent the link upon registering, and in the meantime, you can learn more about the assessment here.
---
Session 2: Understanding and Articulating Your Leadership Definition, Mission, and Values
March 28, 2023 | 1:00 p.m. – 4:00 p.m. ET
Session 2 will expand upon the insights you gained about yourself in Session 1 as you take a 6-point inventory to help you define your leadership style. You will learn the importance of understanding your mission as a leader, articulating it to others, and the theories behind transactional, situational, and servant leadership. 
---
Session 3: Conflict Management
April 4, 2023 | 1:00 p.m. – 4:00 p.m. ET
Building upon your understanding of your leadership approach, you'll spend the next two weeks discussing how to engage in meaningful relationships with others. This session will focus on managing conflict within your team, whether it is a conflict you are having with those to whom you report, your peers, or your direct reports. You will complete the Kraybill Conflict Styles inventory to build self-awareness and learn common categories of conflict, as well as five ways we typically respond to conflict.
---
Session 4: Team Development
April 11, 2023 | 1:00 p.m. – 4:00 p.m. ET
This session will focus on how to develop team goals, team identity, and team norms. We will begin by defining team effectiveness and looking at how you would currently assess your team. We then move into stages of team development and ten differentiators of high-performing teams. Finally, we will discuss how to manage team dysfunction and will share an assessment to use with your team to gauge their level of group performance. Throughout this session, you will have an opportunity to discuss how to build psychological safety in your team so that all members feel welcome and included.
---
Session 5: Facilitating Inclusive and Effective Meetings
April 18, 2023 | 1:00 p.m. – 4:00 p.m. ET
In week five, we will discuss how to facilitate inclusive and effective meetings. We will look at how to structure meetings, how to handle times when meetings get off-track, and how to tap into your team members' expertise. You will become familiar with our Meeting Diagnostic Tool to help you maximize your team meetings and will also have an opportunity to discuss inclusive processes and tools with your team members to maximize team member participation and engagement.
---
Session 6: Effective Supervision
April 25, 2023 | 1:00 p.m. – 4:00 p.m. ET
Building upon the previous sessions, you will learn how to think about leadership as coaching and how that builds as you move from transactional, to situational, to servant leadership. We will discuss different ways to motivate others and look at how situational leadership is a powerful model for supervision. We will also discuss various methods for motivating team members and how each can be used in different scenarios. During this session, you will have an opportunity to reflect upon where you currently draw your power—and if it is serving you in various situations. You will have time for self-reflection as well as discussion with peers.
---
Session 7: Managing Change and Capstone Presentation
May 2, 2023 | 1:00 p.m. – 4:00 p.m. ET
In this final session, you will learn how to steer your team as you encounter and work through change. You will define how your team's efforts align with the larger strategic goals of your institution and will receive tools you can use to help your team articulate the specific needs, goals, and possible challenges involved in change.
The final half of this session will focus on your capstone project and the leadership philosophy you developed throughout the bootcamp. You will have a chance to share short- and long-term goals with your peers and discuss how to maintain contact with each other as you move forward in your leadership journey.
As a capstone project, you will put together a leadership portfolio that includes all the components of your seven weeks of learning, which will include:
Your philosophy on one-on-one supervision, motivation, and leading teams
All assessments
A learning plan that outlines future reading material and theories to explore what you learned during the course
Immediate next steps as well as goals, for both six months as well as one year
Nathan P. Strong
Director of Organizational and Professional Development, University of South Carolina
Nathan Strong currently serves as the Director of Organizational and Professional Development at the University of South Carolina. His primary areas of focus are organizational development, supervisory and management development, process improvement, and performance enhancement.
Brittany Williams-Goldstein, Ed.D.
Chief of Staff & Board Liaison | Vice President for Policy, Research & Governance, Ramapo College of New Jersey
Brittany serves as a member of Ramapo College's senior leadership team and as the President's primary liaison to the Board of Trustees. She is responsible for the strategic development, implementation, and coordination of team leadership and Board activities as well as the coordination of the Office of the President.
Questions About the Event?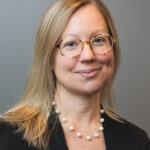 Amy K Giordano
Senior Learning & Development Manager,
Academic Impressions