by Tim Ponisciak (University of Notre Dame)
Recently, I partnered with Academic Impressions to survey over 100 institutions about how they engage alumni on social media. By far, these institutions had seen the most success via Facebook, and I invited them to submit their most popular Facebook posts — those that drew the most reaction (Likes) and engagement (Comments) from alumni. I published the aggregate findings in the paper Engaging Alumni on Social Media: What Works, and I will discuss best practices (informed by this survey and other research) in the upcoming webcast Strategizing for Social Media in Advancement.
Today, though, I want to share a few of the popular Facebook posts that survey respondents highlighted. If you're looking for some inspiration for your own alumni-facing Facebook page, check out these examples from five small colleges that are keeping their alumni engaged via their social channels. Whether you're looking for questions you can toss to your alumni, #tbt posts, or giving-day campaign ideas, here is a sampling of how other small colleges are talking with their alumni.
Example 1: Augustana College Alumni
Augustana showcases just how much of a connection athletics success can bring between a school and it's alumni base. You don't have to play at a Division One level, if your school has reached the upper echelon of its league, be proud!
Example 2: Drake University Alumni
Does your school have a particular area of expertise it is known for? With this being an election year, Drake was at the center of the action leading up to the Iowa caucuses, and  the school's alumni Facebook feed did a great job of showing alumni just how big of a role the school was playing in the action: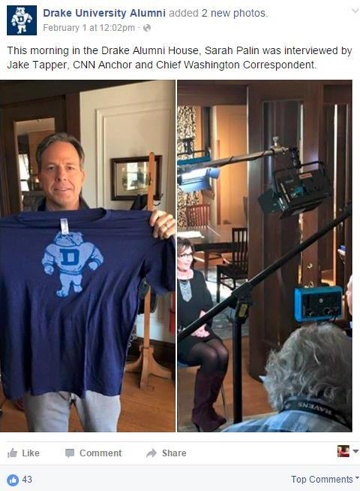 Example 3: Rollins College Alumni
Looking to create more action on Facebook? Rollins gives out prizes for those alumni ambassadors who are not just liking, but sharing content from their alma mater.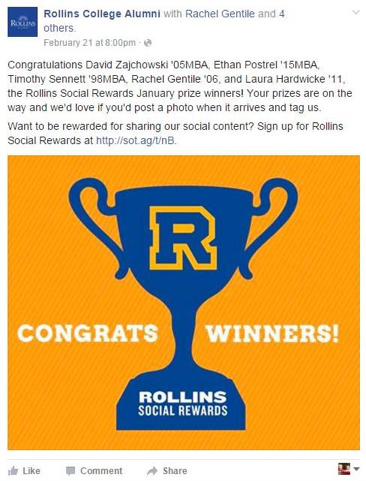 ​
Example 4: Illinois Wesleyan University
Don't be afraid to talk about fundraising online. Fundraising posts don't have to be asks, they can be educational, like this post from Illinois Wesleyan's main Facebook feed.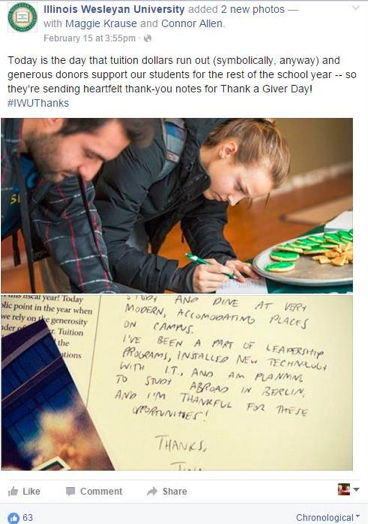 Example 5: Carthage Alumni
Throwback Thursday is a mainstay on Facebook now, and many colleges and universities have gotten in the fun. Carthage does a good job of having a lot of #tbt's so people can look forward to it each week!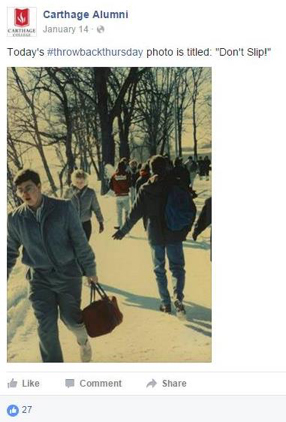 Learn More
Here is where you can go for more examples and a discussion of best practices for engaging alumni online: