Overview

Let's face it—while it's imperative to call out racist comments, biases, and behaviors when we witness them, it can nevertheless be a difficult, daunting and emotionally risky task for some. Yet the cost of staying silent is too high to do otherwise as the fact remains that by staying silent, we continue to perpetuate harm. But how can we expect to change the inequities that exist on our campuses if we don't consciously allow these and other vital "high-risk" conversations to take place? If we are unwilling to face discomfort and open discourse when racial bias shows up in our day-to-day lives, how can we expect to evolve toward true equality as individuals, as a group, and as a society?
How It Works

This educational series has been designed to help you overcome any fear or discomfort you might be experiencing in the interest of engaging more actively and confidently in conversations about racial inequity and bias. It consists of three live events, taking place on April 19, May 24, and June 21, respectively. Each live event will be accompanied by a short video that you will need to watch ahead of time in order to prepare for the lessons and activities planned in each session. You may choose to sign up for one, two, or all three sessions. If your schedule allows, we do recommend participating in all three, as the content builds as you go and will be most impactful when experienced in sequential order in full.
Who This Series Will Serve
This workshop series is designed for higher-ed professionals across all levels and functional areas who are a) seeking an opportunity for self-development, and b) committed to supporting the advancement of diversity and inclusivity efforts on their campus.
What You Will Learn by the End of the Series
After participating in this educational series, you will learn the value and importance of engaging and effectively communicating in difficult conversations about race. You'll also begin to situate your understanding of individual race dynamics within a broader context.
Uncomfortable Conversations are Necessary, Not Unkind
On-Demand Recording
Learn the value and importance of engaging in difficult conversations despite your own personal discomfort.
Conflict resolution: It's What You Said AND How You Said It
On-Demand Recording
Learn the art and science of effective communication in conversations about race.
Let's Talk About Race and Collective Responsibility
On-Demand Recording
Situate your understanding of individual race dynamics within a broader context.
Dr. Sandra Miles
Senior Student Affairs Practitioner & Diversity/Equity/Inclusion Consultant
Sandra has spent the last 16 years serving as a leader and administrator in higher education. Specifically, she has had extensive experience managing crisis, strategic planning, developing leadership programs, working with persons with disabilities, serving as a Dean of Students, Chief Student Affairs Officer, Chief Diversity Officer, Deputy Title IX Coordinator, and mediating disputes.
Questions About the Event?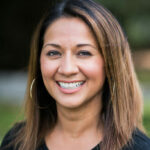 Rabia Khan Harvey
Senior Learning & Development Manager,
Academic Impressions