"Using and engaging an executive coach is not a symptom of weakness or insecurity, but rather a tool for the development of your own leadership."
- Dr. Carol Christ, Chancellor, University of California, Berkeley
Executive Coaching with Academic Impressions can help you gain clarity in your career and reach your full potential. We are focused on working with high-performing leaders to increase their level of self-awareness and hone their skillset. Executive coaches are critical companions in this developmental process and Academic Impressions is thrilled to be working with amazing coaches who each have experience in higher education.
We have a limited number of coaching engagements available. Start the process today by filling out the contact form on the right!
Executive Coaching Designed Specifically for Higher Education
We at Academic Impressions are uniquely positioned to support leadership development in academia with coaching. Through our leadership programs we have met thousands of leaders across higher education and made connections with coaches who have experience and insights that we believe in. Your coaching experience will follow a six- to twelve-month process that combines the conceptual and practical tools that you need to take the next step in your leadership journey and career path.
Watch Our Free Digital Recording on the Benefits of Executive Coaching
In our free webinar we will demystify what coaches do, how coaching sessions work, and who would benefit the most from consulting with an executive coach. Join Steve Titus, President of Iowa Wesleyan University, online as we discuss this important topic. Watch the free webinar here.
Take the Next Step in Your Leadership Career
How Our Executive Coaching Compares to Other Programs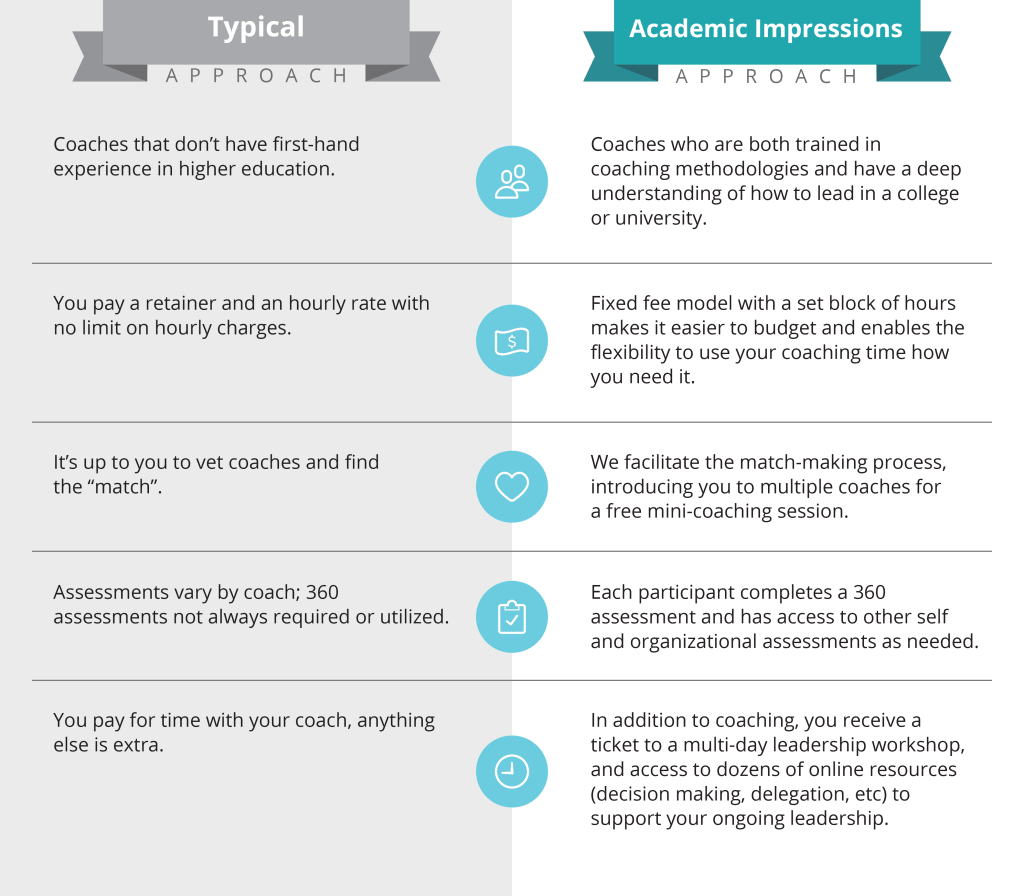 Our Coaches Have Extensive Experience in Higher Education
Q: Isn't coaching for people who can't do their job correctly?
A: In our experience, this couldn't be any further from the truth. Coaching is about building on the success you've already had. It's about continued growth and personal development.
Q: How is my coach selected? I don't want to be paired with some random person!
A: We hear you! Our process includes a thorough coaching selection process that is driven by you and your unique needs. Under no circumstances will you be forced into a coaching relationship.
Q: How long does this coaching process last?
A:  Executive coaching lasts as long as it is needed for your professional growth. At Academic Impressions, our standard coaching length is 20 coaching sessions over 12 months. However, we can customize a coaching package that works for you.
Q: What if I need extra time to talk to my coach?
A: You can absolutely call your coach between scheduled appointments if you need advice, have a problem, or want to share a success. We strongly encourage you to take advantage of this extra time and you will not be billed for it. Further, you can email as often as you would like.