Over the past two years, higher-ed has been challenged to respond to inequities surfaced by both the pandemic and the murders of George Floyd and Breonna Taylor. These challenges have been compounded by changes in employee attitudes about work, the great resignation, and now by the many unfilled HR positions in higher ed.
This free webcast series provides a space for those charged with hiring efforts to hear from our subject-matter experts and gain ideas from peers across the nation on key challenges and ways forward. The series will explore:
How to write an inclusive job description and why it's important.
How to partner with HR to streamline searches.
How search committees can be more efficient and equitable.
How higher ed can compete with private industry.
Webcasts in this series will be available on a rolling basis throughout the summer and fall. Exact session titles and dates will continue to be added. Please check back soon for updates!
Anyone charged with search and hiring and/or embedding inclusivity into institutional hiring practices will benefit from this series.
Inclusive Job Descriptions: Why do They Matter, and How do you Write One?
August 23, 2022 | 1:00 – 2:00 p.m. ET
Session Overview
For too long, job descriptions have included the obligatory 2-3 sentences that state the institution's commitment to diversity and an equitable working environment as a demonstration of commitment to DEI. However, today's job seekers are looking for more than just a few sentences: they are looking for a demonstration of behaviors. Job seekers need to read an inclusive job description that showcases your institution's core values throughout the job posting.
Join us for this free discussion-based session to help you generate quality candidate pools by using more inclusive language in your position announcements. Through facilitated discussion and idea-sharing with our instructor and your peers across the nation, we will:
Discuss how incorporating inclusive language can increase the diversity of your application pool.
Identify ways to arrive at a job description that communicates the values of your institution.
Provide examples of specific language and phrases you can incorporate into your job descriptions.
Myron R. Anderson, Ph.D.
Vice President for Inclusive Excellence, The University of Texas at San Antonio
As a member of the president's senior leadership team, Myron is the inaugural Vice President for Inclusive Excellence and is responsible for building a division and integrate the Inclusive Excellence ecosystem throughout the University. Using inclusive leadership as the framework paralleled with an active leadership strategy, listen, co-create, harvest, and implement, he serves as the framework to articulate a vision and implement the ecosystem designed to improve campus climate and advance Inclusive Excellence. Since Myron assumed his position in 2019, he has worked collaboratively to develop a campus-wide Inclusive Excellence Advisory Board, an interactive web portal, a university cultural intelligence professional development strategy, and the re-engineering of the faculty recruitment process leading to a 28% increase in the hiring of underrepresented minorities.
While at MSU Denver, he worked to improve the institution's cultural competence and led the Office of Institutional Diversity to focus on six elements: campus climate, recruitment and retention, diversity development, diversity initiatives, equity scorecard, and civic engagement. He facilitated the development and implementation of the college's diversity strategic plan and led a successful college-wide campus climate survey effort. He also develops symposia on diversity, facilitates the ongoing assessment of the campus climate, and, in cooperation with the provost's office, leads efforts to integrate diversity throughout the curriculum.
Questions About the Event?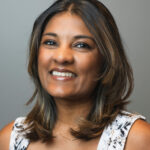 Ashvina Patel
Manager of Research and Publications,
Academic Impressions