Learn how to establish sustainable external partnerships to boost your institution's research exposure and visibility.
Today, there is increasing pressure on institutions to engage in research, garner more funding, and contribute to innovation and economic development.
For those trying to take their research activity off the ground, establishing an external university partnership can be just the right strategic step to boost growth and enhance the visibility of their institution's research initiatives. In addition to improving the student experience, research partnerships can also allow universities to be leaders as well as collaborators in their own areas of expertise.
Join us and our experienced speaker, Dr. Geoff Payne, for this online training where we will discuss the various types of external partnerships and how you can build them successfully from the ground up. Dr. Payne will also present some case studies, both local and international, and the lessons learnt from each.
Who Should Attend
The content of this webcast will benefit those charged with growing research in their school or department, such as: research administrators, directors of research institutes, VPs of research, and associate deans of research.
This webcast is suitable for institutions at different levels of engagement with research partnerships, including:
Those who are trying to set up partnerships for the first time and are not familiar with best practices

Those who already have established partnerships that they are trying to take to the next level or make more sustainable

Those who have tried having partnerships in the past, but with little success
Agenda
In this online training, our expert instructor, Dr. Geoff Payne will walk us through the steps of understanding and executing external research partnerships:
Value of external partnerships in growing research

Principles of a beneficial partnership

The "three-prongs" of partnerships:

University to university

Faculty to faculty

Faculty to student
Real-life case studies of various types of external partnerships and lessons learned from each
Instructor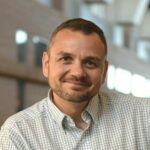 Dr. Geoff Payne
Vice President of Research, University of Northern BC
During his 15 years at UNBC, Dr Payne has held a number of administrative positions including Assistant Dean for Education and Research with the Northern Medical Program. Dr. Payne maintains his research program in area of vascular physiology where he is a Full Professor in both the Northern Medical Program and Biochemistry and Molecular Biology Programs. He came to UNBC in June 2004 as founding faculty of the medical school following a post-doctoral fellowship at Yale University in the Department of Cellular and Molecular Physiology and John B. Pierce Laboratory. Dr. Payne holds a Ph.D. from Memorial University of Newfoundland in the field of cardiovascular and renal physiology. In addition to his biomedical research, he has also an interest in medical education in the areas of curriculum, assessment, and admissions.
Questions About the Event? Email this event's Program Manager, Ashley Brand.
Product Information
For the live webcast, login instructions for the webcast will be sent twice via email – in the registration confirmation email, and again the day before the webcast. Please safelist webcasts@academicimpressions.com to ensure you receive these communications.
For webcast recordings, your recording is sent via email upon receipt of payment and within 10 business days following the live webcast. You will also be able to access your recording through your My Account section.