Link co-curricular student experiences with the skills employers want.
What you will find in the book
Educators who work with students outside the classroom know all too well that experiences like student government or service learning can help students to develop the skills employers want most. However, while these experiences can offer tremendous opportunity, without intentional design and assessment their impact will be limited. So, when there is little time to do so, how do we build more intentionally designed co-curricular experiences that will further student skill development and measure learning?
The Co-Curricular Learning Masterplan (CLM) is a cutting-edge program model that offers real solutions to the challenges practitioners face. Whether you're looking for a plug-and-play solution or one that's more customizable, the CLM includes invaluable tools and templates to make sure your programs foster deeper learning for your students—and meet the Career Readiness Competencies developed by the National Association of Colleges and Employers (NACE). Printable and customizable tools include:
Learning Outcomes
Assessment Survey
Assessment Rubric
Jessica Antonen
Associate Director of Career Development, Johns Hopkins University
Jessica joined the Johns Hopkins Carey Business School Career Development Office (CDO) in 2017 as the Assistant Director and then transitioned to Associate Director in 2019. In her role, she supports a team of 20 by providing project and event support for the office, as well as internal reporting and assessment.
Adam Peck, Ph.D.
Assistant Vice President and Dean of Student Affairs, Stephen F. Austin State University
Adam is the author of more than 40 scholarly publications and has presented more than 100 national and international webinars. He is a frequent keynote speaker at conferences and on campuses around the U.S. and internationally.
Michael Preston, Ed.D.
Executive Director, Florida Consortium of Metropolitan Research Universities
Michael has served as executive director of the Florida Consortium of Metropolitan Research Universities since July 2015, where he works with Florida International University, the University of Central Florida (UCF), and the University of South Florida on collaborative projects designed to increase retention, improve graduation rates, and ensure graduates are career–ready.
Questions About this Book?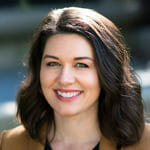 Jess Landis
Learning & Development Manager,
Academic Impressions