Leading teams during times of crisis can be an enormous challenge and an unexpected opportunity. Supporting staff to deliver their best possible work means - just like in-person - offering informational, resource, and emotional support. Predictably, there will be some roadblocks, so the question is how can you actively guide your team in building their resilience to bounce back from stress and move forward with renewed energy and agency?
Join us online for this two-hour experiential training where you will engage with the four components of resilience to protect and promote your own and your team's well-being:
Active coping that employs specific individual strategies that work for you to develop solutions
Building strength by focusing on your unique skillsets
Cognitive awareness to recognize automatic thinking and reframe your perspective to help you interrupt negative thoughts when they start to occur
Social support to identify, nurture, and call on your lifelines and offer support to others.
The ABCS© model is an ideal approach to guide your team through difficult transitions while maintaining a productive mindset.
Who Should Attend
This webcast is designed for leaders who are looking to build resilience with their team as they meet new challenges and develop new opportunities today and beyond the current crisis.
Agenda
Throughout this two-hour online training, you will learn the theory behind the ABCS model and will engage in activities that utilize these strategies.
Active Coping Strategies: This first session will give you strategies to promote your well-being. During this time, you will engage in a reflective writing activity to recognize your inherent and environmental resilience.
Building Strength: The second session will help you focus on the strengths you bring to the table. You will engage in a discussion activity to identify how you use your strengths on a daily basis.
Cognitive Awareness: This session will delve into changing automatic thinking so that it serves you.
Social Support: In our final session, you will create a mentor map so that you can quickly identify the lifelines you need and those you provide to others.
Speaker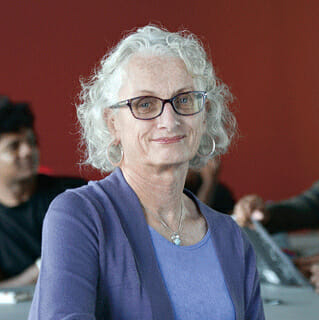 Genevieve "Ginny" Chandler
Associate Professor, University of Massachusetts, Amherst
Dr. Chandler's passion is to engage individuals in building their resilience so they experience competence, autonomy, and connection to others by creating a strength-based collaborative learning environment. Her ABCS resilience model is designed to build the capacity to bounce back from stress to promote health and wellbeing. She is a leader in promoting trauma informed care and an appreciative inquiry approach in teaching, mentoring and coaching. Read Ginny's full bio.
Questions About the Event? Email this event's Program Manager, Elizabeth Ross Hubbel.
Product Information
What's included in your purchase?
Live webcast session - a live presentation where you have the chance to ask questions and get personalized answers from our expert speakers. You must purchase the product prior to the live date in order to attend the live session.
Webcast recording - a recording of our live session that you can access anywhere, anytime.
For more details about this product, please visit our Product FAQs.